by Tom Gaylord
Writing as B.B. Pelletier
Today we have a guest blog by reader Ian McKee who goes by the handle 45Bravo. He tells us about some bits and pieces he is working on.
If you'd like to write a guest post for this blog, please email me at blogger@pyramydair.com.
Take it away, 45Bravo.
Quick Shots
by Ian McKee
Writing as 45Bravo
This report covers:
The like-new S&W 79G
Refinishing the Crosman MKI/MKII and a test
SIG Airgun Stuff — good news
SIG Airgun Stuff — bad news
Postscript from BB
This report is going to be a little different, instead of a detailed report, it will be just a few short updates on things that I have learned, and what is coming up.
The like-new S&W 79G
A few months back I reported on a like-new Smith & Wesson 79g I had bought. I have decided that pistol deserves to be in the possession of a collector, not a shooter like me.
A TIP — if you have never noticed, on some of the Smith & Wesson 78G and 79G boxes, it is actually printed as having a box of cartridges and 250 pellets or a sampler pack (like this one) or nothing printed on the box, when it only included the pistol.


This older box shows the full 5 CO2 cartridges and a 250-round tin of pellets.


The newer box for the like-new S&W 79G indicates a sample pack of CO2 cartridges and pellets.
Refinishing the Crosman MKI/MKII and a test
I have 2 Crosman pistols that need refinishing, and a friend sent me 3 more to do for him.
One of his custom pistols is already stripped to the bare metal, and he likes the look, but it keeps dulling because of no protection from the air. His gun will be finished using clear Duracoat aerosol finish. Brownells sells many types of products and parts for gun enthusiast of all types.
One of my pistols has more metal showing than paint. I intend to strip it and refinish it using Brownells-Aluma Hyde CLEAR finish. The other guns will be refinished with other colors of the same products. I want to test how easy the 2 products are to use, and how well the finishes stand up to use.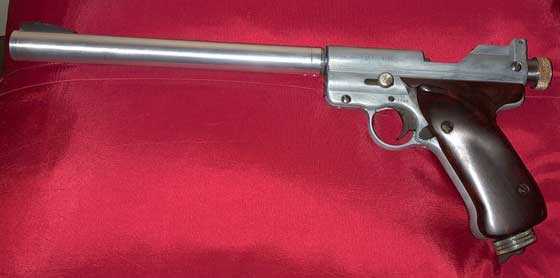 A friend likes the look of his silver Mark II, but the aluminum keeps dulling from exposure to the atmosphere.
SIG Airgun Stuff — good news
For those of you that have belt-fed SIG airguns, I am sure you have experienced the issue with having a few good shots, then having one flier spoils the group. Well, there is hope. The belts do come apart very easily. You could rearrange the belt pieces until you have an entire belt that groups well. It just takes time finding and replacing the chambers that are causing the fliers, and removing them from the equation.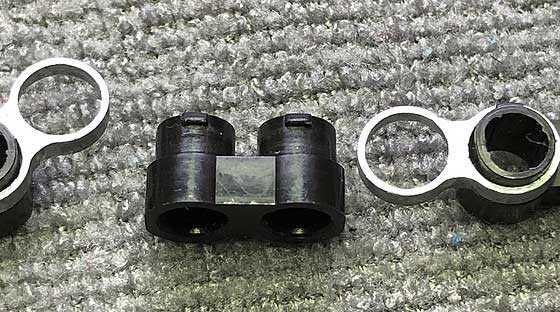 The Sig belts come apart, which means the chambers that cause accuracy problems can be removed.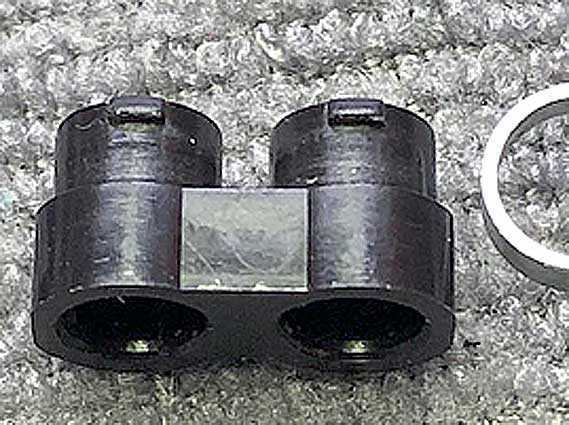 This detail of the black pellet chambers shows the lips that overhang the metal loops, keeping the belt together.
The belt pieces are asymmetrical, so make sure you have them all oriented the same way when re assembling them or you will have feeding problems.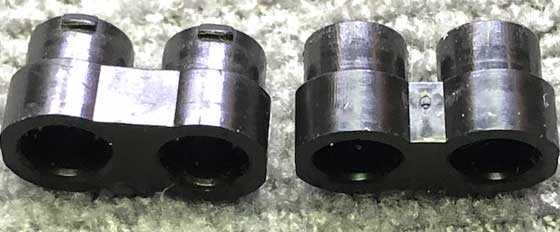 As you can see, the links are asymmetrical and the lips that overhang are only on one side.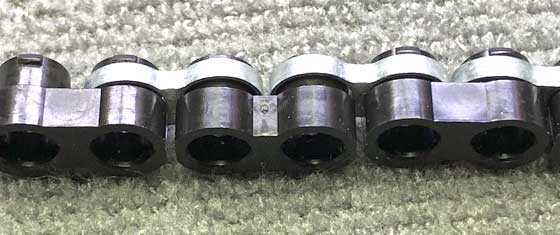 If a link is flipped like this, the belt will not function and feed properly.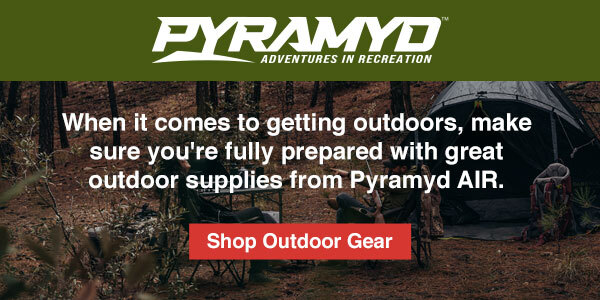 SIG Airgun Stuff — bad news
A friend brought me a SIG ASP 226 CO2 pellet pistol he had obtained through his work. It had been used as a display in a retail sporting goods store, and at some point in time, a safety conscious employee had "deactivated" it by drilling out the co2 piercing pin.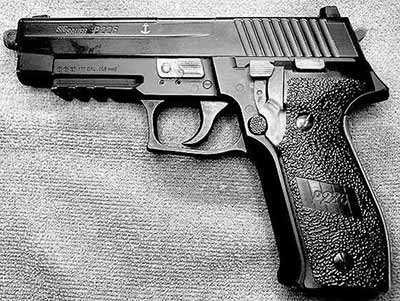 Sig ASP 226 sporting CO2 pistol.
The valve design is very simple, and is a cartridge design that is easily removed for replacement or service.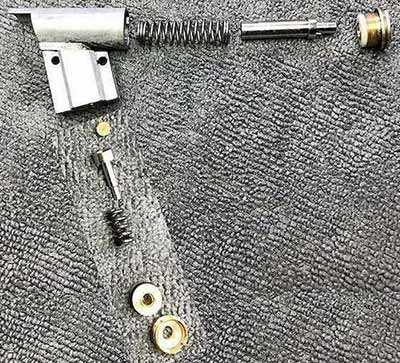 Here is a look at the valve of the ASP 226 pistol.
I have tried contacting SIG's airgun division about buying the parts to repair the air gun, through several different channels, eventually talking with one of the reps I had met at the Texas airgun show in 2018.
SIG will let you buy almost any part for their firearms (except the serialized frame) online. The airguns, however, are an entirely different animal.
You have to get an RMA (Return Merchandise Authorization) and send the airgun back to SIG. If it is in warranty, they will assess if it needs to be repaired or replaced.
If it is out of warranty, or the problem is not related to materials or workmanship, you will be contacted about the cost of repair/replacement, and they will proceed accordingly.
I asked how I could become an Authorized Service Center for SIG airguns, but all airgun service is done in house, or from the manufacturer that built the guns for SIG.
As much as we hate to believe it, a LOT more replica airsoft guns are sold worldwide compared to replica pellet/BB guns.This is partly because of some countries laws restricting airguns that fire metal projectiles, and in other countries, the parent's perception that a plastic projectile is less dangerous than a metal one.
Over the years, I have either owned or worked on guns from almost every airsoft manufacturer, I have scoured the many airsoft manufacturers, looking for airsoft companies that produce guns with a similar valve design, but at this point in time, I have come up empty.
I THINK, Sig has contracted with a company to produce their licensed designs exclusively for them.
While I like SIG firearms and some of their airguns, and own a couple, I am seriously reconsidering any future SIG airgun purchases because of this policy.
SIG publishes the numbers of "tested to 15,000 rounds". For some owners that is a lifetime of shooting. For other owners, that number of rounds could be 3 months of shooting with the family in the back yard.
A couple of years ago, SIG introduced the ASP 20 break barrel air rifle, it made a big splash, and was well reviewed by almost everyone. As of now, if your SIG ASP 20 breaks, the gun is no longer in production, and SIG will not repair or replace it since it is out of warranty, and there are no parts available to the public to repair it. You now have a wall hanger
I would like to hear what you readers think about the closed service system for their airgun repair.
Ian
Postscript from BB
This bits-and-pieces guest blog dovetails into tomorrow's historical blog for the weekend. It's an airgun we haven't yet covered.