This is the last blog for this week, this month and this year. I am taking Friday off as my New Year's holiday. That's my fourth and last holiday for 2021. 
Today we have a very special guest blog from reader Pat Gray. He bought a Beeman C1 from me at the Arkansas airgun show and put it back into commission, so I asked him to write this guest blog about it. This is a great one because Pat pulls no punches in telling us his side of the story!
If you'd like to write a guest post for this blog, please email me at blogger@pyramydair.com.
Take it away, Pat.
My new/old Beeman C1
by Pat Gray
This report covers:
A find!
How good is it?
Time for a scope
Bent barrel
Discovery
Problem solved for the moment
Trigger that's too light?
Buzzy powerplant
Rust speckles over all the steel
Wobbly pivot pin
BB talks
A find!
Once I was finished setting up my tables at the Arkansas airgun show I decided to take a stroll around to see what the other vendors had on their tables. I was surprised to see a Beeman C-1 in very good condition on Tom Gaylord's table for the remarkably low price of just $30.
I walked back to my table thinking I'm not going to buy anything until something of mine sells. However, 40 minutes later I broke down and took the $30 to Tom. I then became the proud owner of my second Beeman C-1.
My first one was one I picked up locally at a pawn shop. I could never get past its powerful jolt when fired.
I wasn't sure if I wanted to invest in a kit from Vortek or Air rifle Headquarters on just pure speculation that it would be a good shooter. So I sold it.
But as time passed I regretted selling that first one, as I did like the way it looked and held. Have you ever done that?
How good is it?
After getting this new/old C 1 home it was time to see if I was willing to put in the time and effort to get it where I wanted it. First I needed to know where it was, in terms of power. So I shot it over the chronograph.
10 shots with Crosman Wadcutter 7.4 gr.
High 794 f.p.s.
Low 778 f.p.s.
Avg. 782.9
SD 4.508 f.p.s.
Spread 16 f.p.s.
ME 10.074 foot-pounds
There was still a very harsh shot cycle.
I then read Tom's report and noted the issues that he found while testing.
Poor open sights
Bent barrel
Trigger too light (Tom wasn't sure about that)
Buzzy powerplant
Rust speckles on all the steel
A wobbly pivot pin
Time for a scope
Some problems are an easy fix. Your rifle has bad sights? Scope it.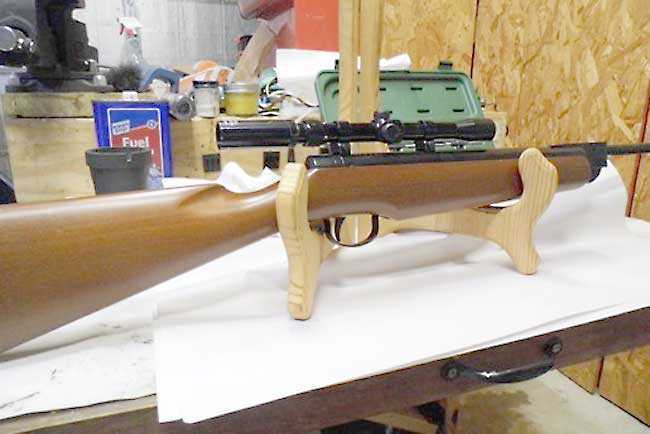 Installing a scope on the C1 fixed the sight problem.
Bent barrel
This is where this overhaul gets interesting. My plan was to scope the rifle for testing and then to bend the barrel.
While getting set up for bending the barrel I decided to check everything with a straight edge. What I found was that it did not seem that the barrel was bent but that the whole base block was going too far down into the action forks when the barrel was closed. A straight edge on the base block would hit the compression tube about 5 inches from the end of the block.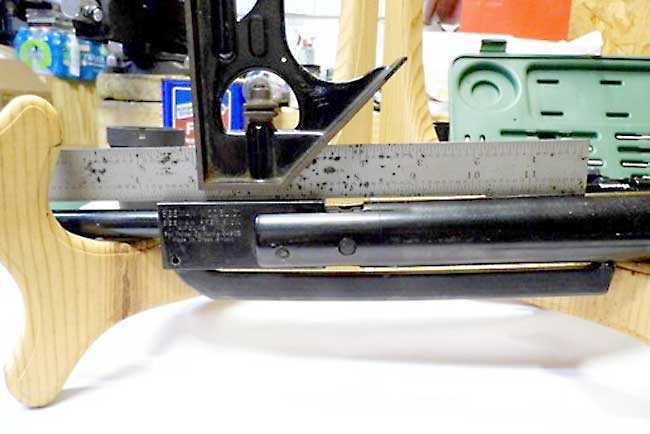 The base block is shown in above with the barrel closed. With a straight edge on top of it you can see the angle of the base block is pointing the barrel up. It was shooting 12″ high and 6″ to the right with the scope adjusted all the way down and all the way to the left.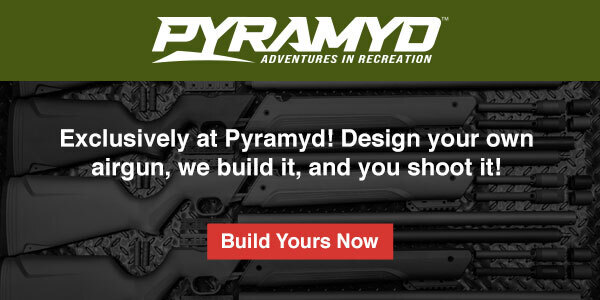 Discovery
I thought the barrel was going too far down into the action forks because the pin that stopped the barrel needed to be shimmed. I discovered that if I placed a .020″ shim between the barrel and the barrel stop pin, the straight edge was level with the compression tube all the way down the tube.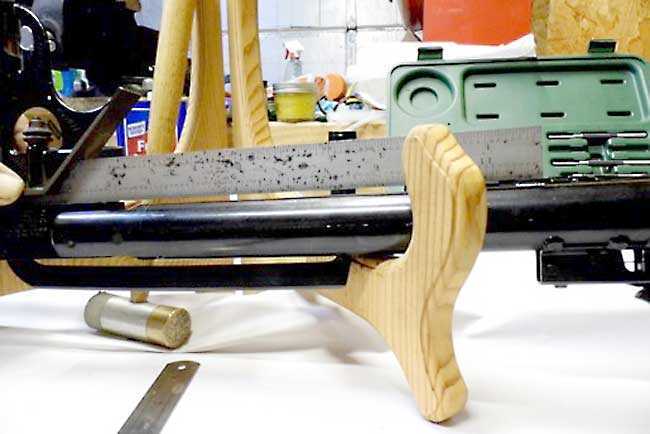 With an 0.20-inch shim between the barrel and the pin that stopped it, the base block was parallel with the compression tube.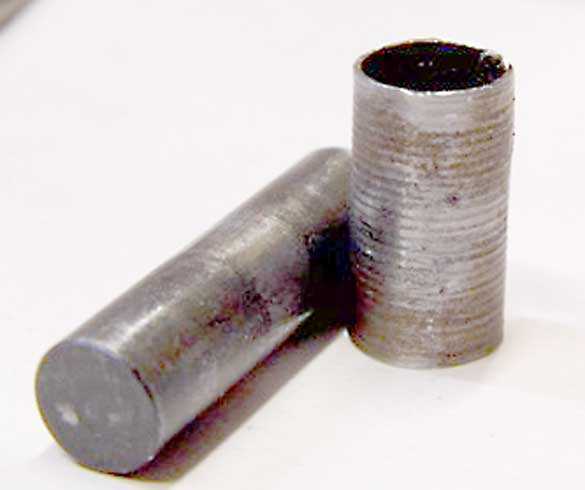 I went through several different ways of trying to shim that barrel stop pin. The final solution was a piece of 3/8-inch stainless steel tubing.
Finally I found that a piece of 3/8″ stainless steel tubing was almost perfect. It fits over the barrel stop pin keeping the barrel in line with the tube.
Problem solved for the moment
I read everything I could find on the internet about this rifle. That did not take very long as there is not a ton of information online, but I did find something on a site called "The Firing Line" by a poster named stangray03. He said, "The rear barrel seal (the little white ring that the chamber seals against) flattens over time and allows the lock up to over rotate, causing the high shooting condition. It also allows leakage as evidenced by radial streaks. Replace the seal (easy to do if they're available) and the gun will shoot lower. "
This may be an easier fix for the problem. I did not see it until I had taken another path.
I plan on ordering some breech seals and will test this theory. Pull out my shim and replace the breech seal to see if the barrel goes back into battery properly.
Trigger that's too light?
Tom said he thought the trigger might be too light, though in Part 2 of his report he measured it at 3 lbs. 3 oz., which he said seemed fine. When I measured it the trigger broke at 2.5 lbs. That seems fine to me so far.
Buzzy powerplant
After shooting it the first time I disassembled the rifle. It was in great condition inside. The spring was straight, the piston was clean, and the piston seal was in good shape. I put some moly on the piston and some red and tacky grease [Ed. perhaps Tune in a Tube?] on the spring and reassembled the rifle. It was smoother, but not where I wanted it to be.
Then I found a used spring from a Beeman R-10 that was canted in its last 3-inches. I cut it down and installed in the C1. The shot cycle is now much better. But where is the power?
10 shots with Daisy Wadcutter 7.5 gr.
High 707 f.p.s.
Low 683 f.p.s.
Avg. 692.6
SD 9.131 f.p.s.
Spread 24 f.p.s.
ME 7.884 foot-pounds
Rust speckles over all the steel
I'm sure Tom had already gone over the rifle with Ballistol [Ed. Yes, I did] and bronze wool but I gave it a go also and it seems to be stable.
Wobbly pivot pin
I installed a .010-inch shim on one side of the pivot pin and a .018 shim on the other side. That did tighten up the wobble. There is almost no side-to-side movement, even when pulling on it pretty hard.
I have seen several posts about people wanting to bend the barrels on their C-1 air rifles but perhaps it is an issue with the breech seal or pivot lock up? It probably would not be an issue if using the open sights, since they are mounted on the barrel and they stay aligned.
I have a follow up report with chronograph data and accuracy.
Pat Gray
BB talks
This is BB, inserting some remarks to explain things. First, why did I sell this C1 so cheap? I explained that in Part 1 of the report on the Arkansas airgun show. Here is what I said.
"BB runs a test
I knew Malvern would be a slow show, because it always is. So this year I decided to run a little test to see what would happen if I shook it up. If someone takes an airgun to a show and prices it by the Blue Book of Airguns, they take it home again, unless that one-in-a-thousand person who wants one happens to attend. When the gate at most larger shows is between 300 and 400 people, that doesn't happen at every show. And that is large airgun shows. Malvern doesn't see nearly that many folks.
If they price their treasure for 20 percent less, they usually take it home. Sometimes they break down in negotiations and get rid of the gun, but not at the price they had on it.
So I broke the rules. I priced my airguns at half of their true value — not necessarily what the Blue Book said but what people really pay, which can be more or less — and I waited to see what might happen. I also had a table with $50 airguns that included a couple Crosman Mark IIs, an S&W 79G and a Daisy 790. Each one was priced at 50 bucks and no parts were missing. Did they leak? Of course they did, but my price was half what leakers sell for and for a few bucks on eBay you can buy all the parts to fix them. By the end of the show that table was entirely bare."
The C1 in today's report was on that table and, because of the problems it had, I priced it at $30. I was just waiting for someone to come along and offer me $25, but Pat saw it and knew it was a bargain. The rest is the story you just read. The first part anyway. Hey — I never wrote a Part 3 of my C1 report, because there were just too many things that needed fixing for me to get a daily blog out of it. These things take time and time is in short supply in my office. Thankfully Pat stepped in and gave us more of the story.