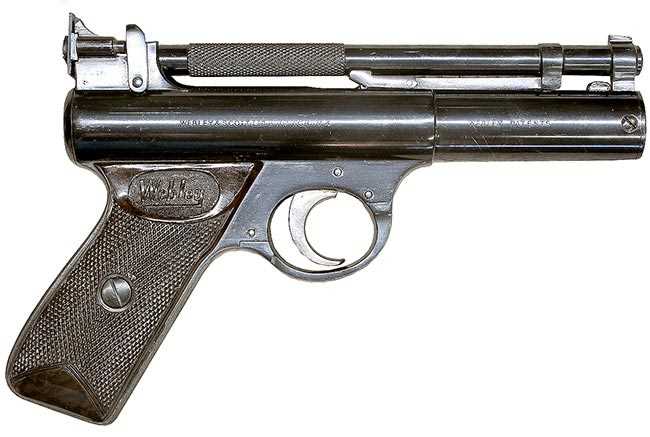 My new/old Webley Senior slant grip pellet pistol.
History of airguns
This report covers:
So I did
Eley Wasps
H&N Field and Target Trophys
H&N Baracuda 1
Flaring the pellet skirts
Did it work?
Summary
Well, today's report will be an interesting one for the weekend. So grab your coffee or tea and let's get started.
Obviously this report is about the Webley Senior air pistol. If you read Part 4 you remember that the pistol couldn't hit the 12-inch by 12-inch target trap from 10 meters. So I moved up to 12 feet and drew this comment from reader Yogi, "Boy-o-boy, a pistol that is accurate at 4 yards. That is enough to give pistols a bad name."
There were also two comments meant to help BB. One was from reader hihihi who showed us a drawing of what a disassembled Webley pistol sight is supposed to look like.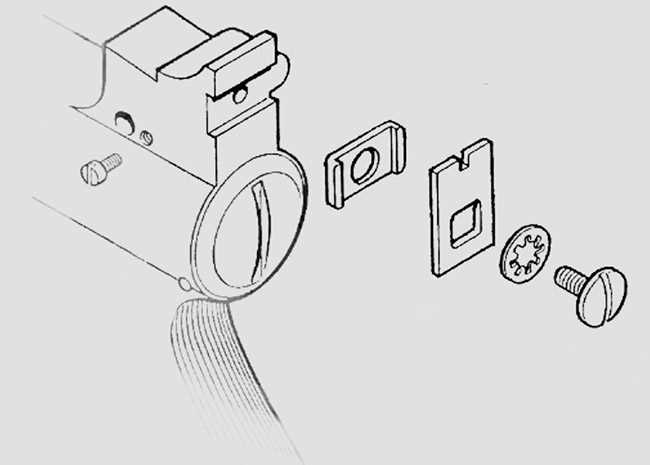 Reader hihihi posted this drawing in the comments section.
BB had reported having sight alignment problems with his Webley sight and this is what he said in answer to hihihi, "Hi3, Nice drawing. Unfortunately it doesn't look like the sight on my pistol. I guess in the next report I will disassemble the rear sight and show the parts. I have to do it anyway — why not get a blog out of it?"
So I did
I did disassemble the rear sight and guess what I found? Time's up! I found those exact parts shown in the drawing. They were just assembled backwards The cross slide that the flat notch plate fits into was assembled in its slot upside down.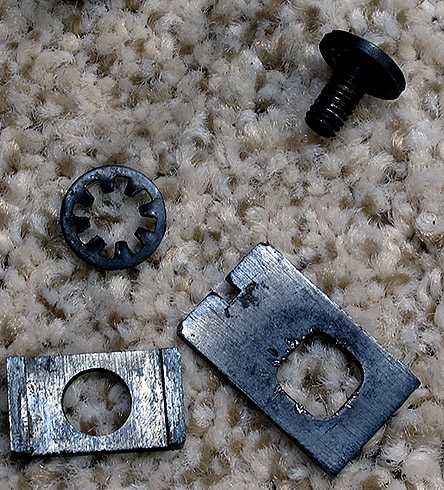 Funny thing — the parts shown in hihihi's drawing are identical to what's on my pistol. They were just assembled wrong.
Okay, but before that that reader shootski said, "Ach Du Lieber! To starten you must get rid of the Silver Dime! You need a One Mark coin to embarrass this British pistol into shooting straight!
Actually how much slop is there in the front hinge? It wouldn't take very much with that short of a barrel.
RidgeRunner says they aren't the "most" accurate pistols but….I'll be watching and hopefully you will perform a minor miracle!"
Well, I grabbed the front of the barrel and shook it. No movement at all. Then I put a screwdriver to the two screws that hold the barrel pivot in place. Both were very loose. I tightened them up and shot a round into the rubber mulch trap. Holy cow! The pistol sounded much different, like it had more power. Somehow I knew that these two things had fixed the problem. I didn't even mess around. I went back 10 meters, set up my shooting bench and went to work.
Eley Wasps
I shot one pellet from 12 feet, just to make sure that after I assembled the rear sight THE RIGHT WAY that the pistol would hit the target. It hit inside the bullseye, so I went back to 10 meters and shot another five Wasps. That 10-meter group measures 2.431-inches between centers. It's not a great group but it's far better than we saw last time. The Senior is back!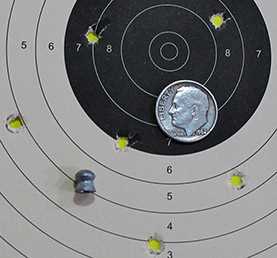 From 10 meters the Webley Senior put five Eley Wasp pellets into a 2.431-inch group. The shot at the top right was fired from 12 feet to confirm the rear sight was adjusted correctly.
H&N Field and Target Trophys
The second pellet I tested was the H&N Field and Target Trophy. From 10 meters the pistol put five pellets into a group that measures 1.922-inches between centers. This is about the accuracy I have come to expect from a vintage Webley pistol at this distance.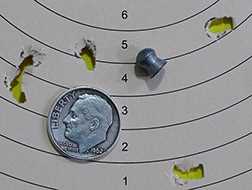 The Senior put five H&N FTT pellets into this 1.922-inch group at 10 meters. Notice that you can see black where the pellet skirt tore through the target paper. Those holes aren't as big as they appear because some paper tearing is happening.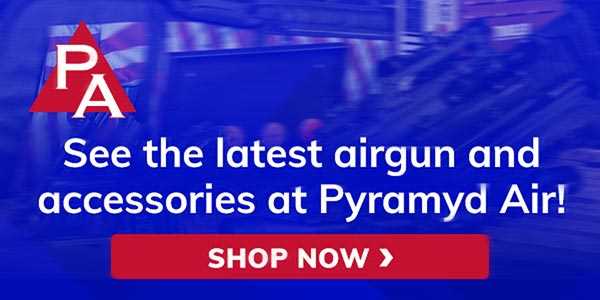 H&N Baracuda 15
The final pellet I tested was one I grabbed at random — an H&N Baracuda 15. Talk about a lucky break! I put the first four of these five pellets into a 1.019-inch group at 10 meters. The final shot went off before I was ready and I called it a pull that went high. Indeed that one high pellet opens the group to 1.86-inches between centers.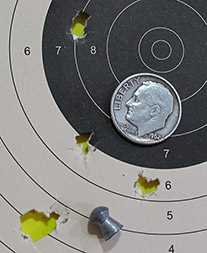 The bottom four pellet holes were shot first and measure 1.019-inches between centers. The top hole was the last shot and was a called pull that went high. It opens the group to 1.86-inches between centers.
Flaring the pellet skirts
I had always planned on doing this test at the end of the accuracy test, but the first test went so wrong that I didn't try. I would take the most accurate pellet and flare its skirt in an attempt to make it fit the pistol's bore better. To do this I used a ball bearing that I pressed into the pellet's skirt while I rotated the pellet against the ball.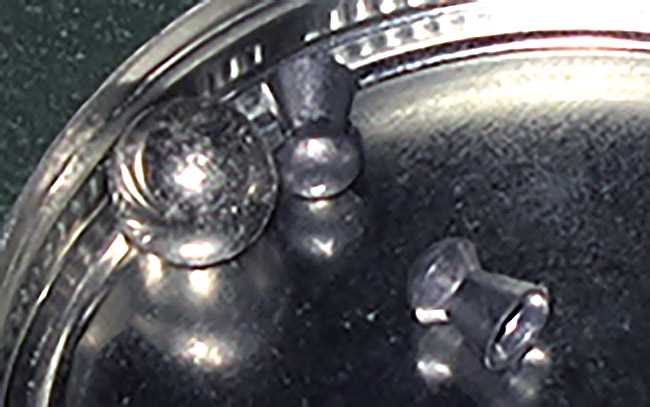 To flare the skirts of the Baracuda 15 pellets I pressed a ball bearing against them and rotated them several times.
Did it work?
This is why I measured the 4 shots of the last group. These five shots with no pulls went into 0.951-inches at 10 meters. I call that close enough to the 4 shots before that I can't see any difference from flaring the skirts. But what a group! This Webley Senior can really shoot when it's fed the right pellets.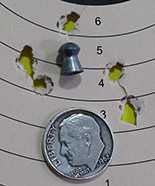 After flaring the skirts of five Baracuda 15 pellets five pellets made a 0.951-inch group at 10 meters. They are approximately as close as the first four pellets in the last group.
Summary
shootski and hihihi,
YOU WERE RIGHT!