This report covers:
Quiet CO2 cartridge install
Crosman Black Widow
Avanti Precision Ground Shot
Dust Devils
Smart Shot
Shot count
Discharge sound
Handling
Summary
Labradar Chronograph
Today we test the velocity of the Barra Schofield BB revolver. The factory rates it to 410 f.p.s. and Pyramyd AIR rates it to 445 f.p.s. This should be interesting.
Quiet CO2 cartridge install
Many CO2 guns hiss before their CO2 cartridges are fully seated — probably most do. This one is absolutely silent. I had no idea if the cartridge was pierced until I cocked the hammer and fired. I'm not saying they will all be like this, but this one is.
Naturally I used a drop of Crosman Pellgunoil on the tip of the cartridge before installing it. The oil gets blown through the gun's valve with the gas and it seals all the internal seals and o-rings. If you do this your gas guns will last much longer. Okay, now let's look at the velocity.
Crosman Black Widow
For premium steel BBs I selected Crosman Black Widows to test. In my past tests I have found all steel BBs are so close in velocity that it's necessary to test just one to know how they all perform. Exceptions would be any unique BBs like the Marksman that is 0.176-inches in diameter rather than 0.171-0.1735-inches.
The first 6 BBs (the number of cartridges the cylinder holds) … well, I won't give you an average. I'll show you all the shots.
Shot………Vel.
1……………363
2……………394
3……………411
4……………404
5……………411
6……………413
Something seemed wrong. Does this revolver need a break-in period? I wouldn't think so. But that string just didn't seem right — especially since shots 3 through 6 were all in the 400s. So I shot the same BB 6 more times.
Shot………Vel.
1……………423
2……………400
3……………401
4……………397
5……………407
6……………397
That was a lot better. The average for this string was 404 f.p.s. and the spread was 26 f.p.s. I thought I had worked it out, but I wouldn't know for sure until the next BB was tested.
Avanti Precision Ground Shot
Daisy Avanti Precision Ground shot are very much like premium steel BBs, but they are on the large side, at 0.1735-inches. However, if you think the first string was wild, looky here.
Shot………Vel.
1……………319
2……………400
3……………did not register
4……………DNR
5……………397
6……………304
Wow! What a spread! And this was the string that opened my eyes to what was happening. I had been seating the BBs by placing a cartridge over one on a table and pressing down until I felt it pop in. Apparently I needed to do more. I needed to deliberately press each BB into the top of the cartridge by hand.
Now see what I get when I'm deliberate.
Shot………Vel.
1……………405
2……………416
3……………405
4……………409
5……………399
6……………411
The average for this string is 408 f.p.s. The spread is 17 f.p.s. I believe this is much more representative of how this Schofield behaves.
Dust Devils
I know that the Mark 2 Dust Devils are smaller than steel BBs. I wondered how the cartridges would handle them. Well, they held them fine. They popped in just like the other two steel BBs.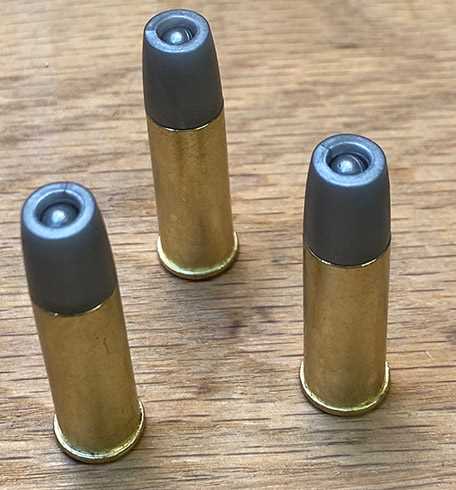 The BBs must be deliberately pressed into the mouth of each cartridge. If you don't, wild velocity swings will happen. These are three Dust Devils.
The average for Dust Devils was 398 f.p.s. The high was 420 and the low was 383 f.p.s. That's a difference of 37 f.p.s. The smaller size of the BB is probably the reason for the larger spread.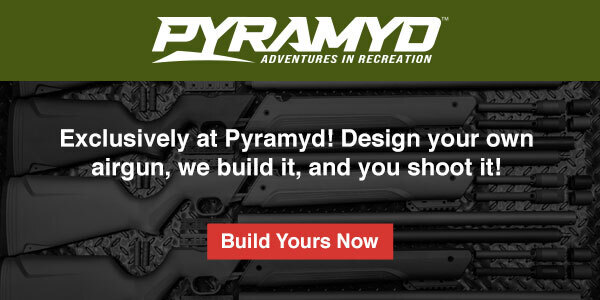 Smart Shot
The final BB I tested was the H&N Smart Shot. At 7.4 grains these are heavier than steel BBs, so we expect them to go slower. Six of them averaged 289 f.p.s. with a spread from 288 to 296 f.p.s. That's a spread of only 8 f.p.s.
Shot count
At this point I had fired the revolver 48 times. I switched back to Crosman Black Widow BBs that averaged 404 f.p.s. in the beginning. Shot number 50 went out at 416 f.p.s., so the pistol is still on the power curve.
Shot 60 went out at 357 f.p.s., so I think the gas is running out. But then I moved the light over the chronograph and didn't get a shot recorded until shot 66, which went out at 337 f.p.s. Shot 70 was 291 f.p.s. and the BBs were bouncing back at me off the cardboard box of rubber mulch. Shot 74 was the final shot at 221 f.p.s. Based on all of that I'd say that you can expect 10 cylinders of shots per cartridge, give or take.
Discharge sound
I tested the discharge sound of the revolver and was shocked to see 113.6 dB on the screen. I actually tested it twice because it didn't sound that loud and the other test came up at 114.1 dB. Apparently this little puppy is LOUD!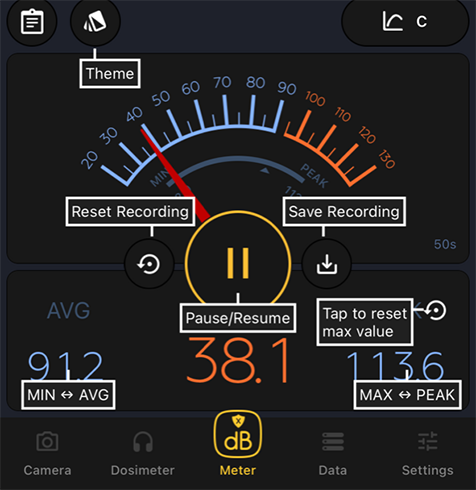 Handling
I find the Schofield easy to cock and fire, but extremely muzzle heavy. It wants to turn in your shooting hand if you don't grip it hard. It is not a natural pointer like the Colt single action.
Summary
I find the Barra Schofield revolver to be interesting. It cocks and shoots easily, but the balance is too nose heavy. I think the accuracy test will be most interesting. And yes, the Webley Mark VI pellet cartridges do fit this revolver, so I will also conduct a test with pellets.
Labradar Chronograph
Reader Vana2 has convinced me to acquire a Labradar chronograph for my business. The way it works is by doppler radar and I won't have to go downrange to record my shots. And this one doesn't attach to the gun, which I find very troublesome and awkward. Maybe the ones that attach are good for a single airgun, but I test hundreds of different airguns and I need flexibility.
Labradars are sold out right now because the company can't get the chips they need to make them, but I will keep watching and get one as soon as I can. They aren't cheap, but their features make them ideal for my work.
They are sold out everywhere but Optics Planet has them listed for sale so I "ordered" one. They then "added it to my cart." A day later I got an email telling me to expect a one to four month wait for my "order" to be filled. Well, that's not an order at all, is it? That is a reservation. Other sites that sell them either don't show them or they show them backordered.
Optics Planet should have said the item was backordered like all the honest businesses are doing, but they wanted to make the sale. They can't legally charge my credit card until they have the item to ship so no harm was done.
I blasted their sales manager for using dishonest tactics to try to make a sale. How would you like to order an expensive airgun from Pyramyd AIR that appeared to be in stock and then be told a day after your "order" was "processed" that there would be a one to four month delay? Here's the deal folks. If your credit card expires before they receive the the item they will decline your order, so your "order" isn't an order at all.
Why do I tell you about this? Well, tomorrow I have a report coming that dovetails with several I have already written, with the one from yesterday on the Crosman Fire being the most germane.