This report covers:
Meopta
Correction
Hatsan USA
Piledriver
Factor Bullpup
Jet Pistol
Three Ounce Pistol
Labradar chronograph
Predator Polymag
Leapers
Integrix
There is more
Drum Roll
Summary
Well, here we go again. Another 5 to 8 miles of walking to bring you guys the story.
Meopta
My first stop was Meopta. I had some things to report to them but there really aren't any new products for us to talk about. I asked them about the twilight/daylight illumination possibility and they said they would consider it.
Correction
Before we move on I want to correct something I said in the Day One report. I said that the Air Venturi Rovair portable compressor and the JTS compressor looked very similar, which they do. But they aren't the same machine. The JTS compressor has a unique cooling system that allows it to be operated for 30 minutes without overheating. Both machines are maintenance free which I believe means oilless, but they are two different machines.
Hatsan USA
Stop two was the Hatsan USA booth. Cecil Bays showed me all their new products and I tried to keep up with him. But I'm just going to hit the highlights today.
Piledriver
This year there is a .62-caliber Piledriver to join the .45 and .50 caliber rifles that already exist. That's correct — sixty-two caliber!

A .62-caliber Piledriver hollowpoint bullet. It weighs 650 grains and develops 750 foot-pounds of energy at the muzzle.
Two questions:
1. Think it'll take a deer?
2. Think it should be called a pellet?


The Hatsan Piledriver now comes in .62 caliber.
You'll get 3 to 5 shots at this power level, which should be more than enough to dispatch your target animal. It fills to 300 bar which is 4350 psi, so bring a large tank or a portable compressor along with the rifle on a hunt.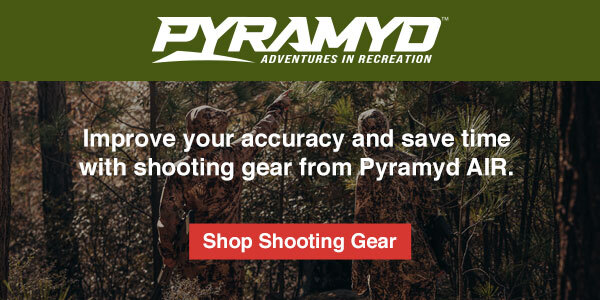 Factor Bullpup
The Factor isn't new but this year it comes as a bullpup, too. And there are two new calibers — .30 and .35.


Hatsan's Factor now comes in a bullpup configuration. Two new calibers were added — .30 and .35.
Jet Pistol
I would say that the biggest deal with Hatsan this year will be the Jet and Jet 2 PCP pistols. Let's take a look.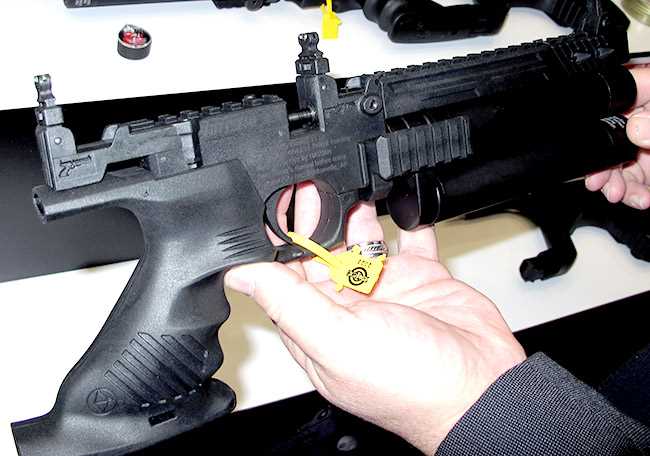 We are looking at the twin tubed reservoir Hatsan Jet 2. The Jet would have only one tube. Get it?
Both guns come in .177, .22 and .25. The Jet gets about 16.5 foot-pounds in either configuration. The Jet 2 gets twice the number of shots. Think 16 and 32.
But why are there two sets of pop-up rear sights? Because the Jet also has a detachable stock to become a carbine and the front rear sight is for that.
Buy a Jet and you can buy a spare set of reservoir tubes to turn it into a Jet 2. And they come in three colors. Now, that's nice!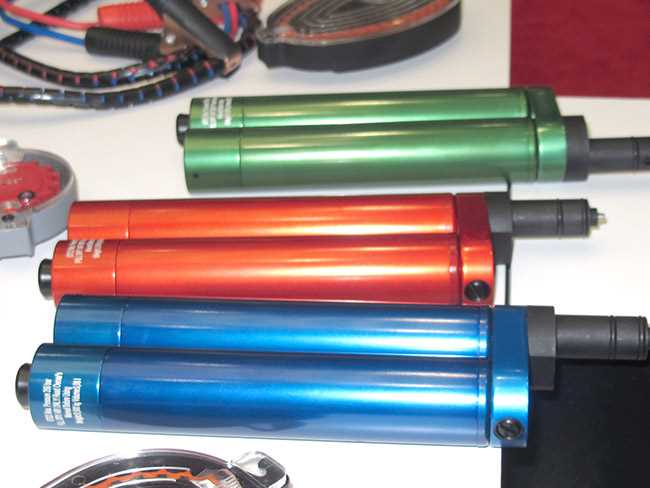 Three colors of Jet 2 reservoir tubes will be available.
Three Ounce Pistol
Okay, this is an airgun blog but I just gotta tell you about this. It's the smartest defense hideout firearm I have ever seen! It's called the Three Ounce Pistol and look at how small it is.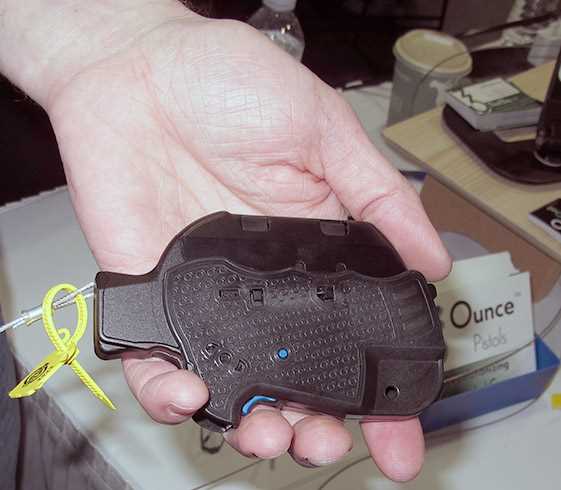 Three ounce pistol closed.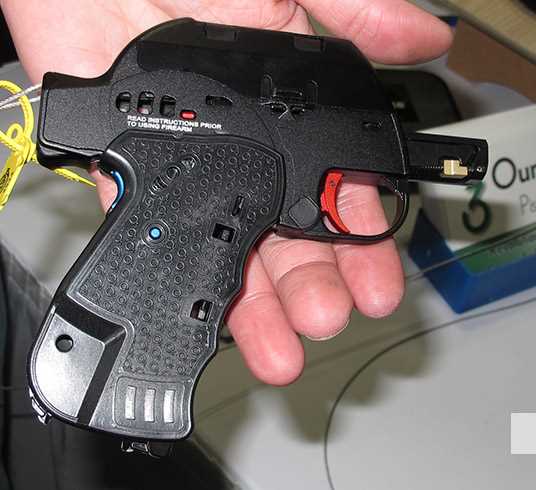 Three ounce pistol opened.
This is an 11-shot .22 long rifle pistol that is so small and light that I WILL CARRY IT EVERYWHERE THAT IS LEGAL TO CARRY!!!!! Got it?
I carry a Sig P365 for my guard duty at church and you have seen me shoot it. This little guy is going with me everywhere it's legal. It really weighs 8-1/3 ounces loaded.
It's not cheap — over $800 at present. The company is just getting started and it's expensive to manufacture small runs of these. I DON'T CARE. Better to have it and not need it than to need it and not have it.
Sorry, guys, but this is the SHOT Show and I just had to tell you about this. Here you go — www.OunceOz.com.
Labradar chronograph
I stopped at the Labradar booth. If you want one order it soon because in March there will be a lull in manufacturing. They didn't say why but I reckon that it's chips.
I also learned that 5 meters is too close to the target to get BB velocities. They do get BB velocities but from 15 yards. So now we know.
I put Pyramyd AIR in touch with them and I hope that something good comes from it.
Predator Polymag
I stopped at the Predator booth and talked to Jay Cogswell. I asked about the .22 Monster Redesigned pellet as a Hades and he told me JSB is working on a heavier .22 Hades right now. It may not be called a Redesigned but that's essentially what it will be.
Leapers
My last stop was at the Leapers booth, and boy, was it something! Let's begin at the top.
I told you last year about the Integrix scope line they are bringing out. Well, Leapers owner, David Ding, told me he will roll out one Integrix scope model at a time this year to make certain that each scope model is ready to sell. These are high-end scopes and he will not compromise their quality. But David never compromises quality on any product he makes, so I guess that statement was redundant!
Guys, I have been talking with David since 1998 (or possibly a year or two earlier) and he LISTENS! I told him when we first met that airgunners wanted a scope that parallax-adjusted down to 10 yards and the next year he showed me one that went down to three! I said, "You know, airgunners could use that to bust bugs in their back yard." and the Bug Buster line was named.
Integrix
This year it was Integrix scopes that I saw. Now, I am no expert in high end scopes, but my experience with Meopta has taught me a few things. THESE INTEGRIX SCOPES ARE GREAT! They are clear; they are bright and for their power they are small!
But they ain't cheap! The lineup I was shown at SHOT will retail between $1,400 for the 1-8 power up to $2,200 for the 4.5-27 power.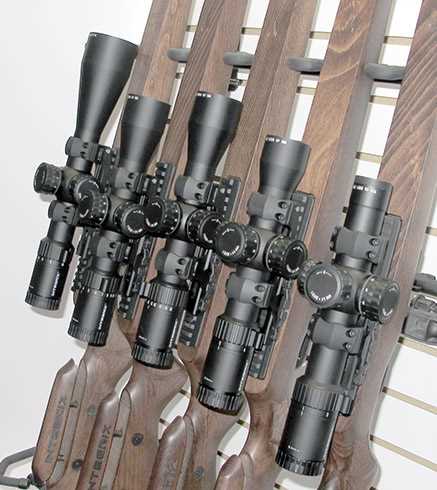 The Integrix lineup so far. The 1-8 in closest to the camera and the 4.5-27 in in the back.
All Integrix scopes have 34mm tubes which gives them uncanny light transmission. And remember our discussion about the illuminated reticles killing your night vision? Well, these seem the same to my eyes, on or off.
Now, you can't look through a scope on this blog so you'll just have to trust me. The field of view in all of these scopes is amazing — even at high power. At low power it's like looking through a picture window! If it wasn't superb it wouldn't get out of the factory.
One big "secret" is the German glass they use. Remember when I told you what glass like that costs? You don't? Well several years ago it was $100 per lens blank — BEFORE GRINDING! And that's just one secret.
There is more
But wait… Yes, there is more. Leapers has taken the experience they have acquired in the five years they have worked on these Integrix scopes and they have migrated it down to a midrange line of scopes called the Accushot Pro. Yes, they have sold Accushot scopes before, but these Pro scopes have never been seen. And they won't be seen this year in all probability, because David won't let them leave unless they are perfect. What you get, as a buyer of these $600 to possibly $900 scopes, is THE SAME QUALITY as the Integrix scope line, with one exception. These scopes don't have the German glass lenses that the Integrix scopes have. David says that in all tests between the two they are the same except when the power is cranked up all the way in darker situations. Then the Integrix are brighter.
Drum Roll
Okay, all you guys who have asked for a Bug Buster with an etched glass reticle — I saw it!!!!! And now you will, too.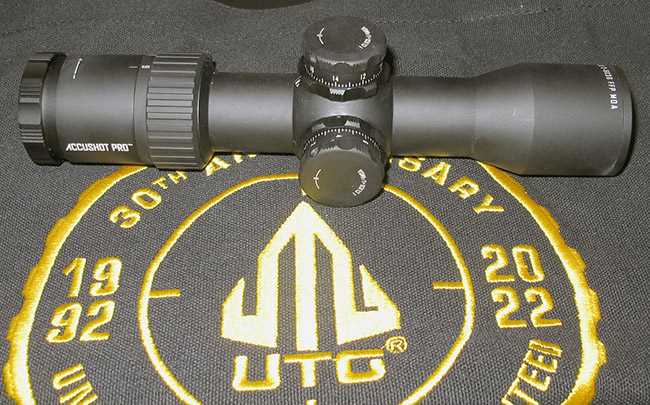 There it is, boys — the Bug Buster with an etched glass reticle!
Do you notice what it says on the left rear in this image? It says Accushot Pro. Do you remember what I said about that line being midrange scopes?
David told me he is fighting to get the retail price of this scope down to $400. Yes, that would sell for less than the rest of the Accushot Pro line but David wants to do something special for all the shooters who have been fans of the Bug Buster line over the years. And, like the rest of the Accushot Pro lineup, don't expect to see this one this year. Because it ain't gettin' out the door until he says it's ready. When he does, you know it will be good!
Summary
By this time BB's legs were worn down several inches from all the walking and he still had 4-5 hours of work ahead of him. But this show is stacking up to be a great one, of the companies that came.