Part 1
Part 2
Part 3
Part 4
Part 5
This report covers:
One-piece adjustables
One-piece mounts with droop compensation
Bullseye ZR
Burris XTR Signature rings
Sportsmatch adjustables
Summary
This series has looked at scope rings, but I thought I was done and hadn't even touched on the subject of adjustable rings. Today we look at the more advanced adjustable scope rings.
One-piece adjustables
BB prefers two-piece rings in most situations, because one-piece rings limit the scope mounting options. But one-piece rings do have two advantages over two-piece. Assuming they are made well, one-piece rings don't have the alignment issues that two-piece rings can have. Once the ring(s) are mounted on the rifle, the front and rear rings should align well. With two-piece rings that can sometimes be a problem.
The other advantage is that one-piece rings don't have to have a gimbal on the front ring. As long as the ring base can pivot or the front and rear rings are on the same base bar, the rear of the scope can go up and down with no danger to the scope tube.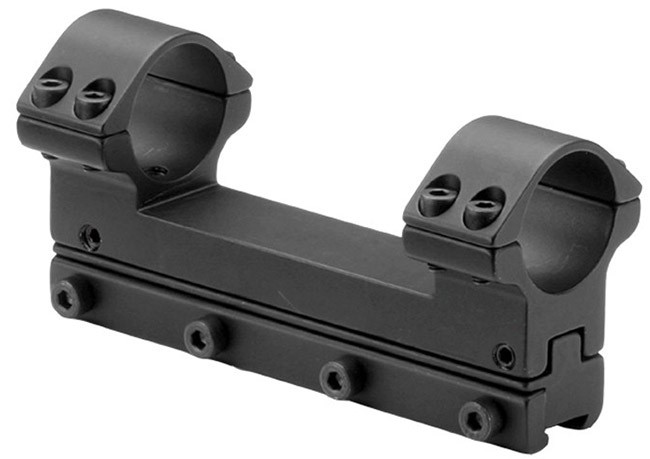 Sportsmatch one-piece adjustable rings.
The one-piece adjustable rings are made for barrel droop — in case your rifle has it. In case? If it doesn't droop it is a rare bird! The question isn't WHETHER it droops, but does it droop so much that you have to do something about it, beyond just cranking your scope's elevation adjustment higher.
One-piece mounts with droop compensation
Besides adjustable scope mounts there are one-piece mounts that droop toward the front of the gun. In other words the scope rings slant downward, ever-so-slightly.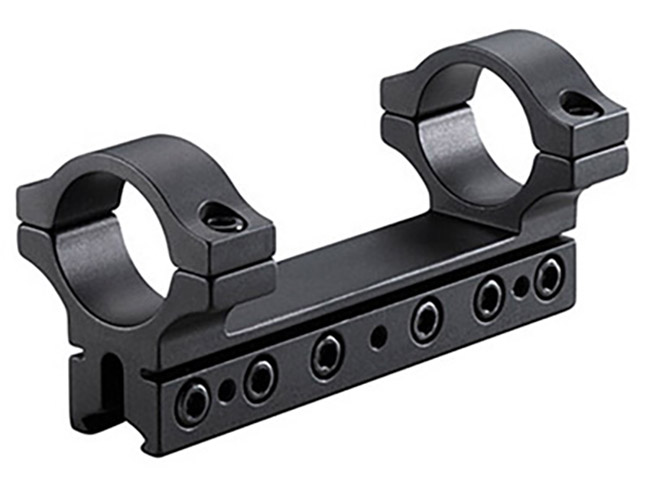 This BKL one-piece scope mount doesn't adjust, but it slants downward by 0.007-inches rear to front.
The important thing with this type of mount is to always attach it so it slants down in front and not up. Unless you have a unicorn air rifle that needs its shots to be lowered, this kind of mount should only be attached one way.
Oh, and one more point — the description on the Pyramyd AIR web page talks about DROP compensation for this scope mount. That should read droop compensation. Drop compensation is a meaningless term.
Bullseye ZR
Then there is the Bullseye ZR (for zero recoil?) one-piece scope mount that has 0.004-inches of droop compensation, plus a spring-loaded ring base that compensates for the rifle's recoil, and rings with inserts that work for both one-inch and 30 mm scope tubes.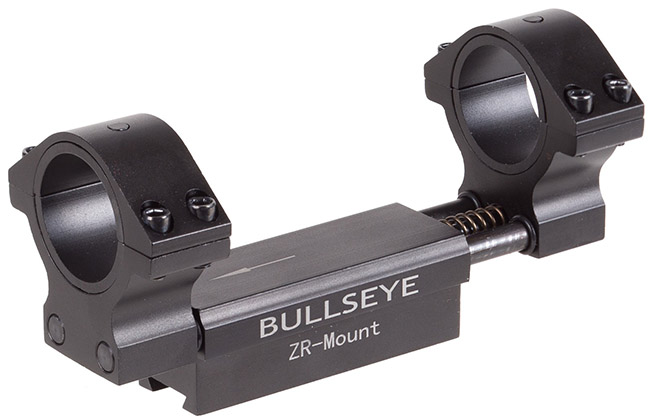 The Bullseye ZR scope mount. The springs are to cancel the effects of recoil.
The first and third features are useful. BB has no experience with the spring-loaded airgun scope base, but he does have some with heavy recoiling centerfire rifles. The target scopes sold by Lyman, Redfield and others have springs on the scopes. These scopes slide within their scope rings and the springs are there to push the scope back into battery (their starting position) after each shot. There are also similar and less expensive target scopes that have no springs and must be manually pushed back into battery. These mounts do work to cancel the effects of recoil on the scopes.

This Lyman Super Targetspot scope has a coiled spring to push the scope back into battery after each shot. As you can see, the tension of the resetting spring can be adjusted for lighter or heavier recoil.
Windage adjustment is possible for a one-piece scope mount, but it isn't common. Sportsmatch makes a one-piece mount that is adjustable. But one-piece adjustables isn't the way shooters are going. Instead they go for two-piece adjustable scope rings that adjust in both directions — just like the B-Square rings I presented in part 5 but more refined.
Burris XTR Signature rings
I will now present two different approaches to both elevation and windage adjustable 2-piece scope rings. First are the Burris XTR Signature rings. This is a two-piece ring set that comes with eccentric inserts that allow you to raise, lower and move the scope tube left and right — on either scope ring. The way they do it puts no strain on the scope tube and really does do the job.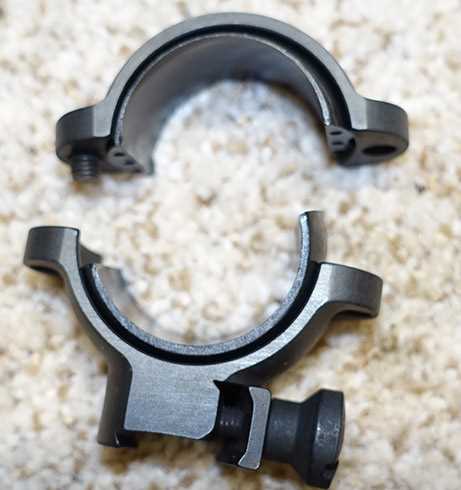 The inserts for these Burris rings can be moved all around the inside of the rings to point the scope tube in any direction you want. This view shows how the inserts fit inside the ring cap and saddle. By rotating the inserts you also get left-right adjustment.
The Burris scope rings really do work well, but they are almost impossibly fiddly to learn how to use correctly. Setting up a scope with them takes a very long time with many trials. But once you get them set up correctly they hold in place and do the job — at least with recoilless precharged pneumatic guns.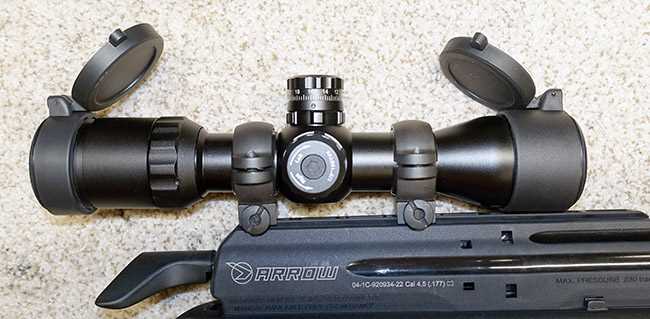 The Burris Signature rings did angle the scope downward on the Gamo Arrow. They also allowed the 3/4-inch rearward positioning of the scope I was looking for.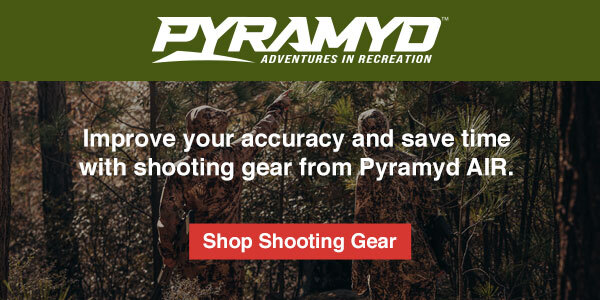 Sportsmatch adjustables
Sportsmatch also makes two-piece scope rings that adjust for both windage and elevation. I have a set mounted in my Air Arms S510XS rifle and I have vowed never to remove them — though the temptation has been great. The temptation is great because in my opinion, these are the best adjustable scope mounts on the market. I just wish I had more of them.
Summary
We have come a long way in the world of scope mounts in the past 70 years. When the scope ring revolution started in the 1950s, airguns were never scoped. Today they nearly always are. What will the next 20 years bring?