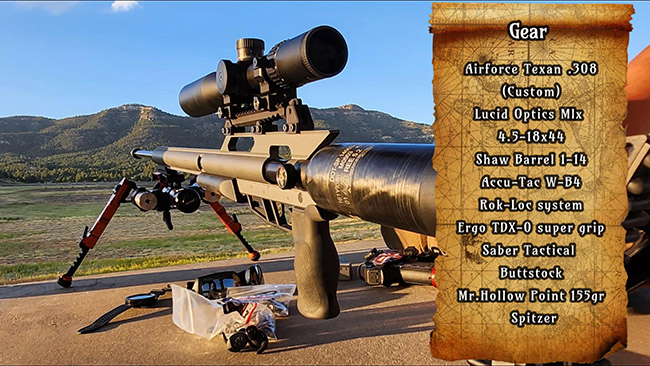 Ton Jones' .30 caliber AirForce Texan that he used to set a world record by hitting a steel target at 2058 yards (1.169 miles).


Ton Jones' AirForce Texan .30 caliber, set up for long range shooting. Specs are given in photo above.
This report covers:
The record shot
Fresh paint
Doubters
Triumph
European one mile air rifle shot
Summary
This report documents a world record air rifle shot made by Ton Jones at the NRA Whittington Center. On September 9, 2023, Ton shot a .30 caliber AirForce Texan 2058 yards and hit a 3-foot by 3-foot (91.44 cm by 91.44cm) steel target. That's 520 yards, (475.49m) farther than buffalo hunter Billy Dixon shot his Sharps at the Second Battle of Adobe Walls, Texas, in June of 1874. Dixon fired his 50/90 Sharps rifle eleven times to hit and kill his target, medicine man/chief Esa-Tai. That shot has been celebrated for more than a century. Ton Jones hit his target 520 yards farther away on the fourth shot!
This air rifle shot was 1.169 miles! It was officially witnessed by five people and watched by about another 20-25.
You will note that Ton's rifle is tethered (permanently connected) to his air tank. But he opens and shuts the tank valve before each shot. That's to keep the air pressure in the reservoir at the same level for every shot. Ton is acting as his own regulator.
Two days before the record shot Jones sighted-in at an 18″ by 18″ steel target at 400 yards. The next day he battled crosswinds and hit a life-sized steel buffalo silhouette target at 1123 yards. That one also took 4 shots to connect and five official witnesses saw it, along with 15-20 other people who were mostly high-power rifle shooters. They were curious what a "poof" gun (what they called Ton's air rifle) could do on their long-range targets.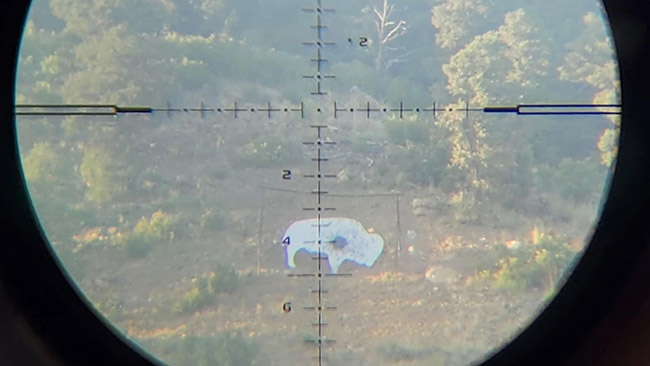 This is a photo of the buffalo silhouette taken through Ton's Lucid scope.
The record shot
The next day, September 9, Ton had planned to shoot at a target 1,450 yards away, but when he set up at the range that morning he noticed there was no wind. No wind in New Mexico is as rare as a steak that's still bleeding, so he decided to go for the 2,000 yard shot that was verified as 2058 yards from his shooting bench. That target was on a different part of the mountain, so everything — bench, spotting scope, cameras etc., had to be shifted to the right.
Here is a 13+ minute video of this world record airgun shot. It includes the 1123-yard buffalo shot the day before and all four shots at the 2058-yard target.
Fresh paint
The day before his record shot, all targets on the mountain were freshly painted white. That was helpful because his bullet that hit was dropping from over 700 feet elevation. It didn't leave a round mark in the paint. It left a blotch that ended in a downward line. In all, about 6 inches of lead were on the paint.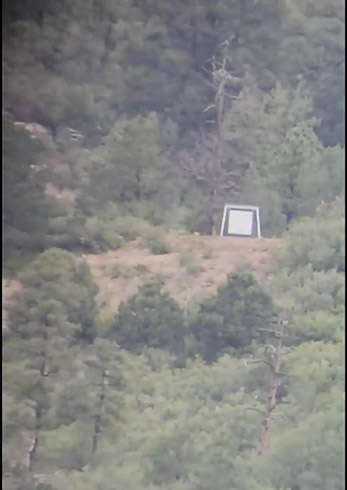 The 2000-yard target seen through extreme magnification. All targets on this mountain were freshly painted the day before the record shot.
Doubters
The 15-25 watchers (separate from the official witnesses) on record day were mostly centerfire rifle shooters who were at Whittington Center to shoot targets of their own. One, a writer from the NRA, witnessed the 2000-yard shot in disbelief. He's the guy standing left of the witness at the spotting scope in the video.
After Ton connected with the 400-yard sight-in steel target on the first day the watchers who had been doubting became quiet. After watching the 1123-yard buffalo shot on day two, a shot many of them also hoped to make, they started understanding what was happening and shifted over to Ton's cheering section.
On the record shot there were still a lot of doubts in the crowd. Ton himself wondered what he had gotten himself into. His first three shots determined the amount of holdoff he had to make to hit the target. To hit the target he held the rifle up so the tip of a tree on top of the backstop mountain was in the bottom of his scope. That was many hundreds of feet above the target.
Triumph
In the video you hear the spotter say, "New mark on steel." Because the targets were freshly painted it was easier to see any marks made by the bullet, and, at one mile plus, that's important! Ton explodes from his chair on hearing the good news.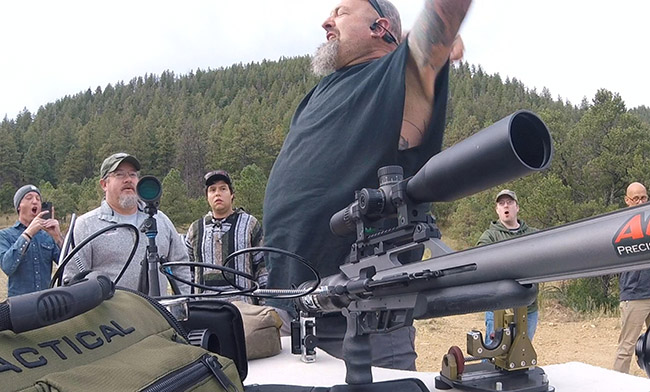 After he hit the 2,000-yard target he rose from the bench in triumph.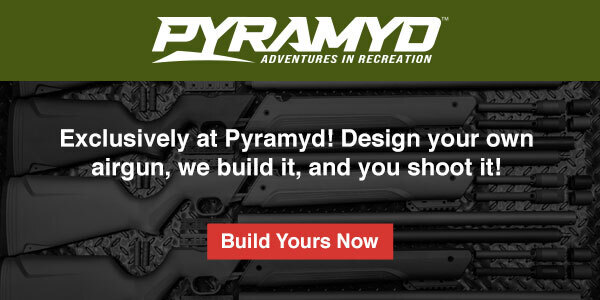 European one mile air rifle shot
There is a European video I show below of a man shooting an air rifle at a balloon one mile away. His rifle is sandbagged in place and, from what I see in the video, it is never intentionally moved. A different version of this video shows the shooter adjusting the velocity of the rifle with air pressure, so the rifle never has to be moved.
Since the shooter never actually holds the rifle it isn't a true rifleman shot; it's more of a science experiment that shows the probability of hitting a small target with an air rifle bullet at one mile.
I'm not saying he didn't hit the balloon. He certainly did. I am saying that he was not controlling the rifle when he shot. He was pulling the trigger and he was looking through the scope when the rifle fired. But the rifle was set up like an artillery piece and the shots were landing by chance in an area he selected before bedding the bipod down and "locking" the rifle in position. In the military that circular area is called a cone of fire.
He does hit the target at around 4 minutes 50 seconds into the video. Then go to 8 minutes and he shows several of the hundreds of small craters made by the impacts of the bullets.
Summary
An air rifle shot like Ton's has never been attempted before. It is a true world record.
This report shows what is possible, not what is practical. Nobody is claiming Ton's shot would ever be taken on game. But for all of us who want to know the limits, now we do — so far!