This report covers:
Speed sells
Reviews
Cocking effort
Sights
Accurate?
The rifle
Steel mainspring
Summary
This report is about an air rifle that left the market over a decade ago — The Gamo Hunter Extreme. This is the one I bought in August from Tom Gore at the 2023 Pyramyd Air Cup. To refresh your memory, this rifle was received by Vortek 20 years ago and Gore never opened the shipping box. You and I will do that together.


Unopened Gamo shipping box as I got it from Tom Gore in August.

The shipping box end flap.


End flap open to expose the end flap of the Gamo sales box.


The top of the box the Hunter Extreme came in.


One side of the sales box.

The box is opened.

This Gamo Hunter Extreme sees daylight after two decades. Yes, it came with a 3-9X50 scope already mounted.
Speed sells
In the 1980s through the first decade of this century, velocity was what sold airguns (let's face it — it still does) and Gamo took that to heart. For this rifle they advertised a velocity of 1650 f.p.s. when shooting Gamo's Performance Ballistic Alloy (PBA) pellets. And they weren't subtle about it, either. They laser-engraved it on the steel cylinder of the spring tube.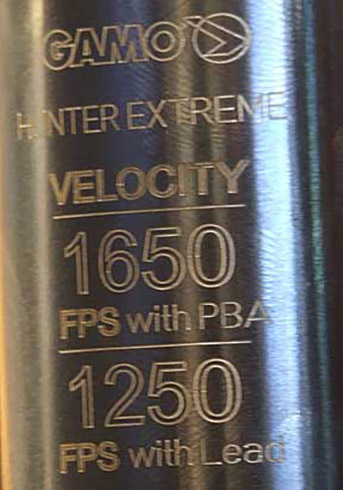 Gamo laser-engraved the advertised velocity on the spring tube of the rifle!
Oddly, the box it came in shows a speed of 1600 f.p.s. It didn't reach either velocity.
Initially the rifle was only offered in .177 caliber. They added .22 and .25 in short time, because .177 is a waste when the velocity goes that high. But the .177 Hunter Extreme appeared a television program that showed it dispatching a feral pig with one shot and many people bought it after seeing that. Most veteran airgunners felt that video was in poor taste and interest in it died out over time. It is still on You Tube and I ask you to please not link to it.
Reviews
There are 12 owner reviews on the Pyramyd AIR website and I read them all. When the owners quoted velocity they used Gamo's highest number, so it's unlikely any of them owned a chronograph. I found the rifle to be less than it's advertised velocity by several hundred f.p.s. on the last test I did. It will be interesting to see what this one does.
Many if not most of the reviews said this is a heavy air rifle. In truth, at 9 pounds it's on the heavy side of medium — in HW 80 country. I will say it is a large air rifle, though.
Cocking effort
When I tested it in 2007 the Hunter Extreme cocked with 58 pounds of effort. While that sounds high, in its day that wasn't the highest. I have seen spring-piston rifles cock with 75 pounds of effort.
Sights
There are no open sights, though the rear of the 18-inch barrel is drilled and tapped for an open rear sight. The front of the barrel is hidden under a swelled jacket that appears to be a silencer, though there are no baffles. The rifle comes with a Gamo 3-9X50 scope already mounted. The scope doesn't have parallax adjustments, and when I last tested the same rifle in 2007 the scope seemed to be parallax adjusted for about 35 yards. Believe it or not, though, the scope's reticle is illuminated!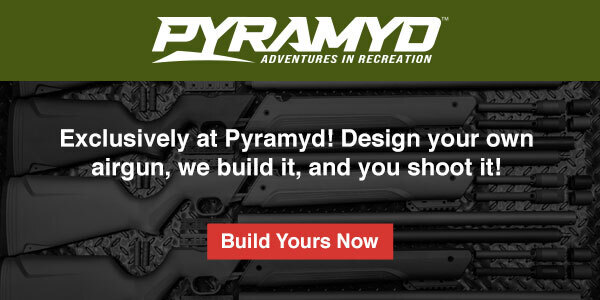 Accurate?
Accuracy is one of the things we will test. The people who wrote the reviews I read thought it was very accurate, but one or two defined that as about one inch for five shots at 40 yards. Of course there has been a world of new pellets since then, so everything old is new again. I'm not saying that isn't accurate; I'm just saying that's what the owners said.
The rifle
This air rifle is a biggie. With the scope it weighs just under 10.5 pounds. The pull is 14-7/8-inches, so it is a rifle for a larger adult. The thick black rubber butt pad is grippy and has vent holes like a recoil pad.
There is impressed checkering on both sides of the forearm and pistol grip, but the diamonds are flat and give no purchase when grasped. The wood is medium brown with a semi-gloss finish that looks like genuine oil. The cheek rest is not well formed and has the "melted" look that's been characteristic of Gamo rifles for many years. The butt is shaped like a western-style stock, rather than a European style and there is a Monte Carlo profile.
When the Hunter Extreme was last offered in 2010, it sold for around $500. It would be around that price today if it were still being produced.
Steel mainspring
Know why I wanted the Hunter Extreme? Because it has a steel mainspring. Last year I tried to test a top brand scope mounted on a heavy-recoiling spring piston airgun that had a gas spring but in the test the gas in that piston leaked out and the gun was dead. This rifle won't do that. Also, in the back of my mind I have an idea to reduce the power and see if I can make a better air rifle. We shall see.
Summary
This will be a strange series. I'm testing a brand new air rifle from yesteryear. Why? Because I can. No other reason.