Today Ian McKee whose blog name is 45Bravo tells us about his Air Venturi Avenge-X Tactical model.
If you'd like to write a guest post for this blog, please email me at blogger@pyramydair.com.
Take it away, Ian.
Air Venturi Avenge-X Tactical model: Part One
by Ian McKee
This report covers:
Quality?
Description
Features
First impression
Today we start my review of the Air Venturi Avenge-X Tactical model.
The Avenge-X rifles are all the same base rifle but with different options. They feature interchangeable .177, .22 and .25 calibers, carbon fiber bottles, slim line pressure tubes, wood or synthetic stocks and bullpup configurations.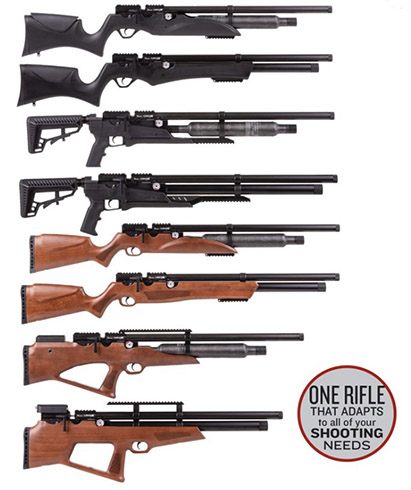 There are eight possible configurations available, available in all three calibers.
BB is reviewing the wooden stock version, I chose the tactical version to be different, and I don't have a tactical version of a full size pellet rifle in my stable. Also, I want to directly compare it to a friend's FX Crown in an aftermarket Saber Tactical stock that carries a total MSRP of $1,949.
Quality?
Now I know a $530 rifle will not have as nice a trigger, fit, finish and quality grade materials as a rifle that costs four times as much, but I do love it when a budget gun shoots well above its paygrade.
Description
The rifle is just under 44 inches long with the stock fully extended, and 40 inches total when collapsed. Without an optic, it weighs just a little under 7 lbs.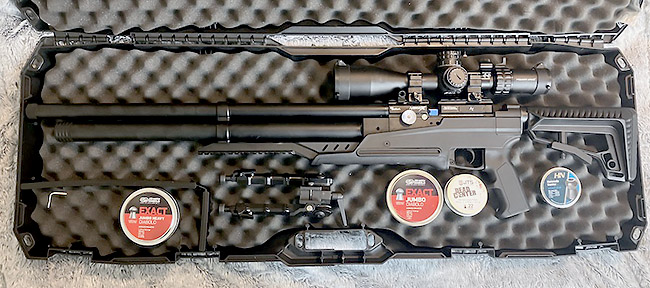 The Avenge-X, bipod and ammo all fit perfectly in a mid-sized case.
Features
To list all of the features found in the rifle would take up most of today's blog without leaving much room to discuss many of them in detail so we will cover a few of the highlights in today's blog.
Let's start with the receiver. It started as a solid machined block of aluminum, and the side-mounted cocking lever is reversible for left-handed shooters, or people who want to manipulate the action with one hand, while still gripping the gun with the other.
It has a stainless steel externally adjustable regulator, an externally adjustable transfer port, and a two-stage adjustable trigger, and an industry standard Foster fitting to fill the rifle, no fill probes!
The fully shrouded barrel is user interchangeable for caliber. Currently the options are .177, .22, and .25 caliber. The barrel kits include the barrel, shroud, internal moderator baffle stack and barrel centering device, and a one-half-inch x 20 threads per inch threaded end cap with thread protector.
All of the rifles ship with one standard capacity magazine (10 pellets in .177 and .22 caliber, and 8 in .25 caliber) and one high capacity magazine that holds 20 pellets in .177 caliber, 16 in .22, and 13 in .25 caliber, and a single shot tray is included as well.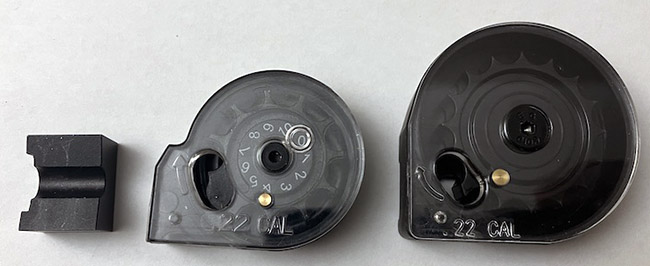 The rifle comes with a high-capacity mag, a standard mag and a single shot tray.
The tube reservoir version of the rifle lists 80 shots per fill in .22 caliber. We will test that on high power and again on low power to see the difference in the shot count.
The rifle has two gauges. The one on the left has blue markings and tells the regulator pressure. The one on the right has red markings and shows the fill pressure. Both gauges show pressures in bar and psi. 
The Tactical rifle comes with a very comfortable AR-compatible pistol grip, and AR-compatible stock with a grippy rubber butt pad. These can be easily changed to aftermarket ones if you prefer.
There is a metal Picatinny rail on the front of the forearm that is securely attached to the main receiver. It's there for mounting a bipod or other accessories.  
First impression
Overall, the Tactical Air Venturi Avenge-X has a very solid, quality feel, without being bulky or off balanced.
Follow BB and I on this journey as we explore what the Avenge-X has brought to the playing field.
Shoot safe, and have FUN!
Ian