by Tom Gaylord
Writing as B.B. Pelletier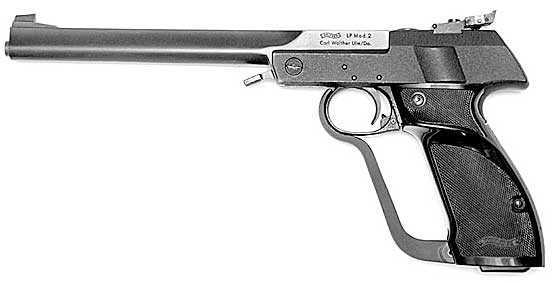 Walther LP2 single stroke pneumatic target pistol.
This report covers:
The test
H&N Finale Match Light
Adjusted the rear sight
Second Finale Match Light group
The trigger
Gamo Match
H&N Match Green
Sig Match Ballistic Alloy
RWS R10 Match Pistol
Discussion
Summary
Today we look at the accuracy of the Walther LP2 single-stroke-pneumatic air pistol. We saw the test group that came with the pistol in Part 2. It's serial-numbered to this pistol, so we have a good point of comparison.
You will remember that this pistol was resealed by Scott Pilkington for the velocity test in Part 2. With lightweight target pellets the pistol averages 330-350 f.p.s. That's not blistering, but a 10-meter pistol doesn't need to be. What it does need is a good trigger, good sights and a good ergonomic set of grips. Let's see what this LP2 has. read more