by Tom Gaylord
Writing as B.B. Pelletier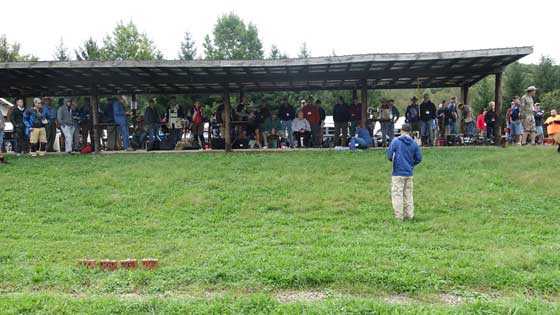 A record 104 shooters receive their orientation briefing from Tyler Patner on the first day of the field target match.
This report covers:
The vendors – H&N
The vendors – Leapers
Public range
Gauntlet and Fortitude
Sig ASP20
More interesting airguns to come
Field target
Pistol match cancelled
World-class airguns
More to come
The Pyramyd Air Cup is a public event that combines airgun competitions, a public range, a chance to meet many of the vendors who make the airguns and accessories you read about and, most importantly, a chance to shoot airguns you have seen and heard about but could never try. A day at this event is worth a year of reading on the internet — this blog included.
The Cup was held at the Tusco Rifle Club in Midvale, Ohio, which is about midway between Cleveland and Columbus. It's convenient to people living in a 500-mile radius, and this year I saw people from all over the U.S., including Florida, California and Hawaii. People had come from Canada and the UK, as well. The H&N general manager, Florian Schwartz, was there, and Tobias Schmidt represented Diana. Both men had come from Germany to be there. read more