by Tom Gaylord
Writing as B.B. Pelletier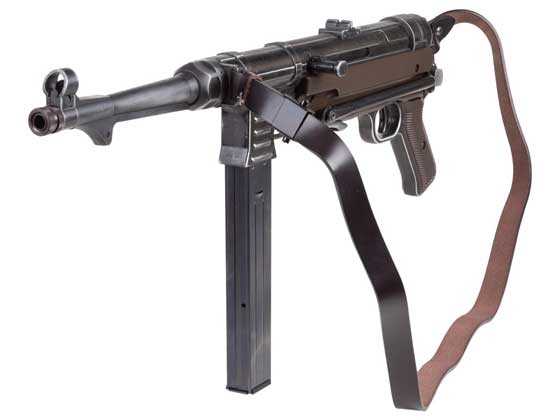 Umarex Legends MP40 BB submachinegun.
This report covers:
Texas airgun show
Description
Rate of fire
Select fire
Magazine
Sights
Open bolt
Blowback
Folding stock
Why this airgun?
Here is an airgun we have all been waiting for since the SHOT Show — the Umarex Legends MP40 BB Submachinegun. PAY ATTENTION! There are two versions of this airgun at this time. One is the weathered one that comes with a leather sling. and the other is a blued steel gun that apparently has no sling. I asked for the weathered one because of what this is — a battle-ready WW II replica. Beautiful bluing belongs on replicas of Colt Pythons, not on guns that have served in war! There is a price difference of $50 between the two offerings as this is published (the weathered version with the leather sling is more), but I would watch them because I think that's will change from time to time.