by Tom Gaylord
Writing as B.B. Pelletier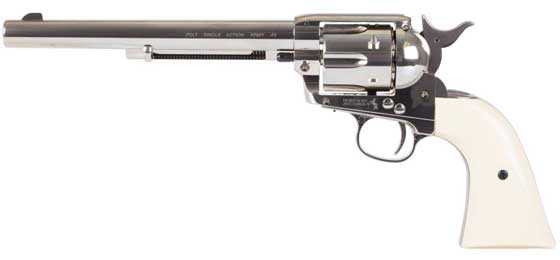 The new Colt Peacemaker is also available with ivory grips.
This report covers:
Loading the gun
The test
Air Venturi Steel BBs
H&N Smart Shot lead BBs
Plastic BBs
JSB Exact RS
Why accuracy before velocity?
Evaluation so far
It's been a month since we first looked at the Colt Peacemaker BB revolver with the 7.5-inch barrel. In that time I thought about how I should test it for you. I think today's test will be different and even exciting, because I am doing accuracy before velocity. I'll tell you why as we go.
Loading the gun
We know this revolver accepts a 12-gram CO2 cartridge in the oversized grip. The grip is that of a Colt 1860 Army cap and ball revolver instead of a Single Action Army cartridge revolver, and is about one half-inch longer. It looks right on the gun, though, and feels fine. The wrench for the CO2 piercing pin is permanently attached in the left grip panel so it's always at hand and installing the first cartridge went quick and easy.