by Tom Gaylord
Writing as B.B. Pelletier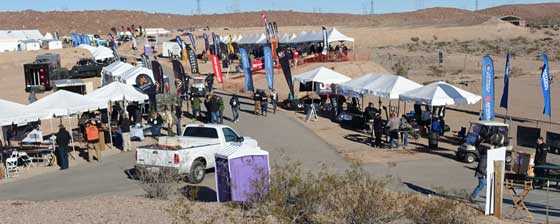 The upper range at Media Day has about 50 ranges and vendors. Because of crossbows, the ranges go in both directions.


On the lower range there are more ranges, also going both directions, with shotguns on the right.
This report covers:
SHOT Show
A great find!
My interest
My collection
This BB gun
Cocking
Takedown
Number 25?
Sights
Summary
Media Day at the Range is an event for gun writers and video makers, only. About 2,000 of us are taken to the Boulder City range where we are allowed to shoot and use some of the newest guns and accessories.
Umarex Hammer
We waited all last year for the Umarex Hammer to come out. From what I saw and sampled this year, I think we will see production guns by mid-2018.
The Hammer is a repeating .50-caliber big bore that gets 4 powerful shots on a fill ton 4,500 psi. The regulator drops the firing pressure to 3,000 psi, and the first 3 shots are all at the same pressure. Shot 4 drops below 3,000 slightly, but at 40 yards all the bullets should stay in a tight group. read more