by Tom Gaylord
Writing as B.B. Pelletier
This is a guest blog from reader Hiveseeker. Today he reflects on the very first airguns — blowguns
If you'd like to write a guest post for this blog, please email me. Now over to you, Hiveseeker.
Blowguns — the first airguns
by Hiveseeker
This report covers:
Airgun history
Blowgun calibers
Blowgun length
Popular .40 and .50 caliber darts
Popular .625 caliber darts
A word about blowgun hunting
Blowgun accessories
Make a blowgun target
How to blow that blowgun
Aiming a blowgun
For further study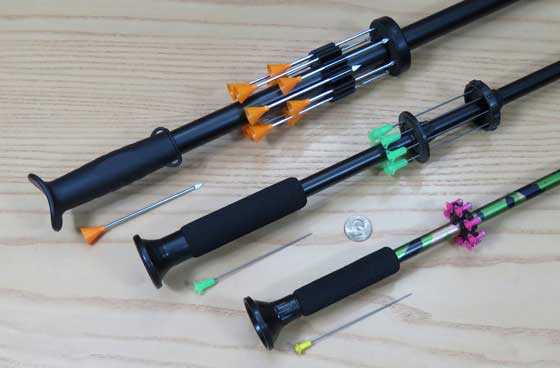 Modern-day blowguns come in .40, .50, and .625 caliber. Note the accessory dart quivers.
Airgun history
Here at the Airgun Academy blog B.B. has done a great job of sharing his passion and knowledge of airgun history, deepening our appreciation for our favorite sport. Today we'll be traveling even further into the past as we delve back to the earliest roots of airgun history — the blowgun! B.B. took us there in 2007 when he wrote about The blowgun Where it all began, and observed that "As airgun collectors become more interested in their hobby, they eventually start acquiring blowguns." read more