by Tom Gaylord
Writing as B.B. Pelletier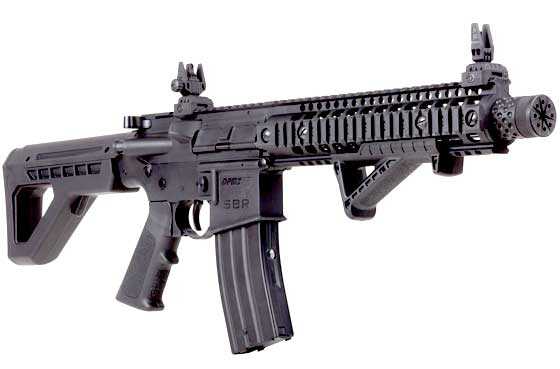 Crosman's DPMS SBR full auto BB gun.
This report covers:
What is it?
Watch the video
The gun
Blowback
Controls
Disassembly
Stock
Forearm
Loading
Shot count
Bolt holdopen
Sights
Summary
Today we begin looking at the Crosman DPMS SBR full-auto BB gun. First — the acronyms. DPMS = Defense Procurement Manufacturing Services. WHAT??? It's a shop that was initially in Osseo, Minnesota and opened in 1985. It started manufacturing parts for military weapons like the M16. It's now part of a larger conglomerate that's located in Huntsville, Alabama. SBR = Short Barrel Rifle. Another name for a carbine, and, in this case, the rifle that was shortened was already a carbine.
What is it?
The DPMS SBR is Crosman's select-fire BB gun that shoots 25 BBs per magazine. Select fire means both full and semiautomatic fire are available via the conventional M16 selector switch. Gun bashers will tell you that AR-15s are automatic, but in fact that is incorrect. Civilians in the U.S. may not purchase full auto firearms without a lengthy process that vets the owner, tying the gun to him by serial number, and costs $200 per firearm so registered. AR-15s are semiautomatic, only, so a selector switch applies to the full auto military platform, only. read more