by Tom Gaylord
Writing as B.B. Pelletier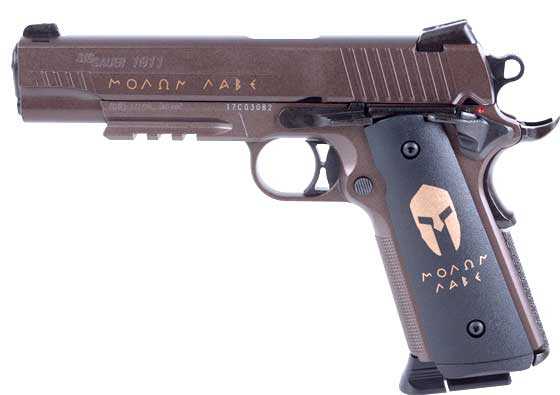 Sig Sauer Spartan BB pistol offers a lot of pistol at a budget price.
This report covers:
Sig firearms
The airgun
Manual safety
Full blowback
Grips
Finish
Sights
Trigger
Magazine
Light rail
Evaluation
Today we begin looking at Sig Sauer's latest BB pistol, the Spartan. It's a faithful copy of their Spartan 1911 firearm, which has upgraded features that put it ahead of many production 1911s. And it's made in Japan.
Sig firearms
I will say this about Sig firearms — when they decide to make something they don't cut corners. I never had much contact with them in the past, but since they have started making airguns I have been giving their firearms a look, as well. I am a died-in-the-wool conservative when it comes to firearms. Don't try to sell me on a process like metal injection molding (MIM) unless it performs better than machining in some way other than just the cost to manufacture.