by Tom Gaylord
Writing as B.B. Pelletier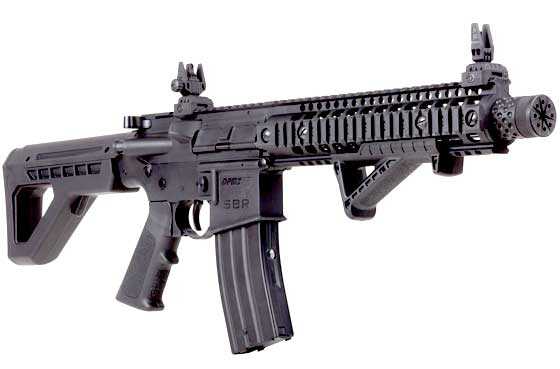 Crosman's DPMS SBR full auto BB gun.
This report covers:
Never run out of bullets
The feel of the gun when firing
Here we go!
Left cartridge first
Copperheads first
How does it feel, single-shot?
Air Venturi Steel BBs
Hornady Black Diamond
How many shots?
Using the BB speedloader
Full auto
Test 1
Test 2
Test 3
Test 4
Test 5
Test 6
Discussion
Test 7
Shot count
Feel of full auto
Trigger pull
Forgot I had to cock it
Summary
Never run out of bullets
The first part of this report didn't receive that many comments, but those who did say something said similar things. The first was you all want this gun to never run out of BBs. You want it to get no less than 150 shots before it's time to reload.
When I was a kid I wanted the same thing. I wanted all my guns to hold an infinite numbers of bullet, so they would never run out. Then I went into the Army and got to shoot many fully automatic weapons. I quickly learned that the first thing you want in a machine gun is reliability.
I remember that the M85 .50 caliber machine gun that was designed for fitting inside the turrets of armored vehicles was the worst machine gun to exist since the French Chauchat of WWI. It jammed all the time and seldom would fire an entire belt of ammo without stopping. You had to lubricate the cartridges with fireproof hydraulic oil to keep the gun operating. read more