by Tom Gaylord
Writing as B.B. Pelletier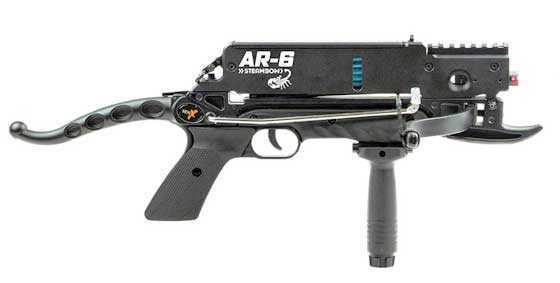 Sen_X AR-6 Tactical Arrow Repeating Crossbow.
This report covers:
Repeater
"Sights"
Built-in laser
Accurate
Robin Hoods!
Discussion
Summary
Today we get to see the AR-6 crossbow in action. I have to say — for a non-airgun this little crossbow is one of the most intriguing shooting platforms to come along in the past 20 years!
Repeater
Besides being essentially a pistol the AR-6 is a repeating crossbow — an oddity in itself. The box that sits on top of the bow holds the arrows and the rest of the mechanism that allows it to be a repeater. And, in about 100 shots thus far, there have been no problems with the bow's reliability.
I did have one problem with the repeating magazine though, and it was my fault. In the beginning when I was first getting used to the bow I didn't watch the spring that pushes down on the arrows and I bent it while closing the magazine cover. So I had to re-bend it to press on the arrows. Now the cover pops open when I shoot with 6 arrows loaded. It doesn't happen with just 5 arrows loaded, so that's all I load. I will say that I loaded six arrows in the video that's coming, but there were really only 5. So, if you get one of these, watch that magazine spring so you don't bend it like I did! read more