by Tom Gaylord
Writing as B.B. Pelletier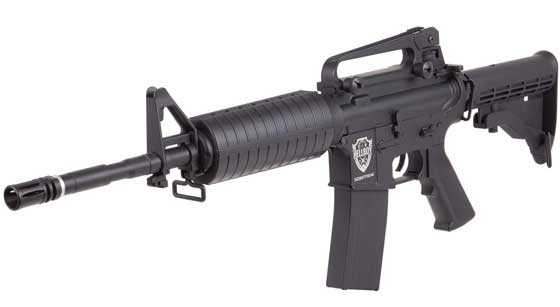 The Hellboy BB gun is a realistic semiautomatic repeater.
This report covers:
The test
Air Venturi Steel BBs
Adjusted the sights
Hornady Black Diamond BBs
Dust Devils
Discussion
Summary
Today we look at the accuracy of the new Hellboy semiautomatic BB gun. Let's get right to the test.
The test
I shot the Hellboy off a UTG Monopod rest at 5 meters. I said in Part 2 that if the gun was accurate enough at 5 meters I would extend the range to 10 meters for another test. We will see today if that is going to happen.
Reader GunFun1 wanted a video of me shooting at a can, but that's not interesting for several reasons. First, if the can is missed the viewers have no idea by how much. And hitting a soda can with a BB gun doesn't show up well on film. It's better in person. But if the Hellboy is accurate enough, I have a plan for how to do what GF1 wants. read more