by Tom Gaylord
Writing as B.B. Pelletier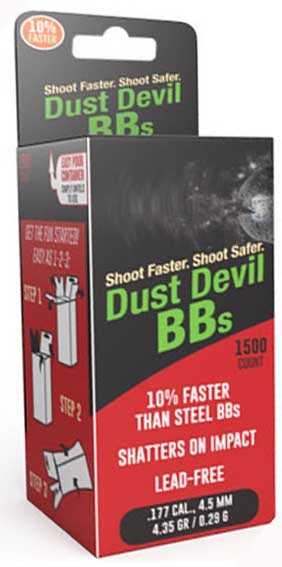 Air Venturi Dust Devils will hit the market in a few months.
This report covers:
How to test?
Test 1. A single-stack forced feed BB gun
Daisy BBs in the Daisy 25
Dust Devils in the Daisy 25
Power in the Daisy 25
Test 2. Gravity feed with a magnetic breech
Daisy BBs in the Red Ryder
Dust Devils in the Red Ryder
Power in the Red Ryder
Test 3. A CO2 gun with cartridges
Daisy BBs in the SAA/li>
Dust Devils in the SAA
Power in the SAA
Velocity comparison
Feeding
What's next?
Today I begin testing the new Air Venturi Dust Devil BBs that you read about in Part 1. To say the interest is high is an understatement.
How to test?
How do you test something that's so new that there isn't much precedent? I decided on the following. In Part 1 we learned that the Dust Devils weigh about 4.35 grains, so they will go faster than conventional steel BBs that weigh about 5.1 grains. I thought that was the place to start, but with a twist.
Instead of just doing a velocity test, I thought I would select three different kinds of BB feed systems and also see how well Dust Devils feed in each of them. There are more than three types of BB feeding systems, so we won't cover everything today, however, once we see how the Dust Devils compare to standard steel BBs we may not have to test their velocity any further in the future. We will see as this test unfolds. read more