by Tom Gaylord
Writing as B.B. Pelletier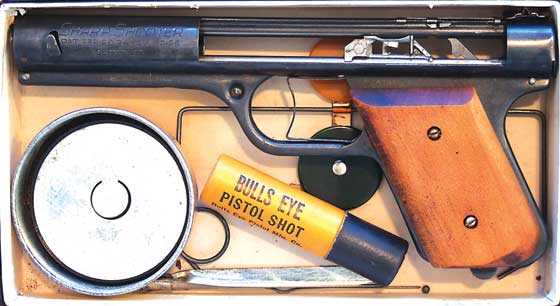 The Sharpshooter catapult pistol was made from the early 1930s until the 1980s by as many as 5 different companies. This one was made in the early 1940s.
This report covers:
The test
Test 1
Test 1 continued
Discussion
Firing behavior
What's next?
Test 2 — A modern Sharpshooter
More discussion
Summary
Today we look at the accuracy of the Sharpshooter catapult pistol. Since there is only one type of ammo for it, I have added something additional to spice up the report. Let's get to it.
The ad from 1948 said the pistol could hit a fly at 16 feet. Dean Fletcher tested his at a more reasonable 10 feet, which is what I will do. Readers asked me what kind of target I used and today I will tell you. Using a coat hanger, I made a wire target holder that stands up, and wrapped a single sheet of aluminum foil around the edges of the loop at the top. It's the same target I used for the Daisy Targeteer test. read more