by Tom Gaylord
Writing as B.B. Pelletier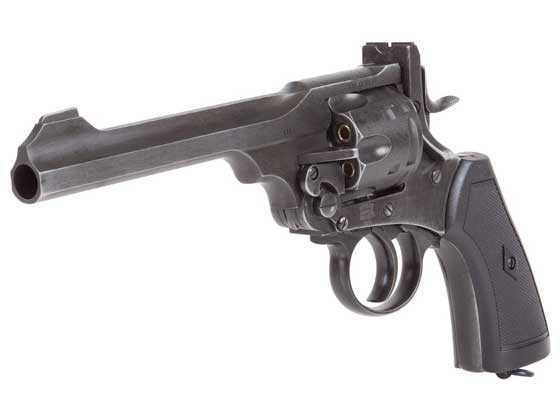 Webley Mark VI service revolver with battlefield finish. This one is rifled and shoots pellets.
This report covers:
The test
JSB Exact RS
Adjusted sight picture
Why not fix the front sight?
Sig Match Ballistic Alloy
Air Arms Falcons
H&N Finale Match High Speed pellets
RWS Hobbys
Next — more sight corrections
Summary
Today I test the accuracy of the Webley Mark VI with battlefield finish. I decided to test it with all 5 pellets that were used in the velocity test.
The test
I shot from 10 meters, using a sandbag rest for the butt of the revolver. I held the gun with two hands for a steady hold. I shot 6 pellets at each target and I will describe what happened as we go. Let's get started.
JSB Exact RS
The first pellet I tested was the JSB Exact RS. The first three shots landed low, with one below the target paper. The group had to come up somehow. read more