by Tom Gaylord
Writing as B.B. Pelletier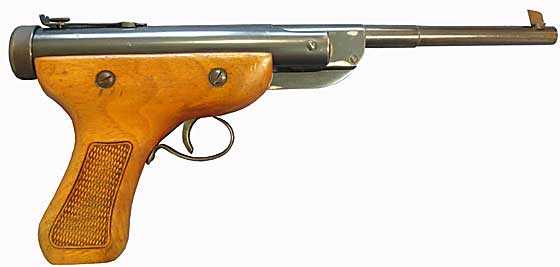 Diana model 5V pellet pistol.
This report covers:
Update on the Hakim
The Diana 5V air pistol
The test
Sig Sauer Match Ballistic Alloy pellets
JSB Exact RS
RWS Hobby
A different hold
Summary
Update on the Hakim
On Friday I took the Hakim to the range to shoot it again. This time I listened to my own advice about adjusting the gas port and was able to begin with the rifle not ejecting the spent cases. It kicks like a 98 Mauser that way, but the cartridges are reloadable.
Then, with the gas port open as small as it would go, the rifle extracted and ejected factory rounds softly enough to be reloadable. I caught them in a cartridge trap I use for a lot of my semiautomatic arms. The cases were still dented, but not so much that they wouldn't fit in a resizing die, so this fixes the problem I told you about last Friday. read more