Home
Air Gun Manuals
xs40/operating.shtml
AVANTI XS40 VALIANT. Operating
Main
|
Operating
|
Loading
|
Firing
|
Adjustments
|
Safety
Parts of the Air Rifle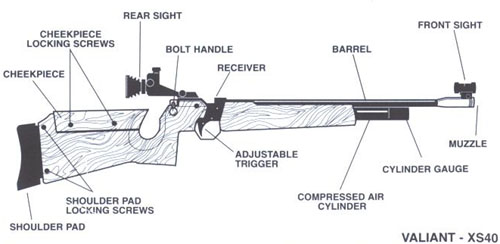 Filling Compressed Air Cylinder
NOTE: The rifle must be unloaded and cocked when replacing the compressed air cylinder or air will escape through the barrel.
Remove the compressed air cylinder from the rifle (unscrew counterclockwise).

Screw the compressed air cylinder onto the adapter on the filling tank.

Ensure that the bleed valve on the filling tank is closed (turn clockwise to close).

Note: Use a filling tank with a maximum pressure of 200 bar (2900 psi). You must use a filling tank with a pressure gauge on the filling tank or on the adapter. Most SCUBA/dive shops are equipped to properly fill the cylinder. An adapter with a gauge is also available as an accessory from Avanti.

Slowly open the main valve on the filling bottle (counterclockwise) and watch the gauge. When gauge indicates 200 bar (2900) psi), close the main valve (clockwise).

NOTE: The rifle's compressed air cylinder can be filled to lower pressures but the number of shots per fill will reduce proportionally. The minimum working pressure is 50 bar (725 psi).

Open bleed valve (counterclockwise) to release air in filling hose.

Remove the compressed air cylinder from the adapter on the filling bottle.

Cock the rifle and screw (clockwise) the compressed air cylinder back onto rifle.

NOTE: If the rifle is continually fired when the pressure in the compressed air cylinder is below refill pressure, the remaining air will eventually escape through the barrel spontaneously. This is not harmful to the rifle but can cause surprise to yourself or bystanders.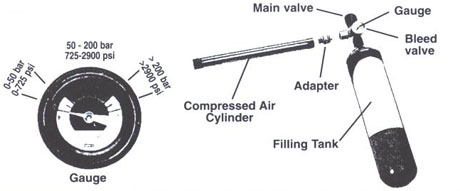 Main
|
Operating
|
Loading
|
Firing
|
Adjustments
|
Safety