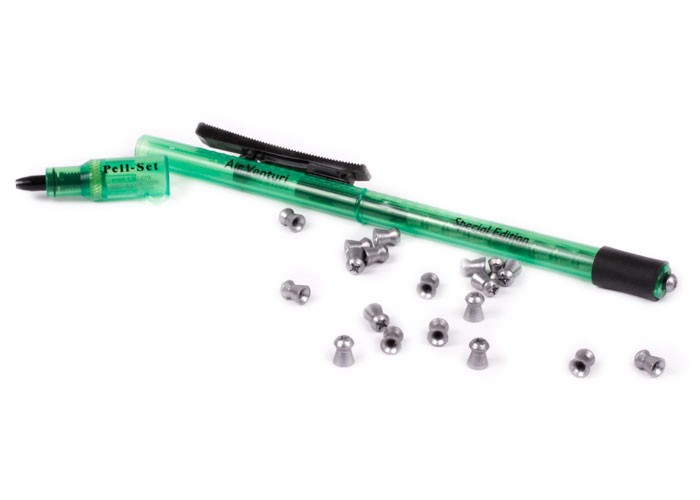 Create an online review   and share your thoughts with other customers
The most helpful favorable review
3 of 3 people found the following review helpful:
By Nauglanch from USA on 2015-09-01 11:08:33
Things I liked: Combination of pellet pen and seater. The seater is a crucial part of the system. Handy dispensing of pellets. No more fat fingering pellets out of a tin - esp at night for a critter. Seating pellets at a consistent depth - and past any chamber cut issues. This helps accuracy a lot. Sturdy and well made. Seater is adjustable (important)
Things I would have changed: I wish they were less expensive - I'd buy a lot more of them if they were. But they are sturdy and well made. No lanyard. The .177 ones have a lanyard. I'm mixed on this as I have too many neck straps - but an extendable one (like a.177 model) could be very useful in the field and for non bench shooting.
What others should know: Once you've used one - you'll wonder how you got by without one. Good shot count for a string before taking a break to reload it and reset your targets. Consistent seating depth is very important and adjusting this tool for your pellet and rifle can really help with groups. Both for alignment into the bore and also preventing gas escape around the pellet. - My Octane has a deep and poorly cut chamber chamfer and this tool is critical for getting the waist barely but fully started into the rifling / straight part of the barrel. - My old chinese trainer/"Dragon" can be finger set as it has almost no chamfer. - You may want more if you can't find a universal seating depth for each air rifle - though some may do well with a deeper setting that one may require. Buy one - you won't regret it. Make sure you buy this one (or another) with a pellet seater.
The most helpful critical review
0 of 0 people found the following review helpful:
By JOHN from USA on 2017-02-03 11:18:07
Things I liked: Constructed well. Handy for pocket carry.
What others should know: Fingers work better for a Gamo accu .22 with rotating breech.