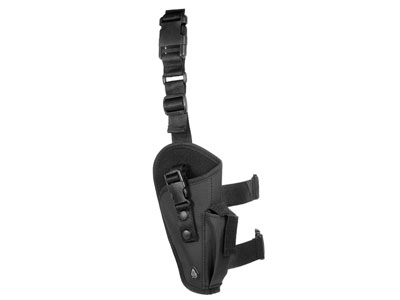 Create an online review   and share your thoughts with other customers
The most helpful favorable review
1 of 1 people found the following review helpful:
By Stephen from USA on 2010-03-25 14:01:13
Things I liked: fits like a glove for my Beretta x/4 storm.
Things I would have changed: bottom leg strap needs to be wider
What others should know: don't forget to order the black belt to go with it.
The most helpful critical review
0 of 0 people found the following review helpful:
By Unknown Infidel from USA on 2016-11-28 13:02:26
Things I liked: Just got the holster. It might work on a child's leg but not on an adult. My legs are just normal. Not too fat or too thin. I adjusted the straps all the way out. The buckles pop with my slightest movements. I tried putting my 1911 in this thing. I could fit 3 of them in this holster and not fill it up. In fact my desert eagle is loose in it and wobbles all over. That's the largest pistol I own. I wouldn't recommend buying one of these. I had enough bullseye bucks to get this for free so I do not feel the need to return it. So I'll just chalk this up to a learning experience.