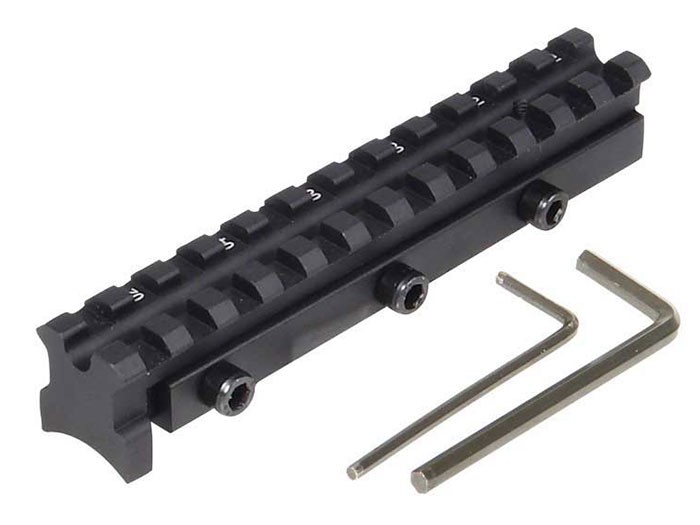 Create an online review   and share your thoughts with other customers
The most helpful favorable review
1 of 1 people found the following review helpful:
By William from USA on 2010-04-18 22:45:47
Things I liked: Nice sturdy mount for Diana Air Rifles. Barrel angle adjustment is excellent. Put the mount on my RWS model 36 and the fit was perfect. Mount stays put and doesn't move. The mount does make up for the barrel angle on my model 36
Things I would have changed: I wish they could make the mount a little shorter and not quite so tall.
What others should know: I ordered the mount with a set of accushot low profile weaver rings. They were advertised as low but when they showed up they were Medium. If you have a 44mm obj scope or less you need low rings because the base is to high. I have a RWS 450 40mm objective scope and when mounted on the base and rings the center of the objective is almost two inches high. When sighting in at 16 or 20 yards this makes for a real step trajectory over the line of sight. You need the lowest mounts possible that your scope can handle and still have clearance over the power plant housing to get the line of sight and pellet trajectory with in reason. For some people this makes no difference, but to me personally, I have been hunting for 34 yrs with Rifle and air gun and to me having a flatter trajectory leaves less guess work in the field.
The most helpful critical review
0 of 0 people found the following review helpful:
By Scott from USA on 2016-05-01 18:15:08
Things I liked: Nice piece of hardware but did not work for my 1980 something model RWS DIANA 45 MODEL. Scope ran out of down adjustment before it could be zeroed. I actually turned it around backwards and it worked better that way. Now had to use quite a bit of upward adjustment but i was able to get it zeroed in.
Things I would have changed: In description, it should let RWS DIANA model 45 owners know that droop compensation may be to much depending on which model year thier gun is.