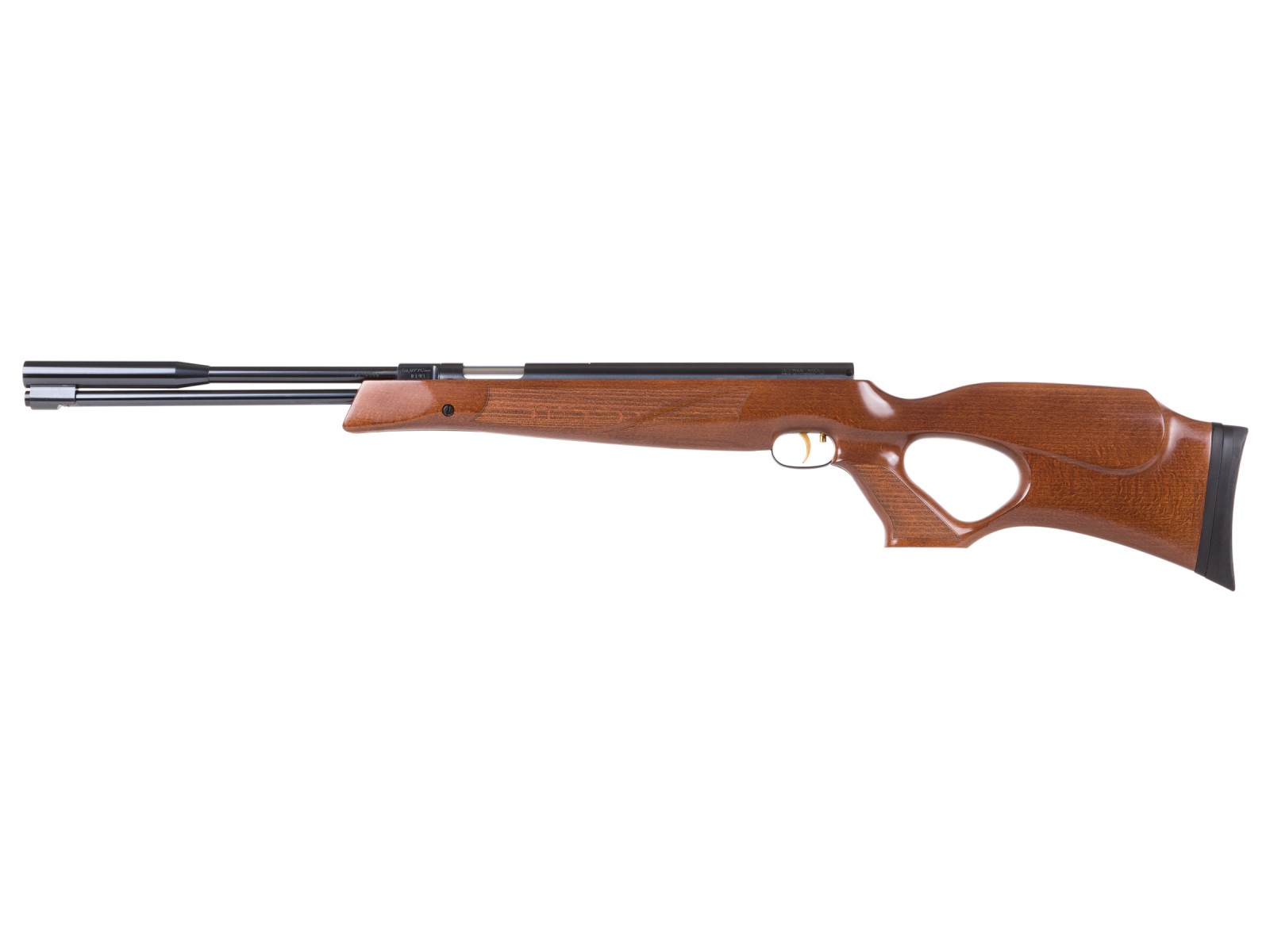 Add to Cart
Only 2 left in stock
Create an online review   and share your thoughts with other customers
The most helpful favorable review
2 of 2 people found the following review helpful:
By Alexandre from USA on 2012-01-30 11:38:15
Things I liked: Finish on the stock and comfort that it provides. I have weakness towards thumbhole stocks. Accuracy is very nice I am new to the sport but 5mm (0.2'') at 14m with leepers SWAT scope is good enough for me at this moment. The Blueing of the metal parts is superb. Trigger is very nice and smooth. cocking is relativly easy I am 130lb and can shoot this rifle all day without getting tired.
Things I would have changed: 1) The rough-ed up part on the grip and below stock I would replace with fish scale - its just preference 2) Rifle is kind of expensive for birch stock I would say. 3) Walnut thumbhole stock - why are those never available? 4) fully shrouded barrel would be great for reduced noise
What others should know: 1) rifle is heavy for off hand shooting it is preferable for you to shoot from bipod or a rest unless you have the strength to steady this thing in your bare hands. 2) Surprisingly the rifle does not like JSB jumbos or for that matter any pellet with soft thin skirt it caused my rifle to dissel. I mainly suspect that is because of the skirt deformation. 3) rifle works very well with Kodiak heavy-s, Baracuda Match from H&N RWS super dome - great accuracy. the H&N field target trophy was also O.K. but not as great as above pallets
The most helpful critical review
1 of 1 people found the following review helpful:
By ken from USA on 2012-11-24 12:17:00
Things I liked: beautiful gun, shootsaccurately,very comfortable,great craftmanship,love it!!!!!
Things I would have changed: cant put it on safety after you have taken it off,worst of all it is soooooo!!! heavy,NOT A GOOD FIELD RIFLE for that reason i have a bad shoulder and it is hard to carry and hold up!!!!
What others should know: Just the weight is the real disadvantage to this beautiful gun!!