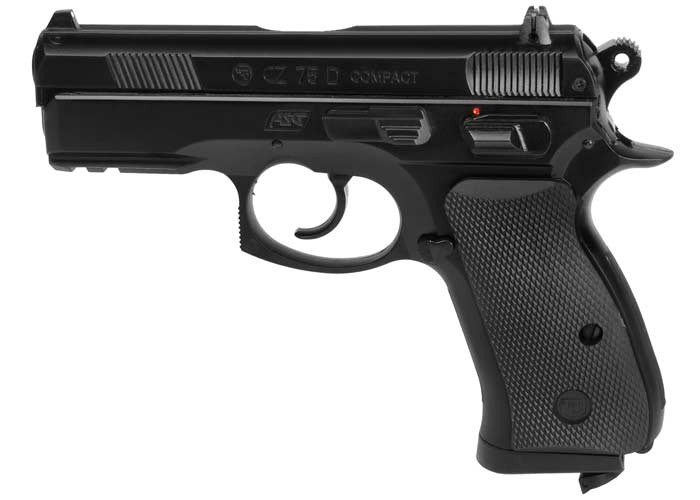 Create an online review   and share your thoughts with other customers
The most helpful favorable review
1 of 1 people found the following review helpful:
By Ted from Canada on 2013-12-12 18:44:47
Things I liked: This is a comfortable pistol to hold and shoot with the rubber grips. First I've seen on a bb gun and I hope the trend continues with others. Full size metal drop out magazine is a definite plus. Very firm click when inserting the mag into the pistol. Plastic slide surprised me with it's tight tolerance and zero wobble. Just like the CZ75 P-07 Duty, the slide fits inside the frame and works very well. single and double action trigger is a plus if you don't want to cock the gun with each shot. Markings on this gun are flawless and the polymer used is very sturdy. At 1.5lbs it is very solid in the hand. Windage adjustable rear sight adds to the accuracy.
Things I would have changed: Metal slide would be a bonus, slide lock would add to the coolness. Other than that, it is an absolutely fine pistol.
What others should know: The gun is heavier than you would expect out of an all plastic bb gun. Fit in the hand is so nice you won't want to put it down. Trigger is nice and crisp. Careful when installing CO2 and perhaps watch a couple videos showing the best way to do this.
The most helpful critical review
0 of 0 people found the following review helpful:
By Aron from USA on 2016-09-30 09:25:06
Things I liked: Light trigger, good grips.
Things I would have changed: Co2 installation is not for the faint of heart. Poor and difficult to operate Co2 locking wheel. BB loading and locking the spring for loading should not require a tool.
What others should know: Gun has a low quality feel (plastic) to it. I have spent quite a bit of time trying to sight in the laser I mounted on it, and it shoots wide spreads. Unless I got a lemon, the gun shots off target with slight changes of Co2 pressure. I do not recommend this gun; I got this for my wife, and it was disappointing.