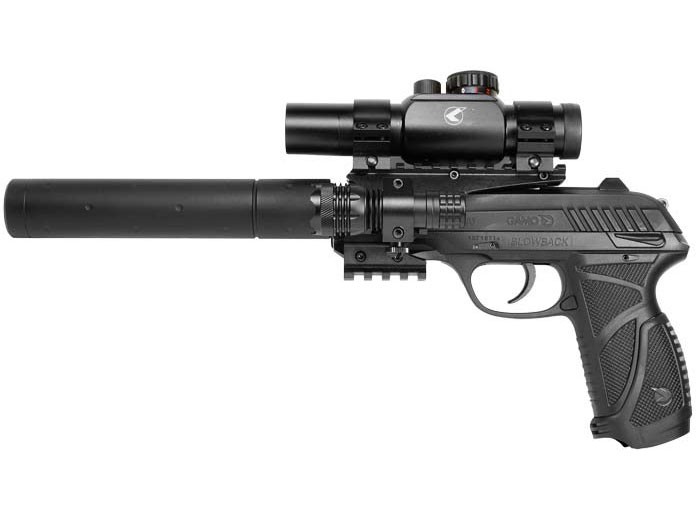 Create an online review   and share your thoughts with other customers
The most helpful favorable review
3 of 3 people found the following review helpful:
By Wayne from Canada on 2011-12-31 14:50:02
Things I liked: I like the power and it is accurate. With ordinary average 7gr pellets it doesn't even make the 500ft/sec mark, shoots about 40ft/s faster than my CP88 comp.
Things I would have changed: I would stop advertising it as a 560ft/s gun because it isn't unless you use the lightest pellet you can find 4gr or so
What others should know: My Walther / Umarex Cp88 Competition fires those pellets at (PBA Platinum ) @ 560 ft/s. I looked on your website a while back ( anything on website can be changed in seconds ) amd was impressed by your claim of 560ft/s I am am Engineer and looked all over the sites at that time, well over a month ago( as did others ) to find out what what pellet was used in the tests to come up with you 560/ft/s. and could find no information on the website what pellet was used. Like I said my CP88 shoots lightweight pellets at well over 500Ft/s so if a lightweight pellet was used to make your 560ft/s I would not be interested in buying it as my Walther has a 6 inch barrel and your PT85 has over 12 inches of barrel and doesn't shoot that much faster. So with my engineering background I figure the greater velocity was due to the increase ( over 6 inches ) in barrel length which made sense to me. Just to make sure I emailed the shop I bought it from and asked them about it and they told me they don't test the guns and I should contact Gamo if I wanted the information. I contacted GamoUSA and recieved this message "All our guns are tested with a standard 7-8 gr. pellet" which has proved to be a bald faced lie, possibly intended to make a sale as I explained why I wanted to know.
The most helpful critical review
0 of 0 people found the following review helpful:
By Ron from USA on 2016-04-11 07:43:27
Things I liked: When I saw this gun and did the research both on Google and Youtube I was very impressed with the accuracy and what you received for the price you paid. I received my shipment on time and in full however there was an issue with the gun when I received it. I returned this product for new one and there was no issue with the return and sending out the product. The original product I received had a serious issue with the red dot sight as there was an o-ring inside the scope housing that was not seeded properly and in turn was blocking the view through the scope...rendering it totally useless. I called customer service to see if I could send just the scope back however I had to return everything. After waiting a week for the replacement I received another complete package and when inspecting the product discovered that I was sent another defective product with the same issue. Very discouraging because I know I will have to send the whole thing back again.
Things I would have changed: When I called customer service to discuss the issues I had to leave a message and I would get a call back very quickly (it took 11 days to get this returned call). When I called back and tried to talk to different department to see what to do the only answered I ever received from the product support department was to fill out the return form for return authorization. I will say this was very quick and thought that maybe the original problem I has with the o-ring was a one off....I was mistaken and now I'm waiting for a new return authorization to return this for the second and last time or I will ask for my money back. I would also ask that if a return is made for a certain product defect and another is sent out to the customer please inspect it. Nothin worse than valued customers running into the same issue because according to your return policy the whole package has to be sent back.
What others should know: Be aware of this issue before you buy this product...very frustrating because I have good money tied up in this and I want it to be right. Once I receive the proper package with all products working than I will be more than happy to add to this review. Good luck everyone and ask questions. I did insert a picture of the issue for reference.