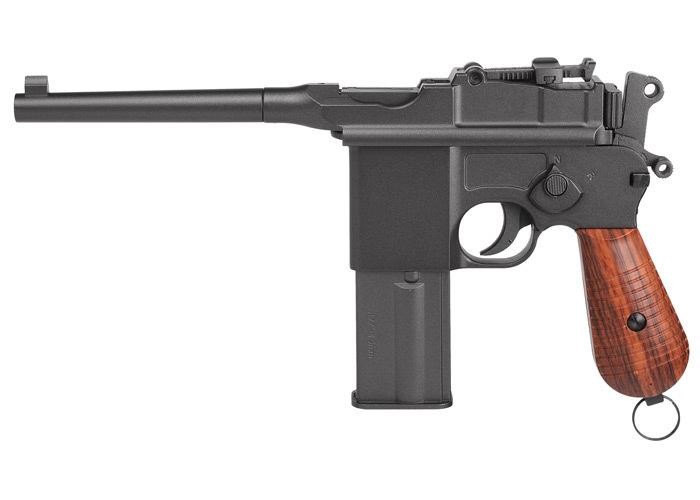 Create an online review   and share your thoughts with other customers
The most helpful favorable review
2 of 2 people found the following review helpful:
By Dan from USA on 2014-10-04 13:25:08
Things I liked: This is the coolest bb gun I've ever owned! The weight is very solid and realistic. The finish is identical to the Tangfolio Witness. Detail is second to none. The grips look like real wood. I wanted to make a set of Walnut grips but am in no hurry as these look perfect. First shot through the chronograph was 371 fps and second 369. It seems to be very accurate at my 10 meter range. It loads the bb's in the square notch when the spring is held all the way down. The full auto mode it way to much fun.
Things I would have changed: Nothing!!!!!
What others should know: When I received the pistol I noticed the outer barrel had a little wiggle to it. I noticed a tiny set screw on the underside that holds this barrel on. I tightened it gently and it was indeed quite loose. It tightened the barrel right up. However,it loosen right up within a few shots and the pistol started to shoot high. ( the barrel dropped) I made a tiny (about the size of a pin head) brass shim and double taped it on the lower side of the outer barrel sleeve, lifting the barrel as high as it could go and making it fit very tight into the frame as well. Degreased the threads and tiny allen bolt. It shoots a perfect 1 1/2 inch bulls eye at 10 yards with the rear sight adjusted all the way down. If nothing else just be sure you use gun tight on that tiny bolt or you will loose it.
The most helpful critical review
0 of 0 people found the following review helpful:
By David from USA on 2017-02-02 13:37:50
Things I liked: The looks of the gun
Things I would have changed: Make the gun where it will last more than a few months.
What others should know: I purchased this gun from Pyramyrd over a year ago and it has been nothing but trouble after the 90 days expired. Barrel fell off and got stepped on; the magazine leaks ; the end screw broke when I tried to tighten it enough to stop leaking. I have been shooting air guns for over 55 years and I know pore quality when I see it. Everyone has there own experiences and opinion and I hate giving a bad report but it is what it is.