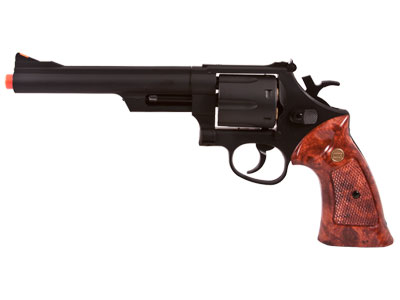 Create an online review   and share your thoughts with other customers
The most helpful favorable review
1 of 2 people found the following review helpful:
By Chiles from USA on 2008-08-09 18:11:53
Things I liked: Between the 8 inch and the 6 this gun has incredibly better balance. When full I estimate it can probably push out 3-4 chamber loads which is about 18-24 shots. And it's double action so cocking it back is optional, but by no means necessary. This gun has yet to disappoint me with Accuracy. It has a pretty good weight for it and it doesn't feel to front heavy so it's a great feeling as it's held. It's not full metal but Metal parts include the Hammer and Trigger and also the Barrel. I believe some body parts may be metal but I'm not sure. The ABS parts are incredibly durable so it has a great feel.
Things I would have changed: Make it full metal. And maybe some metal shells. Other than that I wouldn't change a thing.
What others should know: When applying gas to the gun make sure it's flush with the nozzle and only give it 2 second bursts then let it rest for about 5-6 seconds to let the gas expand. It will shoot gas back at you when full.
The most helpful critical review
0 of 0 people found the following review helpful:
By Ke from USA on 2011-11-12 17:32:25
Things I liked: Look real , smooth action, good for its price
Things I would have changed: metal cardtridge so put more weight on the gun
What others should know: for beginner, or young boy -typically back yard shooting when speed is not necessary