by Tom Gaylord, a.k.a. B.B. Pelletier
AirForce Escape: Part 1
AirForce Escape: Part 2
AirForce Escape: Part 3
AirForce EscapeUL Part 1

The AirForce EscapeUL is a lightweight PCP with the Escape powerplant. Everything has been modified to save weight.
Today, we'll look at the accuracy of the new .25-caliber AirForce EscapeUL. This is the ultra-lightweight version of the Escape rifle and has most of the Escape's power but is more than a pound lighter. The Escape is already lightweight, but at just 4.25 lbs., the EscapeUL is a real featherweight.
The day I chose to test this rifle was very cold, with a threatening breeze that soon picked up to a 20 m.p.h. wind. I did all of my shooting between puffs and gusts.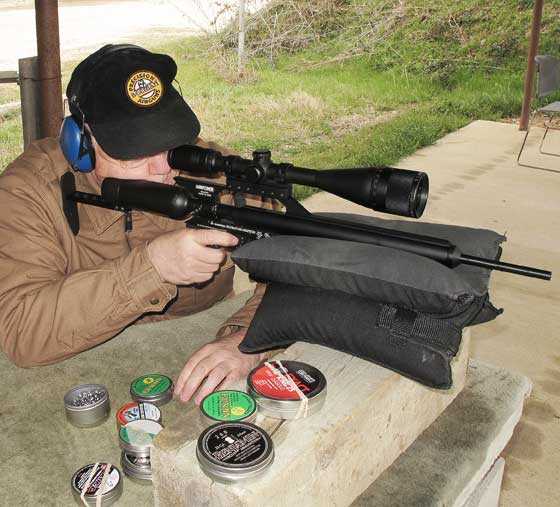 It was a cold day that grew windier the longer I shot. But the EscapeUL did itself proud!
Full power
Because this rifle is so potentially powerful, I decided to test it all-out with the first 2 pellets. The power adjuster was run up as high as it would go and the tank was filled to 3,000 psi. The first pellet I tested was the heavyweight 43.2-grain Eun Jin pointed pellet. As you'll recall from my tests of the Escape, I'm shooting 5-shot groups instead of 10-shot groups because the velocity decreases with every shot. At 50 yards, I can keep 5 shots in a good group, but trying to do that for 10 in a row opens things up. There are still 10 good shots on a fill, but you have to change your aim point to use all of them.
The first group measured 1.866 inches between centers. That's with a pellet that produces from 70 to 80 percent of the power of a .22 long rifle bullet, so it's plenty potent. The Eun Jin pellets are not the most accurate in these rifles; but for power on target, they're pretty hard to beat.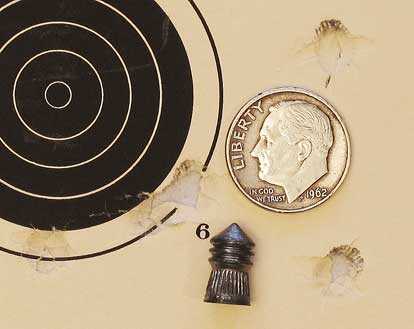 Five heavy Eun Jin pointed pellets went into 1.866 inches at 50 yards on max power.
Next, I refilled the rifle and tried the same thing with the 35.8-grain Eun Jin dome. This time the group opened to 2.506 inches between centers. In light of the heavier pointed pellet's accuracy, I don't think I would use this pellet in this rifle.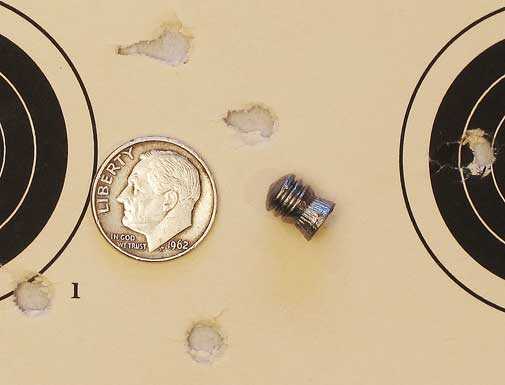 Five Eun Jin domes made this 2.506-inch group at 50 yards. This is not the pellet for this rifle — at least not on full power.
Experience comes in handy
I've said many times that a shooter can adjust these AirForce rifles so much that you'll never be able to test everything; but, fortunately, there's a better way if you have some experience to go on. And I did have some experience because I'd already tested the Escape rifle. While it does have 6 inches less barrel and a thinner barrel to boot, the rest of the EscapeUL is pretty much the same as the Escape. I felt that if I went in the direction that gave some success with the Escape, it might work with this rifle, as well.
JSB Exact King
I knew that the Lothar Walther barrels in AirForce rifles like JSB pellets, and in .25 caliber the JSB Exact King pellet is a real performer. When I tested the TalonP pistol, the King was one of the best pellets, and you know the Escape rifles are all based on the TalonP platform.
I also knew that I should reduce both the starting air pressure in the tank and the power setting to do well with the King. But I wanted to see if it could handle the full 3,000 psi; so, the tank was filled to the max, but the power setting was dialed back to setting 8. I started shooting and was so successful that I kept right on after the fifth shot. Eight shots went into 1.61 inches at 50 yards. I would have shot another 2 shots but this time the air pressure had dropped to 2,000 psi on the built-in gauge, and I thought the next shot might go somewhere else.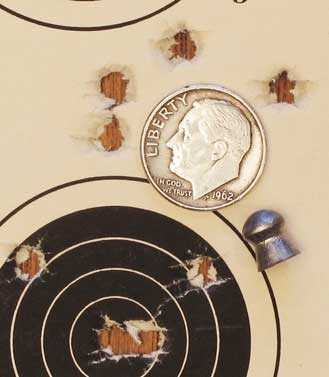 Eight JSB King pellets went into this 1.61-inch group at 50 yards. They were going so well I couldn't stop shooting!
Next, I tried the Kings with the same power setting (8) and a starting air pressure of 2,600 psi. I shot just 5 pellets that went into 1.209 inches at 50 yards. That was definitely the best the rifle had done to this point, but I'd seen even better accuracy from the Escape, so I decided to shoot these pellets again.

When the fill pressure was stopped at 2,600 psi and the power setting was on 8, five JSB Kings went into 1.209 inches.
A second group of Kings with the same fill pressure and power settings produced a 1.526-inch group. That was still good, but I felt the rifle could do even better. It was time to switch pellets.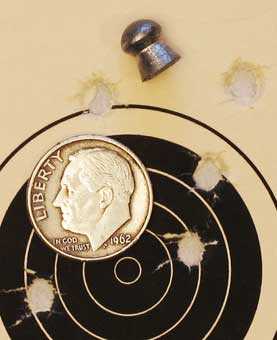 Five more JSB Kings on power setting 6 with a 2,600 psi fill made this 1.526-inch group.
Predator Polymags
Ton Jones has done more testing than I with these rifles, and he likes the Predator Polymag pellet the best. Even when he knows the Eun Jin pointed pellet produces more energy, he trusts the Predator Polymag to go where he shoots. That was the next pellet for me. I filled the tank to just 2,500 psi and set the power at 6.
I expected a good group, but I wasn't prepared for how good! Five Polymags went into 0.622 inches at 50 yards. Despite the cold (20 degrees F) and the winds that were gusting to 20 m.p.h., this hollowpoint pellet was drilling them in!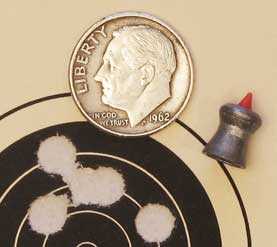 Predator Polymag pellets are definitely the ones for this rifle. Five went into 0.622 inches at 50 yards.
Predator calls their Polymag a pointed pellet, but I call it a hollowpoint. The point is just a plastic tip that's glued in place. The pellet acts like a hollowpoint on game, so I call it one regardless of the plastic tip. Just a little quirk of mine, I guess.
That first group was stunning. By now, the wind was blowing all the time, and my day with air rifles had ended. I did shoot a final group of Polymags in the wind, waiting out the gusts and shooting when the wind was down to about 5-10 m.p.h. The same setting and fill pressure was used. This time, 5 pellets landed in 1.298 inches at 50 yards, and I can truthfully say it was the wind's fault. However, this group is still the third best of the day, which says a lot for the Predators in a reasonable wind. I think Ton is right — this is the best pellet for the Escape rifles, but you have to lower the power and fill pressure.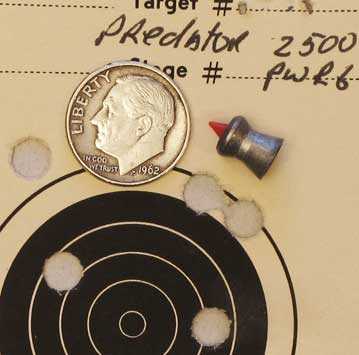 Although this group is larger, it was shot in the wind. Five Predator Polymags went into 1.298 inches at 50 yards.
More to do
As with the Escape rifle, I'm not done with the test just yet. I need to get the velocity figures for the best pellets, power settings and fill pressures so we have some idea what this rifle can reasonably do in the field. Before I do that, I want to try the EscapeSS first.
Summary so far
Most shooters will look at the Escape's raw power and choose it over the EscapeUL on that basis, alone. But I look at the light weight, compact size and the stunning accuracy of the EscapeUL and think it would be my pick, so far. From the standpoint of muzzle report and recoil, there's very little difference in these 2 rifles. Both are loud and both kick like a rimfire rifle — perhaps even more. But there's still one more rifle to test.
by Tom Gaylord, a.k.a. B.B. Pelletier
This report is for blog reader Roger, who has this problem, and also for RifledDNA, who says he has it, too. Fred DPRoNJ (Democratik Peoples Republik of New Jersey), also expressed interest in the topic. I suspect that hundreds of our readers, if not thousands, are curious. Why would a scope that shoots to the left of the aim point at 10 meters be dead-on at 20 meters and off to the right at 35 meters?
Here's part of what Roger told us:
"This time I've scoped a S-410 and something strange is happening.
 For example: I zeroed the scope for 11m, thus the far zero would be around 44m. When shooting that distance although the elevation is fine the POI shift to right around 7cm.
 If I re-zero the scope in 44m and shot back to 11m, although the elevation is fine the POI shift to left around 4cm."
Roger doesn't state the problem in quite the same way that I do, but it's the same problem. Gun's POI changes as the distance changes.
Alignment
The answer is in the alignment of the scope with the gun's bore. But before I get to that, I want to address an answer that someone else on the blog gave to Roger. Someone guessed that his problem was caused by spiraling pellets. Pellets sometimes fly on a spiral path as they travel downrange. I wrote about it in this report: Do pellets spiral?
That answer was correct, as far as it went, but there's one way to diagnose the difference between spiraling pellets and an alignment problem. Spiraling pellets move back and forth from one side of the aim point to the other and back again as they go downrange. Pellets shot from a gun with an alignment problem do not. They'll start out on one side of the point of aim and move to the other side as they go farther from the gun, but they'll never come back. It's a one-way trip for pellets shot from a gun that has an alignment problem.
Don't blame scope shift
Too many airgunners are willing to blame problems like this on their scopes. They call it scope shift. Real scope shift is rare, though not unknown. If you want to learn more about it, read my article about scope shift.
Scope and barrel must be aligned
The scope and barrel must be pointed in the same direction for the scope to work perfectly. Because the scope has some latitude of internal adjustment, it's possible for the scope to be out of alignment with the barrel and still have them coinciding at one distance. That distance is called the sight-in distance.
But if they're not aligned, the shots will be off to one side when they're closer than the sight-in distance and to the other side when they're farther away. The drawing below illustrates what this looks like, although I've exaggerated the offset so you can see it. In reality, both the scope and barrel may appear to be perfectly aligned.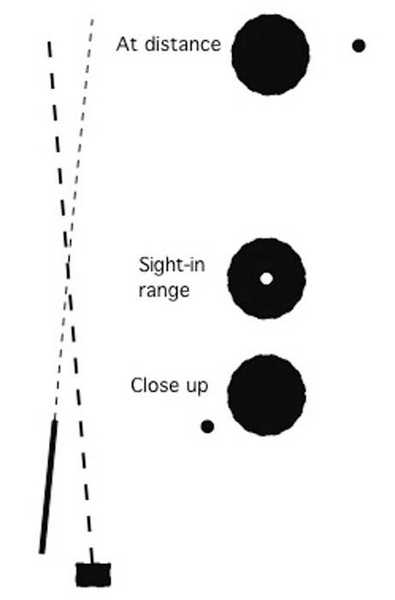 The axis of the scope (at the bottom on the right) and barrel are offset in this drawing, but the scope can be adjusted so they coincide at one distance. Any closer or farther away than the sight-in distance, though, and the pellet will move to one side of the other. This drawing is grossly exaggerated to highlight the problem in a short space.
How to correct it
To correct this problem, the scope must be positioned on the rifle so its axis is parallel to the axis of the bore. This may be easier than it sounds. If you have 2-piece scope mounts, for example, you can turn each of them around backward (one at a time, of course) to see if that corrects the situation. It often does. You can also swap the front ring for the rear ring for further improvement. There are 4 different possible combinations of scope ring positions with 2-piece mounts (scope rings). If you have 1-piece mounts, all you can do is turn them around backward. That's why I prefer 2-piece mounts over 1-piece mounts in most situations.
If changing rings isn't enough to correct the problem, you can shim them. Shimming the rings for sideways correction is the same as shimming for elevation correction — you're just moving the scope in a different direction. A word of caution — when you shim the rings for sideways adjustment, be careful not to extend the shim too low on the ring; because if it gets under the scope, you'll cause an elevation problem that didn't exist before.
What about optically centering the scope?
Optical centering will not solve an alignment problem unless the scope really is in alignment with the bore in the first place, and it's the internal adjustments that are throwing it off. It's worth a look, but the odds are it will not be the solution. The best approach is to start out by optically centering the scope to eliminate this from being a cause of the problem.
Now the bad news
Sorry, but almost no scope is ever completely aligned correctly. It's nearly impossible to do so. The target scopes use bases (and rings) that are separated by much greater length than the scopes we commonly use to minimize the effects of misalignment.
If a scope was perfectly aligned, it would be centered at 10 feet and again at 200 yards. I've never seen one that was. They always shift a bit as the distance changes. But they can be very close to the centerline and nobody will be the wiser. You just have to re-zero when you change from a 100-yard zero to a 200-yard zero. Or, if you shoot an airgun, when you change from a 20-yard zero to a 45-yard zero.
But the problem that started this report was a 7 centimeter (3 inches) shift to the right at 44 meters when the rifle is zeroed at 11 meters. That's too much of a shift and can be corrected by the methods described in this report.
The good news
The good news is that a majority of airgunners will notice this phenomenon and may eventually learn how to deal with it. But the majority of firearms owners don't even know it exists. They're still in the world of "bad" scopes that they sell to buy name brand scopes that have to be trusted because they cost so much! In the end, you're better off knowing the truth.
by Tom Gaylord, a.k.a. B.B. Pelletier
Part 1
Part 2
Part 3
Part 4
Part 5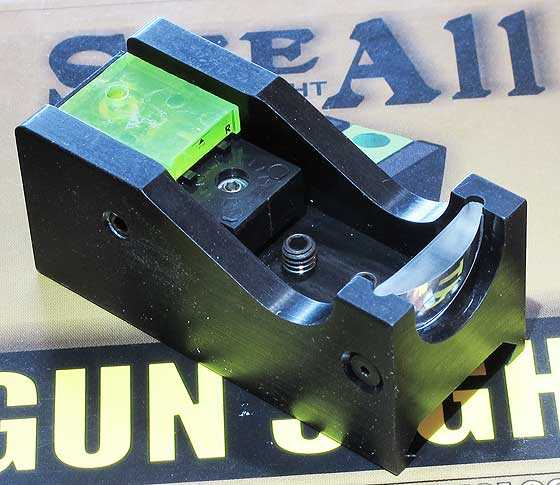 The See All Open Sight is revolutionary!
In the 9 years I've been writing this blog, I don't think this has ever happened before. Last Friday, I wrote about my failure to get the See All Open Sight to work on the Beeman P1 pistol. I tried for 2 straight days to get it sighted in and nothing worked.
That was Friday's report. Well, I went out to the rifle range on Friday, and my shooting buddy Otho met me there. He had one of his SKS rifles that had a scope mounted on it (on a Weaver base), and it was his plan to test the See All sight. Okay, I thought. Couldn't hurt.
It didn't hurt at all! After he shot the scoped rifle at 100 yards for the record, he removed the scope and installed the See All Open Sight. It took several shots to get it on paper at 50 yards, but then he shot a 5-shot group that measures 1.636 inches between centers! You may not be familiar with the accuracy of the SKS, but while it's an extremely reliable rifle that almost never fails to operate, it's only fair as far as accuracy is concerned. It's a good battle rifle — but it's certainly not a target rifle. Some individual rifles are more accurate than others, and this one happens to be Otho's best one; but a sub-2-inch group at 50 yards from an SKS is worth talking about. And he did it with the See All Open Sight!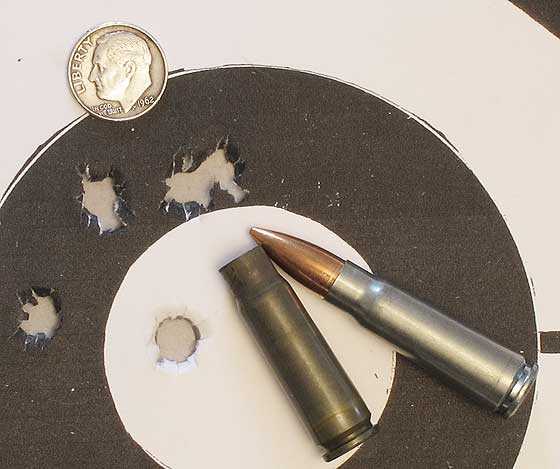 When we saw this 50-yard 5-shot group, we knew the See All sight worked! For an SKS, this is a great group.
When he was finished, we had to walk down to see the target because the cold wind was blowing so hard and our eyes were tearing so much that he couldn't see but one of the shots through his spotting scope. I was looking through binoculars and could see even less. When I saw the target close up, I asked him to shoot 10 more shots for me at 50 yards.
Otho's eyes
The reason I asked Otho to test the See All sight in the first place is because he has been battling failing eyes for several years. He can no longer use open sights like he once did, so scoped guns are about all he can shoot. The See All sight makes up for that and allows him to shoot like he used to 30 years ago. That's what the See All Open Sight is about — a sight that lets shooters mount an open sight on a gun that doesn't have one, or to use an open sight that can be seen with poor eyesight.
Wolf ammo
I guess I should also have told you that he did this with Wolf ammo, which isn't the most accurate by far. Wolf is steel-cased with a mild steel-jacketed bullet. They're reliable and aren't corrosive, but there are several brands that will outshoot it.

Otho was able to see the See All sight reticle clearly enough to shoot just as good as when the SKS was scoped!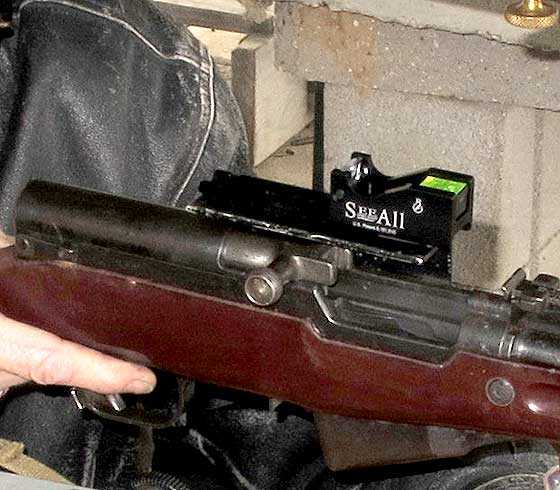 This SKS has a Weaver base attached to the left side of the receiver. The See All sight is clamped to it.
He then shot a 10-shot group at 50 yards with the SKS and the See All sight. This time he put 10 into 3.215 inches. While that's a lot closer to what most SKS rifles normally do at 50 yards, I would like to point out that Otho was able to do it without using a scope. That's significant because he couldn't see the open sights on the rifle on this day.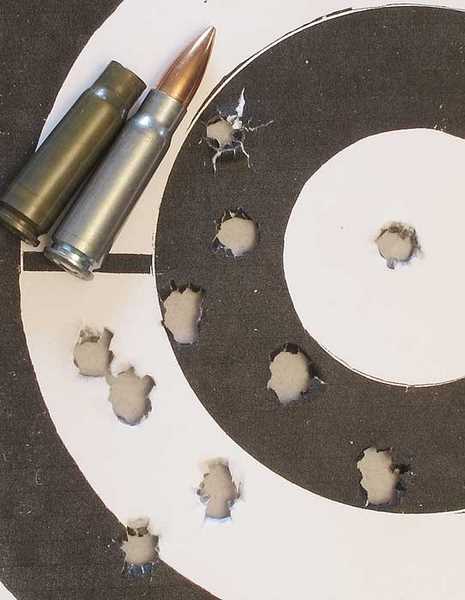 This is a good 10-shot group for an SKS at 50 yards. The rifle was shooting Wolf ammo (the dark empty case), which doesn't group as well as some other brands.
He commented that the See All sight was very fast to acquire. As breezy and cold as the day was, that was significant by itself. I was also shooting an open-sighted rifle that I'll report on in a few days, and I was unable to see my front sight until I put on my glasses to cut the wind.
100 yards
Now, Otho shifted to the 100-yard targets, where a few minutes earlier he'd shot a 10-shot group with the scoped rifle. That netted him 9 shots on paper in a group that measures approximately 5-3/8 inches between centers. The 10th shot wandered off the paper.
With the See All sight, he put 9 shots into approximately 5.50 inches. Three of these shots wandered off the paper, but we found the holes clearly on the backer board, just above the target paper. He measured the 9 shots with his pocket knife, which measures 5.50 inches when open. There was a tenth shot on the paper, but it landed about 3.50 inches below the other 9 shots. We know this 10-shot group really measures 9 inches at 100 yards; but since we don't know where the tenth shot from the scoped rifle landed, there's no way to make a direct comparison. Nine shots to 9 shots is the best comparison we can make.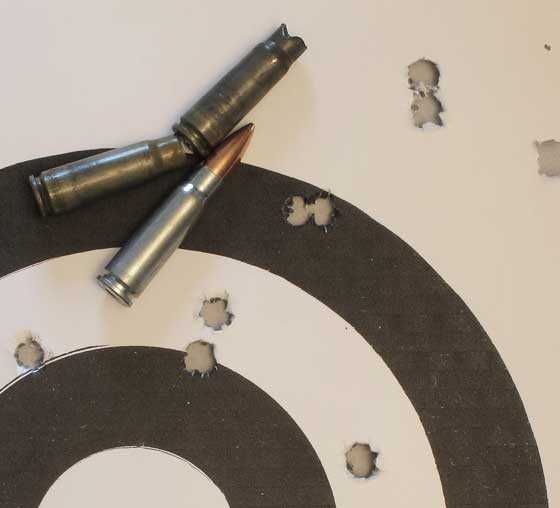 With the scoped rifle, 9 of 10 bullets hit the paper at 100 yards. This group measures 5-3/8 inches between centers.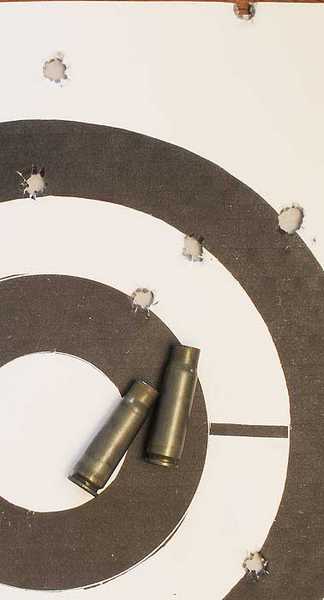 With the See All Open Sight at 100 yards, Otho was able to put 9 shots into 5.50 inches, c-t-c with the SKS. Six of those 9 are on this paper, and the other 3 landed on the backer just above the target. The tenth shot down below does open the group by a lot; but since the tenth shot from the scoped rifle was not found, we can't make a comparison.
Otho's assessment
After seeing the 100-yard group, Otho said he thinks the See All Open Sight is perfect for hunting. While it's not as good for target shooting, it's fast to acquire a target — especially one that's running. He's decided to leave the See All sight on his SKS instead of the scope, and he plans to hunt with it.
My evaluation
I'm so glad this happened because I was beginning to lose confidence. But Otho showed us the sight is good and works as intended.
I have an M1 Carbine that's chambered in 5.7mm Johnson Spitfire, and it currently has a Weaver base with a scope, as well. I also have a Remington 788 with a Weaver base. I think for my next test of the sight, I'll load up some ammo and try one of those 2 rifles with a scope and with the See All at 50 yards. They should work the same as Otho's SKS.
So, don't despair. There's at least one more test of this sight coming. For now, however, I have to say the See All Open Sight does what it's advertised to do.
by Tom Gaylord, a.k.a. B.B. Pelletier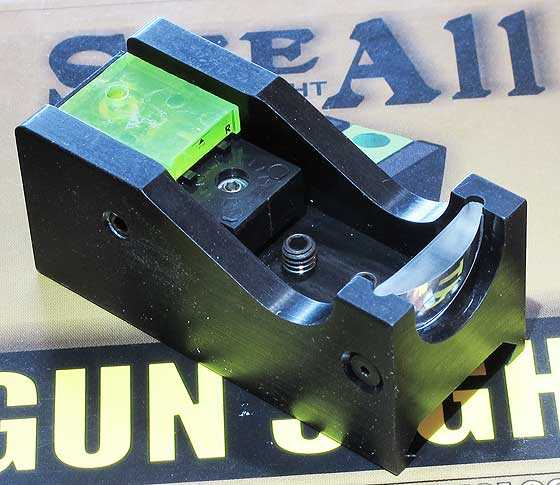 The See All Open Sight is revolutionary!
This will be a different Friday blog — I promise you.
First of all — all talk of machining the See All Open Sight sight is off the table. I spoke with the See All creators and learned that the reticle is actually on film — shrunk to the size where the point of the triangle is 0.0002 inches across. That's two ten-thousandths of an inch, or 0.00508 millimeters! This in in the realm of optics — not mechanical things. So, don't try to modify the sight.
Second, they told me some folks may need to wear their glasses when using this sight. I haven't been doing that, so I wore them for this test.
What I thought might happen today
After the last test in Part 4, I thought the sight might work better if it was held farther from my eyes — like it would be when mounted on a pistol. The magnifying optic enlarges the reticle even more the farther away it is, so this sounded like a possible solution to the reticle being indistinct on target. Also, it's easier to tilt the sight when it's mounted on a handgun. I'd hoped that would make it easier to align the peak on the end of the triangle. This is what I was thinking when I told some readers I had a better idea of how to test it.
What went wrong with this test?
When I first attempted to test the sight on Tuesday, I mounted it on a Beeman P1 pistol using an 11mm-dovetail-to-Picatinny adapter that you cannot buy. I used this base because it has some droop, and I thought I needed that droop to get the shots on paper at 10 meters. What I got, however, was pellets striking the target too low after all the upward adjustment in the sight had been made. The results were so bad that I quit testing the sight and moved to something else. I mentioned that in the introduction to Wednesday's blog.
While I was resting from this first attempt, it occurred to me that maybe this sight works in the reverse of how I was thinking. It has seemed that way every time I attempted to test it. So, for today's initial test, I turned the base around so it's sloping up toward the muzzle. The sight was pointed slightly up in relation to the top of the pistol.
For safety, I began shooting at 12 feet. If the gun was off at that distance, it would still be hitting the pellet trap.
I'd already fired a group of 10 7.9-grain Crosman Premier lite pellets at 10 meters with the P1′s open sights. They landed in 0.598 inches, so that was how well I was shooting the gun on this day. I know from experience that the Crosman Premier lite is one of the best pellets in this pistol.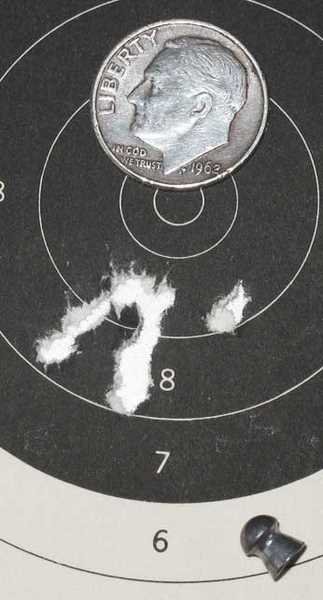 Ten Premier lites went into 0.598 inches at 10 meters with the pistol's open sights. The P1 can shoot.
It seems I can still shoot my P1. Now, how well can I shoot it with the See All Open Sight mounted? Well, I was right about the droop in the first place. Reversing the mount so it sloped up landed the pellet 12 inches below the aim point at 12 feet! I did need a drooper base after all, and one with the most aggressive slope possible. Fortunately, I had just what I needed, so that base was mounted on the gun and the sight was attached to it.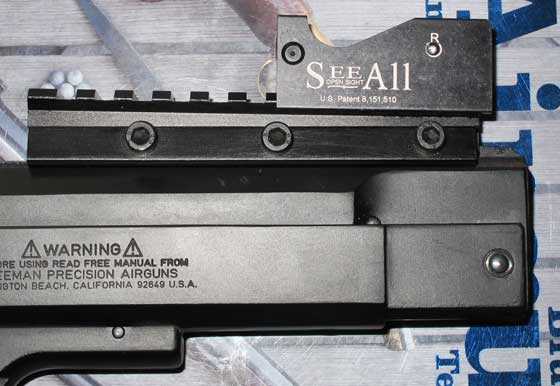 See the steep slop of the base adapter? It still wasn't enough to raise the pellet to the point of aim.
With this new steeper-sloped base, the point of impact did rise; but even with the See All sight adjusted as high as it would go, the pellet still struck about 3 inches below the aim point when shooting from 12 feet. And, yes, I did read the adjustment directions as I was adjusting the sight.
I couldn't get the pellet to strike the point of aim, so on to Plan B. Plan B is where I move the aim point very high and let the pellets impact below. At least that would tell me about the sight's potential. I used a black dot as an aim point and backed up to 10 meters. When the first shot landed 5 inches below the point of aim, however, the test was over. That is so low that it risks not hitting the entire pellet trap, and that's a risk I'm not willing to take. Two more inches and the shot goes off the paper.

A 5-inch drop below the aim point was enough to make me stop the test. This is the end of the P1 test.
This test (on the P1) is over
I have tried for two agonizing days to get the See All Open Sight to work on my Beeman P1, and everything has failed to work. I now have more pellet holes in my house (Edith knows about them), and that's as much damage as I'm willing to do.
I'm not saying the See All Open Sight doesn't work. There are too many reports that it does work — including one from our blog reader GunFun1. But I've done everything in my power to get it to work for me, and you've seen the results. My shooting buddy Otho has done the same. He did get better results than I did, but even he wasn't satisfied with what he got.
I'm going to set the sight aside and just think about it for awhile. If I were testing this item for Pyramyd Air, my recommendation would be "don't buy" right now. That's not saying I won't find a gun it works on; but, for now, I'm pretty burnt out.
Tom Gaylord, a.k.a. B.B. Pelletier
Today, we'll begin looking at a .22-caliber BSA Supersport SE. This is a conventional breakbarrel spring piston air rifle in a beech stock. It's been some time since I've tested a conventional new spring rifle like this.
The serial number of the rifle I'm testing is SSE22-770789-13. The metal finish is unpolished but probably tumble-finished, giving all the parts a matte sheen. The only plastic parts you can see on the outside are both sights, the safety lever and the triggerblade. They blend into the overall matte black finish very well.
The stock is shaped well and has 4 panels of pressed checkering — one on either side of the forearm and one on either side of the pistol grip. The BSA stacked rifles logo (called piled rifles in the UK, and the BSA logo is called the Pylarm logo) is pressed into the base of the pistol grip. The wood is finished smoothly, and the only rough area is the point where the black rubber buttpad meets the wood. That transition isn't smooth, and there's glue around the joint.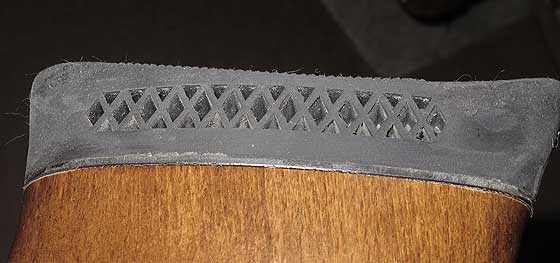 The joint at the buttpad is a little rough and has dried glue.
The barrel comes very far back when the rifle's cocked, making this a long-stroke piston. The cocking linkage is in 2 pieces that are jointed to keep the cocking slot in the stock as short as possible, which reduces the feeling of vibration. BSA says that the action is internally weighted to deliver top performance. I'm thinking they mean that there's a weighted top hat inside the piston, or the piston itself is heavy. Either way, the rifle should shoot medium and heavyweight pellets better than lightweight pellets.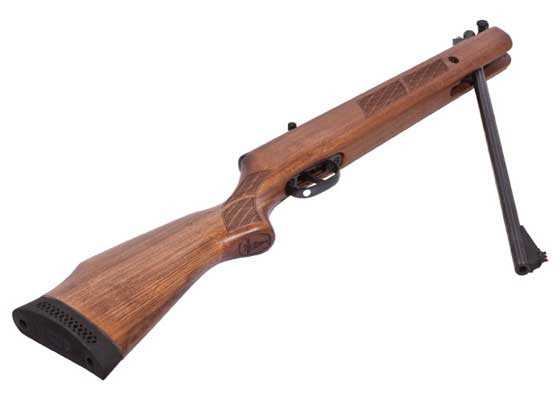 The barrel comes way back when the rifle's cocked. That means the piston stroke is long.
The rifle is supposed to weigh 6.6 lbs., according to BSA information. The rifle I'm testing weighs 7 lbs. on the nose. The difference is attributable to the density of the wood in the stock.
BSA advertises the muzzle velocity at 730 f.p.s. That would be with a lightweight pellet, but I'm hoping it's a light lead pellet. If so, that's a good velocity for a .22 spring rifle — not too fast, yet plenty of power. We'll find out in the velocity test.
The trigger is adjustable via an Allen wrench. The adjustment works on the second stage to lighten it or make it heavier. The safety is manual, which I must applaud. Only the shooter should be in control of the gun — never the design!
The sights are fiberoptic, front and rear. The rear sight adjusts in both directions, so I'll start the accuracy testing using the open sights.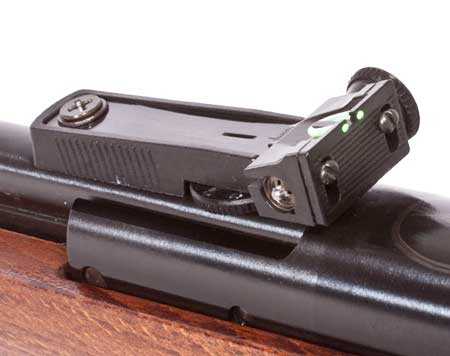 Rear sight is fiberoptic and adjusts in both directions.
There's an 11mm dovetail groove machined into the top of the spring tube, but BSA has long been noted for having its grooves set at the widest end of the size spectrum. For newer readers, 11mm is a nominal size for airgun dovetails. They actually range from 9.5mm out to almost 14mm, and BSA has always had the widest set. But it looks like the grooves are now 11mm apart.
I'm very pleased to see a deep, wide vertical scope stop hole in the middle of the dovetails at the rear of the spring tube. This provides a solid anchor point for a vertical scope stop that most of the conventional 11mm scope rings have.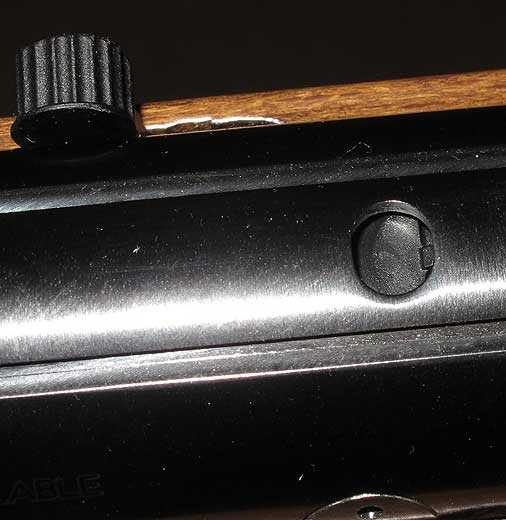 This deep, wide hole in the spring tube is for a vertical scope stop.
Solid firing cycle
I couldn't resist shooting the rifle a couple times to check the trigger and the firing cycle. The trigger is definitely 2-stage, with some creep in stage 2. I'll work on that for next time. The firing cycle is quite smooth. It's got a hint of spring buzz, but only a hint. The shot feels solid and there is no hurtful vibration at all. This is a very pleasant spring rifle to shoot!
I would add that, when I cocked the rifle, the stroke felt to smooth that I almost thought it had a gas spring. Ten years ago, I would have said this rifle has been tuned. It feels that smooth. The cocking effort is heavier — going up around 40 lbs., as a guess. In recent years, I've seen a number of breakbarrel air rifles that cocked as smooth as this one, so what I believe is happening is the manufacturers are paying more attention to the internal tolerances. The result is that the buyer gets a smoother air rifle; and at the price for which this one retails, that's quite a bargain. Five years ago, you got something much harsher for the same $250.
I have owned and tested BSA Supersport rifles in the past. In fact, in the 1990s they were a huge seller here in the U.S. They are no-frills rifles that offered good performance and accuracy at a good price. Let's hope BSA has continued that tradition in this latest offering.
by Tom Gaylord, a.k.a. B.B. Pelletier
I planned on putting a review of the See All Open Sight here today, but the test went south on me. It was most likely my fault, so I'm not going to publish it until I have a chance to check things. Today's blog is also written by new blog reader Rob, who responded to my question of what things a new person needed to know about airguns.
ROB: Myth. All pellets are the same. The only differences between the 2-3 different brands available is marketing. Truth. Every airgun is different and will shoot very differently depending on the brand, weight, and shape of pellets fired from it. New guns should always be tested with a variety of pellets.
B.B.: As long as I've been an airgunner, I've heard that you have to try lots of different pellets in a gun to find the best ones. That's true for firearms, as well, so why not for airguns?
BUT — and this is a big one! Some pellets are almost always good, while other pellets are most often not so good. The premium pellets you see me use to test airguns — JSB, H&N, Beeman, RWS and certain Crosman pellets — are most often the good ones. I won't waste my time shooting anything else. The discount store pellets are usually not very good. In fact, I am planning a comparison test between some of the best pellets and some discount store pellets in airguns of known accuracy — to see if what I've said holds true.
ROB: Myth. Pointed pellets are best for hunting. Truth. Pointed pellets may pierce an animal, but that might not be the best way to humanely kill it. Projecting power into the animal with domes, hollow points or even target pellets is better, and a heavier weight pellet moving slowly is better than a tiny pellet busting the sound barrier.
B.B.: I learned this years ago. Pointed pellets are never as accurate as good domed pellets. They do penetrate better, but that's about all. For long-range accuracy, I choose either domes or a few of the new high-tech hollowpoints that are very accurate, like the Predator Polymag and the Beeman Devastator pellets.
ROB: Myth. A pellet or BB gun is a good tool to teach an animal a lesson/run it off. Truth. Most pellet guns today are capable of piercing the skin of an animal at a close distance (and some at long distances), and a sunken pellet will fester…sometimes killing the animal–always punishing it inhumanely. Also, the new airguns (new if you haven't bought an airgun in 2-3 decades) can be extremely powerful and potentially lethal. When I was a kid, we put on an extra coat and had BB gun wars. That was a bad idea then, and a worse idea now.
B.B.: No argument from me!
ROB: Myth. Oil your gun good (or the reverse, pellet guns last forever…there is no need to maintain them.) I'm guilty of both of these. Truth. Pellgunoil is specifically made for airgun lubrication. Engine oil can hurt it. Too much and not enough oil are equally bad for life and performance. There are still some things I don't understand about lubrication. There are other oils and greases (lithium and moly grease) that I still know almost nothing about.
B.B.: There's some truth here, but also some errors. The veteran readers know that I made the same mistake years ago. Pellgunoil is actually made from non-detergent motor oil with additives that preserve o-rings. And, Rob, there are still some things that I don't know about lubrication, either!
ROB: Myth. There are only 2-3 brands of airguns. Truth. There are dozens and seem to be more every time I look. Wally World may have a gun at a lower cost, but it's best in the long run to buy from experts who can give advice on all aspects of the gun, including potential scopes and pellets.
B.B.: Amen!
ROB: Myth. You have to spend a fortune to get a straight shooting quality airgun. Truth. Some of the inexpensive guns are the best. That said, you have to pay more to get all metal, wood and a Lothar Walther barrel (a combination I haven't gotten yet).
B.B.: I think the Beeman P17 and the Air Venturi Bronco speak volumes here.
ROB: Myth. Every barrel should be cleaned. Truth. Some barrels don't require cleaning at all. Some guns require frequent cleaning.
B.B.: That's about the size of it.
ROB: Myth. High-power scopes make for better accuracy. Truth. A clear scope makes for the best accuracy…and sometimes taking the scope off and shooting open sites is the best route.
B.B.: In light of some recent test results, I have to agree. Doesn't mean I'll give up all my powerful scopes, though!
ROB: Myth. It doesn't matter where a gun is made. Truth. A good gun could be made anywhere, but the Germans (for example) have the motivation, factories, artisan capabilities and history of making fantastic guns. Other areas of the world are often low-end bidders without devotion to the craft.
B.B. In general, he's correct but don't forget the Brits, Swedes, Turks and Americans! There are several countries where good airguns can be made, and often are.
ROB: Myth. Higher speed/greater power is always better. Truth. If you want to blow holes in plywood, greater speed and power are better. However, if you want to hit a target the size of a fly or hunt squirrels at any distance greater than point blank, accuracy is much more important.
B.B.: If you don't know how I feel about this topic, you are a first-time reader. Accuracy comes before anything except safety.
ROB: Myth. Guns fire as fast as their containers claim. Truth. Airguns rarely fire as fast as the manufacturer brags. When they do, it is because they are a very good brand or because the maker tested the gun with ultra-lite pellets or took advantage of dieseling explosions.
B.B.: This used to be a larger problem than it is today. Some companies persist in overstating their velocity, I admit, but others have gotten on board with honest figures. They know many airgunners have chronographs these days (proportionately far more than firearms shooters), and they'll be checking. The company that still gets its numbers from intentional oil detonations has been busted by airgunners, but they still sell very well to the unsuspecting public, which is much larger.
ROB: Myth. Airguns are only truly accurate where zeroed. Truth. Airguns point up like cannons and shoot in an arch. That means they are as accurate as they can be at two points on that arch…going up and down (for example, at 15 and 30 yards.)
B.B.: I don't really understand this one. Because my airguns are accurate at all distances until they go out too far. I think what Rob means is the pellet path intersects the aim point 2 times.
ROB: Myth. "Broken" airguns are throw-aways. Truth. Most can be repaired with simple repairs like oiling or replacing seals or springs.
B.B.: I'll go even farther than that. I used to do very well by installing CO2 cartridges in CO2 guns I found at flea markets — you know, when they would tell me they never tried the gun because they didn't have a cartridge. These guns invariably leaked, and I got a big discount. When I got home, I used Pellgunoil and over half of them sealed up again. The Sheridan Supergrade won't hold air unless you cock it first. Try to pump one up without cocking, and the air just bleeds out. These are a few of the tricks that can be used to negotiate the price down.
Rob: Myth. Airguns are toys and can never be as accurate as firearms. Truth. To my amazement, a great airgun can usually outshoot a good firearm (within the distances they were created to excel; under 10, 20, 50 yards.) I've already proven this multiple times shooting with my friends. They were more surprised than I was.
B.B.: Agreed!
Summary
This blog was done today out of necessity because I needed a topic quick. But the material presented here is still valuable to new airgunners. I hope others will read this and tell us the things they either learned the hard way or may still not be clear on.
by Tom Gaylord, a.k.a. B.B. Pelletier
The suggestion for this report came from blog readers ricka and Terd Ferguson, who both expressed concerns over the safety of precharged airguns. That's safety…as in wondering if one can blow up!
It's been a long time since I felt those same concerns, but I did at one time. Before I got my first PCP in 1995, I was quite concerned about keeping a scuba tank filled to 3,000 psi in my house. I'd seen the movie Jaws and was suitably impressed when the shark was blown up by a scuba tank at the end. So, these two readers are probably expressing the same concerns that hundreds of you share. I'd like to address those concerns in what I hope will be a straightforward series of reports that are easy to understand.
Do firearms blow up?
Veteran readers of this blog know the answer to that. Firearms do blow up, and I've shared at least one such personal story with you — my Nelson Lewis combination gun. I overloaded it and blew the percussion cap nipple out of the barrel! You can read that report here. In retrospect, it was my fault, so we can call that experience a stupident.
I've been involved in two other firearm blowups. One was caused by a rim failure in a .17 HM2 rimfire cartridge, and I've since come to find that this cartridge is known for that weakness. When it happened to me, shards of hot brass blew out the ejection port of the 10/22 clone I was testing for Shotgun News. One piece of brass cut my right arm and drew some blood; but aside from that and a lot of extra noise and smoke, no other damage was done. That event was out of my control, so it was an accident.
The other blowup was caused by a squibb round (one without gunpowder that drives the bullet into the barrel but not out again) in a Colt SAA revolver. I was firing very fast; and when the squibb happened, I was unable to stop before I thumbed off the next round. The revolver's barrel was split lengthways when the second bullet hit the first one halfway down the barrel. That wasn't an accident — it was a stupident.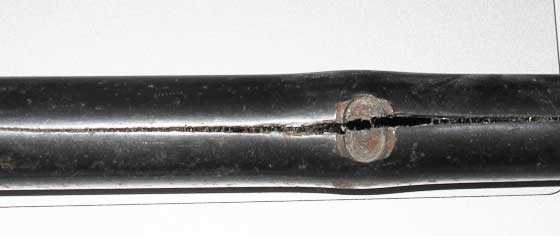 Shooting a round into a bullet that was already lodged in the barrel burst this 7-1/2 inch Colt SAA barrel. The bullet was struck where the ejector housing screw was.
Do precharged airguns ever blow up?
Yes, they do. The causes are as random as they are with firearms, and the results range from sudden surprises all the way to death. The blog readers are entitled to a frank discussion of the kinds of accidents that can happen with precharged guns, and that's what I'm about to give you.
When I bought my first precharged rifle—a Daystate Huntsman—and a brand new 80 cubic-foot aluminum scuba tank, I was properly awed. No, make that frightened. It was not unlike setting off my first charge of TNT in the Army! I respected the power potential of both that dive tank and the airgun I was filling.
Like any new thing, though, this awe and respect lasted only as long as it took me to become comfortable with the technology. If you do something enough times, the edge of respect starts to wear off—I don't care what it is. It isn't good when this occurs, but it's human nature. Familiarity breeds contempt.
Boom!
And then it happened. My gun blew up! Okay, it wasn't actually the rifle; it was the hose that connected the rifle to the scuba tank. And to be honest, it didn't really blow up. The soft wall of the rubber hose ruptured, violently releasing compressed air. The tear in the hose wall was about one inch long, and the warning signs were there before it happened. The hose had developed a noticeable bulge at the point the blowout occurred. That should have told me that the reinforced fabric liner under the outside rubber was failing, but like I said—familiarity breeds contempt. And I didn't want to stop shooting my airgun. I took a risk and the explosion happened.
I was standing in my basement when the hose blew. The noise sounded like a concussion grenade, although I'm quite sure it was nowhere near as loud or forceful. The blast loosened a storm of dust from the floor joists above my head; and my wife, whose office was right above me, jumped out of her seat.
The net result was no injury to me, beyond a bruised ego, and no physical damage to anything other than the now-ruined hose. I was momentarily stunned, and it took about 15 seconds before I regained my bearings, because Edith had already gotten to the basement before I turned off the tank's air flow.
I shared my experience with other airgunners who were more acquainted with precharged airguns and was told I had been lucky the hose hadn't broken off completely, whipping me violently before I could turn off the scuba tank's valve. That was when I discovered that nearly everyone who uses precharged airguns has either had an incident like this happen to them or knows someone who'd had one.
Can this be avoided?
Can this kind of incident be avoided? Absolutely! There are several things you can do to keep this from happening. First, if you use microbore air hoses, the likelihood of blowouts is reduced — not eliminated, just reduced. Microbore hoses carry the same internal air pressure as regular hoses, but the surface against which the air presses is so much smaller that it reduces the amount of stress on the hose material. However, most microbore hoses are stiff and will eventually soften at the point at which they are bent. That's usually up near the tank, where they come out of the tank's air valve. You still have to watch for that, because when they soften, they also weaken at the same spot. The hose I have linked to in this report has springs on both ends to prevent this bending to a large extent — but you still have to look for it.
Another safety measure is to use a hose that has a braided steel sheath on the outside. This sheath keeps the rubber that's underneath from expanding and blowing out. The hose that blew out on me was an early rubber Daystate hose that had just a 3,000 psi rating. It was rated for nearly the same pressure it worked at (2,500 psi), which isn't good. The hoses with braided steel sheaths are rated much higher.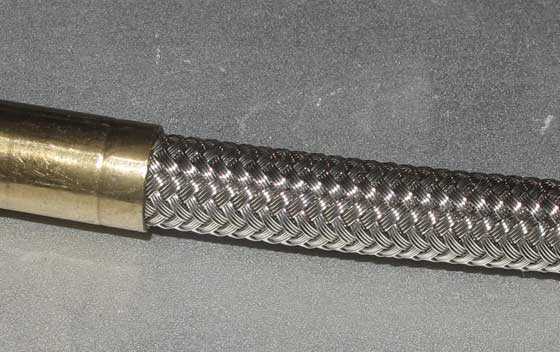 The stainless steel wire braiding on this air hose will prevent it from blowing out.
The most important safety measure is you! Examine your fill equipment every time you use it; and if you spot something like I did, you stop right away.
Another type of stupident
If you fail to fully connect the two halves of the Foster quick-disconnect coupling during a fill, the air pressure will disconnect it for you! It will be accompanied by a small explosion and often by the violent whipping of the air hose. Here's another place where a microbore hose protects you because it doesn't whip as much, plus it's smaller, so it doesn't hurt as much when you get hit. But the best thing is to never get hit at all. When you make the connection, listen for the click of the knurled ring on the larger female fitting as it snaps into position. That indicates that all the ball bearings inside the coupling are now safely inside the groove of the male fitting.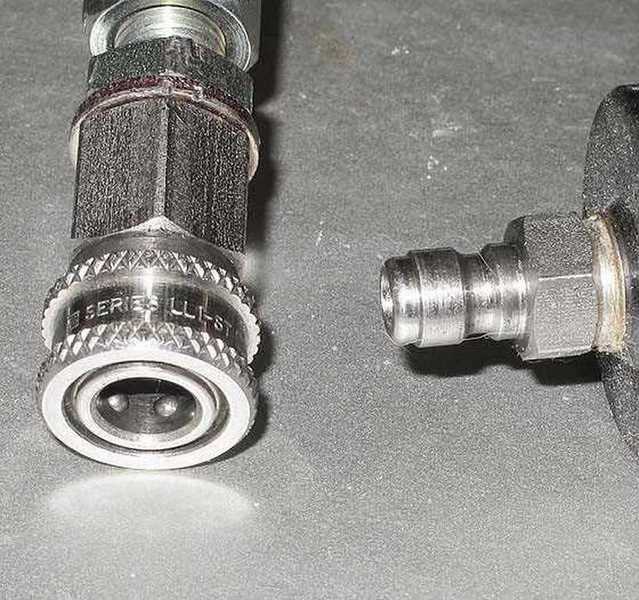 This female Foster fitting (left) has a spring-loaded collar that pulls back to allow the ball bearings to move outward. They go around the flat spot on the male fitting on the right, then the spring pushes them into the groove. They will hold the two fittings together under pressure, but only when the ball bearings are in the groove. It's important to hear the two parts click together.
Summary
That is as far as I will go in this report. I know how important this information is for many of you, so I promise to come back to this quickly for part 2.
For now, however, I want to leave you with this thought. I'm being honest with you about the potential dangers that are present whenever precharged airguns are used. You have to keep an open mind about this because the things I'm presenting are not that common. They do happen and most of them can be prevented by the means and methods that we'll discuss.
Operating a precharged airgun is no more dangerous than having a gas-fired hot water heater in your house or operating a lawn mower. There are things to be aware of; and if you follow the rules, no harm should come your way.
In 2009, I gave Pyramyd Air two articles about the basics of precharged pneumatics:
Introduction to precharged pneumatics/A look at the history and technology of the precharged powerplant
Helpful info for working with precharged pneumatics
While I put a lot into both articles, there will be new things in this series of blog reports.