by Tom Gaylord, The Godfather of Airguns™
Writing as B.B. Pelletier
This report covers:
• Update on the Ft. Worth airgun show
• Single-action testing
• H&N Finale Match Pistol pellets
• JSB Exact RS pellets
• Air Arms Falcon pellets
• RWS R10 Pistol pellets
• Double-action
• Final impression
Update on the Ft. Worth airgun show
The Ft. Worth airgun show is approaching fast. September 6 is now just over a week away!
A number of people are bringing airguns to sell at the show. Some of these people are gun dealers and others who never knew how or where to sell their airguns. I have a lead on an FWB 124 without a stock for $50. And I know there will be dozens (if not hundreds) of airguns brought by the club members who are putting on the show. I know of a Crosman 99 lever-action rifle coming from one of them; and as the word spreads among the 1500 club members where the show is being held, airguns are coming out of the woodwork. So, bring cash!
There will also be a new big-bore bullet maker at this show. This company has full production equipment to make over 10,000 bullets each hour, and they're keen to line up some airgunners as customers, as well as some airgun manufacturers.
Now, let's move on to today's report. It's accuracy day for the Dan Wesson pellet revolver. I'll tell you right now, I was surprised by the accuracy of this air pistol. Read on to learn how accurate.
Single-action testing
I said in the last report that because the revolver shoots both faster and more consistently in the double-action mode, I was going to test it that way. But the bottom line is that double-action is never as precise as single-action. So, I tested it both ways. Single-action first.
H&N Finale Match Pistol pellets
The first pellet I tested was the H&N Finale Match Pistol pellet. I knew from the velocity test that this pellet fit the steel cartridge head pretty well when seated deep. The first shots landed low and left on the target, but I wasn't prepared for how close they were hitting. The first 2 shots went into the same hole, and all 6 shots went into 0.593 inches at 10 meters, rested. I adjusted the rear sight and thought the second group would be far enough away from the first to score separately; but as you'll see, it wasn't. The entire group of 12 shots was only 1.074 inches between centers — even with the sight adjustment!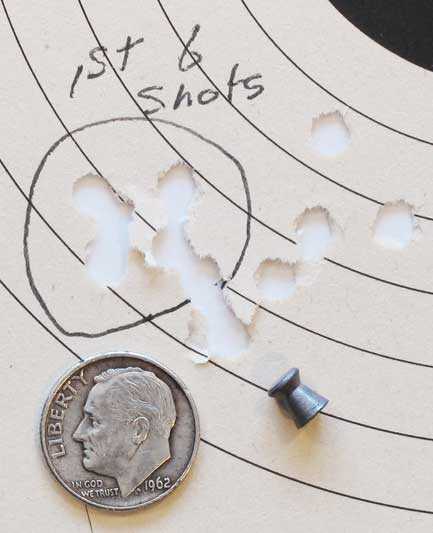 The first 6 pellets went into 0.593 inches at 10 meters and even after a sight adjustment the next 6 only opened it up to 1.074 inches.
JSB Exact RS pellets
Next, I tried 6 JSB Exact RS pellets. These spread out much more than the Finale Match. Six went into a group that measured 2.007 inches. Notice that this group is very vertical, so the velocity probably varied a lot. This isn't a pellet for this pistol.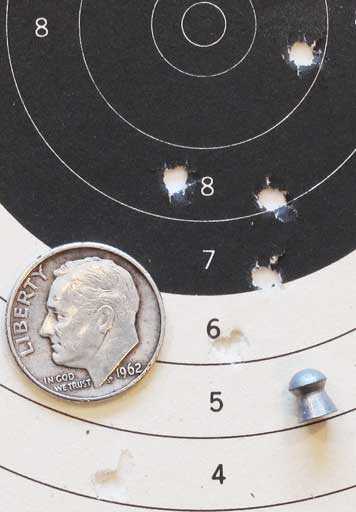 JSB Exact RS pellets strung out vertically into this 2.007-inch group that was the biggest of the session.
Air Arms Falcon pellets
Next, I tried Air Arms Falcon pellets. They often do well in lower-powered .177 airguns. In the Dan Wesson, they were certainly better than the JSB RS; but at 1.246 inches between centers, they aren't anything special.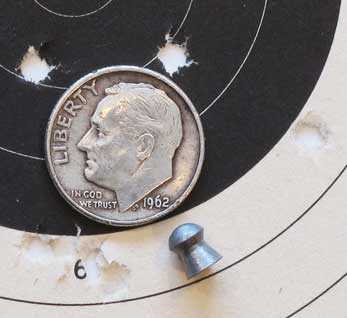 Falcon pellets grouped better, at 1.246 inches for 6 at 10 meters. But this isn't good enough.
RWS R10 Pistol pellets
Next up were RWS R10 Pistol pellets — another good target wadcutter. Six of them went into 0.916 inches, with 4 going into just 0.263 inches. This is clearly a good pellet in the Dan Wesson.

RWS R10 Pistol pellets grouped really well, at 0.916 inches for 6 and 0.263 inches for 4.
Next, I went back to the H&N Finale Match pellets that did so well at the start. I shot another group of 6 — all of them single-action. This time, 6 went into 0.811 inches.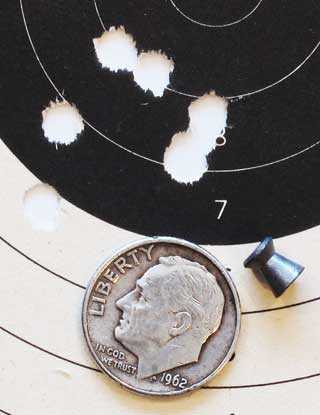 Six H&N Finale Match Pistol pellets went into this 0.811-inch group.
Double-action
After the last group of 6, I installed a fresh CO2 cartridge. The velocity test had demonstrated that 7 cylinders were all I could expect with stable velocities.
First up were 6 more H&N Finale Match Pistol pellets. I still rested the revolver and squeezed the trigger carefully; but instead of stacking at the end of the pull like a good Colt revolver trigger, the Dan Wesson trigger stacks, then releases and stacks again. It's unpredictable in double-action. Six pellets went into 1.974 inches, with 4 in 0.524 inches. I'm sure that if the trigger had been better, I could shoot better.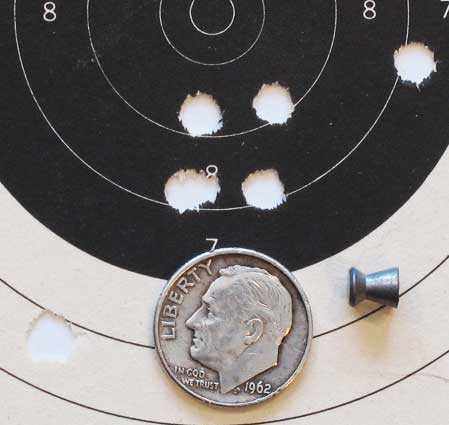 This double-action group of H&N Finale Match pellets is spread out sideways from the trigger action. It measures 1.974 inches between centers, with 4 in 0.524 inches.
Next, and the last pellet I tried, was a cylinder of RWS R10 pellets. I must have managed the trigger better this time because this group measured 0.908 inches between centers.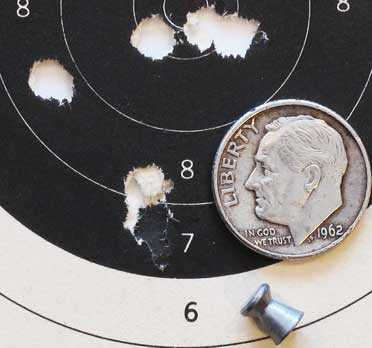 This double-action group of RWS R10 pellets is more like it. Six in 0.908 inches.
Final impression
This Dan Wesson pellet revolver is surprisingly accurate. It rivals the S&W 586, but for a lot less money. But loading the cartridges with pellets is time-consuming. I know it will bother impatient shooters.
The trigger and sights on this revolver work well for a target shooter. And the double-action trigger-pull is as light as I've ever seen. My recommendation is to get the Dan Wesson if you like hitting what you shoot at, but not if you like fast-action handguns.
by Tom Gaylord, The Godfather of Airguns™
Writing as B.B. Pelletier
Part 1
Part 2
Part 3
Part 4
Part 5
Part 6
Part 7
Part 8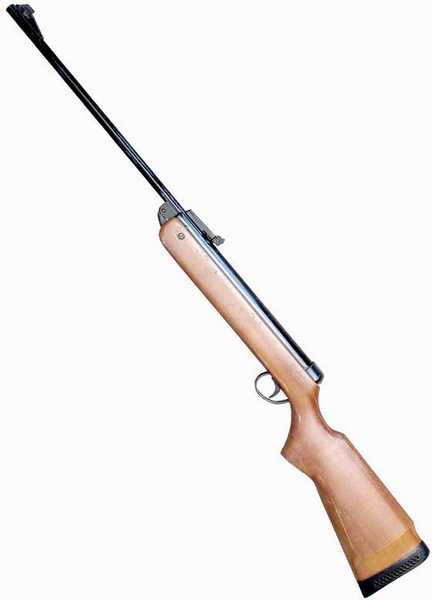 My rifle is actually a BSA Super Meteor.
This report covers:
• What we've learned so far
• Mounting the Tasco Pro-Point dot sight
• 10-meter accuracy RWS Hobby pellets
• JSB Match Diabolo pellets
• H&N Finale Match Pistol pellets
• RWS R 10 Pistol pellets
• The Meteor is good
What we've learned so far
I began the review of the BSA Super Meteor in October 2013 — almost a year ago. I acquired the rifle at the Roanoke airgun show (and, no, I don't know whether or not it will be held again this year) from Don Raitzer, because I'd always wanted to review the rifle. I commented that Meteors had always looked like cheap airguns to me; but after researching them, I discovered they went through the transition period when BSA went from being a world leader in airguns, through several attempts to make their guns less expensive to build and eventually to the point where the company was bought by Gamo.
So, Meteors exist in numerous variations, with Marks I and II being considered the best, and the cheapening started with the Mark III. My Super Meteor is a Mark IV and well down the road from the top quality they enjoyed at their height. But it still does show a lot of innovation in the design. I showed you all of that in the early parts of this report, as I rebuilt the powerplant and crowned the muzzle.
I got the velocity back up to standards, but for some reason the accuracy was never there. I lamented over this in the last few reviews, but it wasn't until the final part — Part 8 – that I discovered what might have been the problem. And then I guess I must have burned out, because I didn't return to the rifle until today.
It was Monday's look at the BSA Scorpion that caused me to look back at the reviews of the Meteor. That was where I discovered that I'd intended to try the rifle with a scope or dot sight but never did. Until today.
What I discovered is that the Meteor's rear sight is loose and tends to move when the rifle's shot. I wondered if an optical sight that stayed put might correct any sighting problems and let the rifle reach its true potential. Today, you'll see what that is, and you can use the links to the earlier parts, above, to see the contrast between the accuracy with open sights and the dot sight I chose for today's test.
Mounting the Tasco Pro Point dot sight
I mounted a 30mm Tasco Pro Point red dot sight that I've used in other tests. Mine is vintage and not at all like today's Tasco Pro Point. I would have used the Tech Force 90 dot sight, but that one's being used on another rifle we'll get to very soon.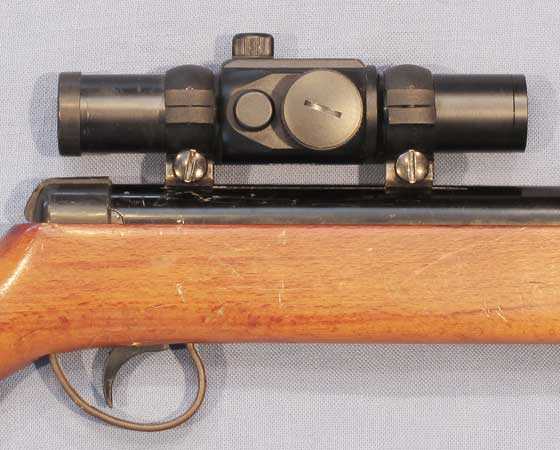 I mounted a vintage Tasco Pro Point dot sight on the BSA Meteor.
Once mounted, the dot sight was very easy to sight-in for 10 meters. I saw tighter groupings at my 12-foot sight-in distance and began to hope I'd solved the problem. Let's now see how well the rifle did.
10-meter accuracy RWS Hobby pellets
The first pellet I tried was the RWS Hobby that had done best in the previous tests with open sights. Right away, there was a dramatic difference. Ten Hobbys now went into 1.033 inches, where they'd only previously made a best group that measured 1.361 inches with open sights. But inside the big group, 8 shots were in a tight cluster measuring 0.437 inches! This is what I was expecting from the Meteor all along!

Maybe not the tightest 10-meter group, but 8 of these Hobbys went into 0.437 inches, giving me hope for the rifle.
JSB Match Diabolo pellets
Because no other pellet had done as well as Hobbys in previous testing, I decided to change my choices and concentrate on several target pellets. Next up was JSB Match Diabolo wadcutters. Ten of them went into 0.681 inches — with no fliers. Now we're getting some results!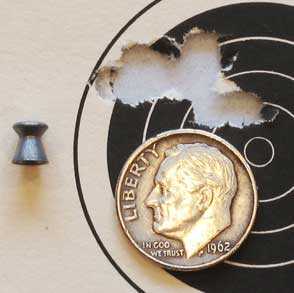 Now we're talking! Ten JSB Match pellets made this 0.618-inch group at 10 meters.
H&N Finale Match Pistol pellets
The next pellet I tried was the H&N Finale Match Pistol pellet. This one proved to be the most accurate of this test. Ten went into a 10-meter group that measures 0.456 inches between centers.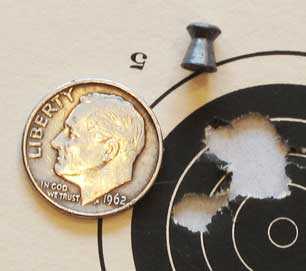 Ten H&N Finale Match Pistol pellets made this best group of the day. It measures 0.456 inches between centers.
RWS R 10 Pistol pellets
The last pellet I tested was the RWS R 10 Pistol pellet. This is another lightweight wadcutter that's often the most accurate in some airguns. Before shooting this pellet, I adjusted the dot sight 5 clicks to the right and 5 clicks down. Unlike scopes, dot sights don't seem to have the same problem with stiction (the reticle not moving after adjustment until the gun is fired several times). The dot moves with the adjustments and doesn't have to be bumped or vibrated into its new position by firing the gun. (If you'd like to read more about stiction, go to this blog on scope basics and scroll down to the Stiction subhead.)
Ten R 10s then went into 0.588 inches at 10 meters. This is the second-best group of this test, and it underscores the Meteor's accuracy potential very well.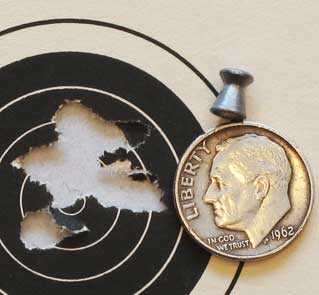 Ten RWS R 10 Pistol pellets went into 0.588 inches at 10-meters. The second-best group of the day.
The Meteor is good
When I began this series, I'd hoped to discover why so many shooters have a love affair with the Meteor. For many years I had thought it was a cheap-looking little rifle, but that was before I found out about all the changes over the years of production. Apparently, there are Meteors — and then there are Meteors; and it really makes a difference which variation you have. Also, in this instance, I started with what was essentially a junker.
It was an uphill battle because I had to rebuild my rifle, which included several major repairs like spot-welding the piston body and crowning the recessed muzzle (see Part 4). I have to thank my buddy Otho for the hard work he put into this project. He's the one who spot-welded the piston body and made the tool bit I used to crown the recessed muzzle (Part 8).
The action forks that were very loose when I got the rifle, and I had to tighten. This involved putting the forks into a vise and tightening the jaws to squeeze the forks together (Part 4). Assembly after this operation was a chore, but I got it done. This is where a pivot bolt comes in very handy, but the Meteor doesn't have one — just a plain pin.
I'd hoped the Meteor might perform like a Diana 27, but it doesn't. The Meteor is its own air rifle — very abrupt during the firing cycle — while the Diana is smooth. And the trigger, while adjustable, can never be as light and crisp as the Diana's ball-bearing sear. But don't hold that against the rifle. The Meteor is its own airgun, not a copy of anything else.
And it can shoot — as today's test demonstrates. I thought I might have to choke the barrel to get accuracy from the rifle, but it turned out the sights were the problem all along.
Doing this series has been educational and exasperating at times, but I learned a lot and got inspiration for many more blogs about vintage airguns.
by Tom Gaylord, The Godfather of Airguns™
Writing as B.B. Pelletier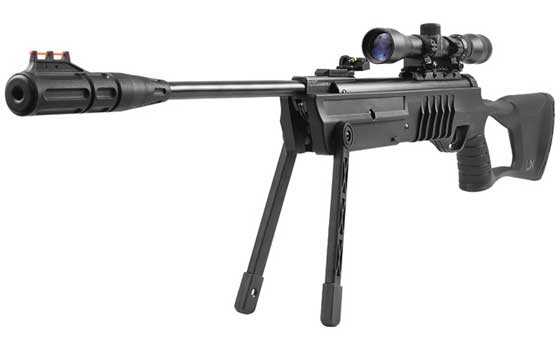 That's right! The Umarex Fuel carries its own bipod legs tucked against the forearm until you deploy them.
This report covers:
• I couldn't believe it is a gas spring!
• Cocking effort
• Velocity test — H&N Meisterkugeln pellets
• RWS Hobby pellets
• RWS HyperMAX pellets
• H&N Baracuda Match pellets
• Firing behavior and report
• Trigger-pull
• Overall evaluation
Today we look at the velocity of the Umarex Fuel air rifle, and folks — I think we have a winner, here! I'll tell you why I say that as the report unfolds.
I couldn't believe it's a gas spring!
As I shot the Fuel, I was surprised by how easy it is to cock — especially given the power you'll see. Unlike other gas springs that fight you from the starting point of the cocking stroke, the Fuel seems to start out easy and gets hard only when the mechanical advantage of the cocking linkage is in the right place. It's as if whoever designed this air rifle had actually cocked one before!
Cocking effort
The Fuel requires 32 lbs. of force to cock — far less than other gas-spring rifles of similar power. And the effort does build rather than be all at once from the starting point. That linkage is certainly well thought out!
Unfortunately, I had an accident while measuring the cocking effort. In an attempt to avoid damaging the plastic fiberoptic front sight, I made the cocking effort more of a sideways movement across the scale, rather than a direct downward pressure. The muzzle slipped off the scale and slammed against my bare leg, breaking off the SilencAir muzzlebrake and front sight of the rifle. That wasn't the Fuel's fault — it was clearly all mine.
For the rest of the test, I will be shooting the rifle without the muzzle brake that on this rifle actually has baffles to silence the report. And I won't be able to test the rifle using the open sights, so I'll install a dot sight to cover the first part of the accuracy test. Remember — I want to test this rifle using both the bipod legs that are permanently affixed to the stock, as well as a conventional artillery hold.
Velocity test — RWS Meisterkugeln pellets
Umarex U.S.A., who sent me the rifle to test, also sent a tin of RWS Meisterkugeln 8.2-grain pellets. So, they were the first pellets I tested. The first three shots were 999, 974, and 977 f.p.s., respectively. The fourth shot went 966 f.p.s., and that started a string of 10 that had a low of 956 and a high of 966 f.p.s. So the break-in lasted exactly 3 shots! That's a record.
The average with 8.2-grain Meisterkugeln pellets was 960 f.p.s. That produced an average muzzle energy of 16.78 foot-pounds.
RWS Hobby pellets
Next up were RWS Hobby pellets. At just 7 grains in .177 caliber, these should be screamers in this rifle. They averaged 1045 f.p.s. — with a low of 1031, a high of 1052 f.p.s. and a spread of 19 f.p.s. The average muzzle energy was 16.98 foot-pounds.
If you've been a reader of this blog for a while, you know that we expect spring-piston guns to produce more power with lighter pellets — just the opposite of what pneumatics do. Sometimes, there are anomalies due to the weight of the piston, but generally things work out that way.
RWS HyperMAX pellets
I wanted to see just how fast the Fuel is, so next up were the lead-free 5.2-grain RWS HyperMAX pellets. They averaged 1215 f.p.s. — with a spread from 1200 f.p.s. to 1223 f.p.s. and a total velocity spread of 23 f.p.s., which is pretty consistent for such a light pellet in a powerful piston gun. At the average velocity, they produced 17.05 foot-pounds of energy at the muzzle.
H&N Baracuda Match pellets
The Fuel obviously has enough power for a heavier pellet, so I selected an H&N Baracuda Match pellet as the final test pellet. This one averaged 838 f.p.s. in the Fuel — with a low of 830 f.p.s., a high of 845 f.p.s. and a total spread of just 15 f.p.s. At the average muzzle velocity, this pellet produced 16.61 foot-pounds. Now, that's an interesting number. From the lowest power to the highest seen in this test, the rifle varied by less than half a foot-pound. Even though the pellets doubled in weight, the energy difference was small, meaning that the Fuel outputs similar energy with most pellets. That's very uncommon for a spring-piston airgun.
Firing behavior and report
The Fuel is very quiet when it discharges. Even after the SilencAir broke off, the rifle was still quiet. And the discharge felt smooth and solid — no vibration after the shot. This rifle shoots like a tuned spring rifle that costs a lot more. If it's also accurate, we're looking at the best buy of 2014.
Trigger-pull
The two-stage trigger is adjustable for the length of the first stage, only. Stage one weighs exactly 1 lb., and stage two breaks cleanly at 4 lbs., 11 oz. I'll be able to shoot well with this trigger.
Overall evaluation
I'm impressed by the Fuel so far. It cocks easily, yet is spot-on for velocity. The trigger is nice, and the firing behavior is smooth and solid. I have a good feeling about this rifle.
by Tom Gaylord, The Godfather of Airguns™
Writing as B.B. Pelletier

BSA Scorpion.
This report covers:
• Brief history of the BSA Scorpion pistol
• Description
• Velocity test
• Trigger
• Sights
• Cocking effort
• Evaluation so far
Brief history of the BSA Scorpion pistol
When I first started reading about airguns in the 1970s, things were similar to today. There were always some models I couldn't get, or guns that I had missed getting when they were new. I didn't find out about them soon enough. It created a feeling of inferiority — as if I'd missed the party and could tell it had been a good one by the wreckage that remained.
One of the airguns I missed out on was the BSA Scorpion. BSA has never been represented very well in the U.S. anyway, and the Scorpion pistol was one of those elusive airguns I never seemed to connect with.
One of the stories told about Scorpions was they were actually breakbarrel rifle actions that had been shortened and put into a pistol stock. Like the BSF S20 pistol, you can look at a Scorpion and figure that out for yourself, even if no one told you. And, because they were made from small rifles, the very first Scorpions were supposed to exceed the 6 foot-pound power limit the UK placed on air pistols of that time. They were supposed to shoot faster than 600 f.p.s. in .177 caliber. Supposedly, the UK Home Office (the UK equivalent to the U.S. State Department) requested that BSA lower the output power of the Scorpion because of this.
I can't tell you if any of this is fact, rumor or urban legend – but it's true that the Scorpion is a powerful spring-piston air pistol. In its day it was one of the top 3, with the BSF S20 pistol and the Webley Hurricane pistol being the other 2.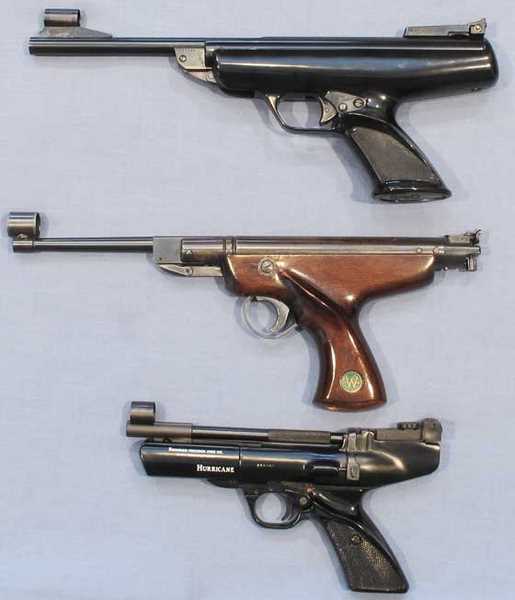 The big three air pistols of the 1970s are (top to bottom) BSA Scorpion, BSF S20 Match and Webley Hurricane. The Webley seems dwarfed by the other two, though it's considered to be a large air pistol in its own right. Isn't it interesting that all three pistols have a hooded front sight?
The Scorpion is related to the Meteor rifle that we've already looked at, though most of the internal parts are not interchangeable. The powerplant is of a similar size. The spring tube is very wide — 1.245 inches outside diameter, compared to 1.024 inches for the BSF.
The Scorpion I'm showing today was found at a gun show about 2 months ago from a dealer who didn't want it because it's an airgun. I traded him a firearm he could use. The pistol is like-new in the box and has the original BSA inspection certificate, the cocking aid and the removable front sight hood. It's the very first version of the Scorpion, as designated by the prefix letters PA in the serial number. That puts its production between 1972 and 1985.
My Scorpion is a .177 caliber, but it was also produced in .22 caliber. The second variation of the gun started in 1985 and ended in 1994, when the gun was terminated. The Mark II versions have scope grooves cut into the spring tube, but my Mark I has then too, as well as a fully adjustable rear sight. I think mine must be a late Mark I that was made as the company transitioned to the Mark II.
Description
The Scorpion is a large air pistol. It measures 15-3/4 inches overall without the cocking aid installed and a whopping 18-1/4 inches when the plastic aid is on the gun. The barrel is 8 inches of that length. The pistol weighs 56 oz., which is right up there with the heavyweights.

The plastioc cocking aid slips over the muzzle and around the front sight base.
Where the equally large BSF S20 doesn't recoil as much as you would expect from its size, and the smaller Webley Hurricane is actually a pussycat, the Scorpion lets you know it has power when the sear releases. It doesn't jump in recoil like Walther LP 53. It just pulses in your hand strongly enough that you know something has happened. There's a fair amount of high-speed vibration, but not a lot of spring twang.
The barreled action is entirely blued steel, but the trigger blade is made of the same black plastic as the one-piece stock/grip. The grip favors right-handed shooters, as it has a thumbrest cast into the left side. The angle is very ergonomic, making the pistol point like a Luger.
Trigger
The Scorpion's single-stage trigger is adjustable via an Allen screw buried deep inside the plastic trigger blade. Access appears to be through a thin slot in the plastic triggerguard, but the slot is too thin for the right wrench, so the action has to come out of the stock — which is not a small operation! The only adjustment is the pull weight and mine is fine, so I'm going to leave it alone.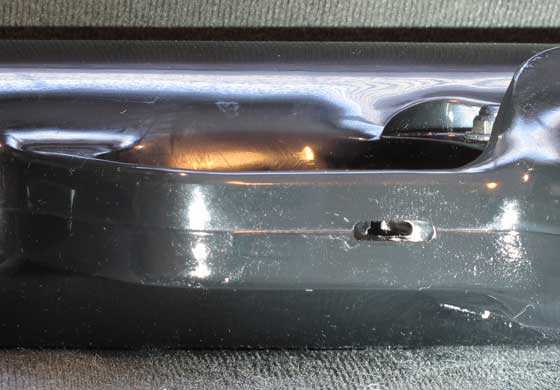 The slot in the triggerguard isn't wide enough for the Allen wrench to pass through. The stock must be removed to adjust the trigger.
The safety comes on automatically every time the pistol is cocked. A lever on the left side behind the trigger blade is pushed down to release it before firing. This is a 2-handed operation that cannot be done by the shooting hand, alone.
The trigger is single-stage and breaks cleanly at 3 lbs., 12 oz, despite the inspection certificate showing that it left the factory at 5 lbs. The previous owner may have adjusted it.
Sights
The front sight has a removable sheet metal hood that must be removed to store the pistol in the factory box. The front post is both tall and square at the top.
The rear sight adjusts in both directions with click detents that are almost too soft to hear or feel. There are numbers on the elevation wheel for reference and a scale on the windage, so you know where you are and where you're going. The rear notch also has two small screws that allow the entire notch to slide up for more elevation.

Looking down on the rear sight we can see the elevation wheel, the windage knob and the two slotted screws that hold the notch plate in place. This sight has a lot of adjustability!
Velocity test
I'm going to do something different in this velocity test. I'll test the Scorpion, the BSF S20 Match and the Webley Hurricane side-by-side for comparison purposes.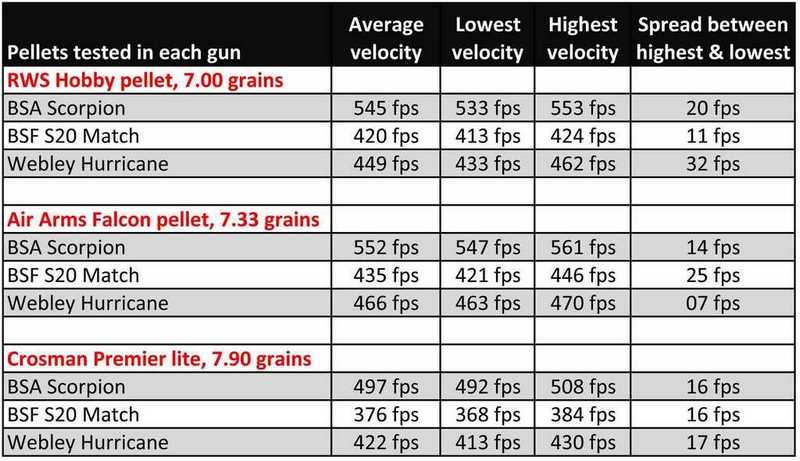 Cocking effort
All these old spring pistols take some muscle to cock, and the Scorpion it right at the top. With the cocking aid installed, it registered 35 lbs. on my bathroom scale. That is at the upper limit of vintage air pistols.
Evaluation so far
The Scorpion is certainly an interesting air pistol. Its vintage design and features come though loud and clear when you examine one. Cocking is heavy. The trigger is nice and crisp. I hope the pistol is accurate, though accuracy with one of these fine older air pistols isn't always the criterion for hanging onto them.
by Tom Gaylord, The Godfather of Airguns™
Writing as B.B. Pelletier
This report covers:
• Updates on the Ft. Worth airgun show
• On to the report
• Seating pellets — the unwritten lesson
• After seating, there was improvement
• JSB Exact RS pellets
• Single-action versus double-action
• How fast does it shoot?
• H&N Finale Match Pistol pellets
• How many shots?
• Trigger-pull
• Evaluation so far
Updates on the Ft. Worth airgun show
I have several announcements about the upcoming Ft. Worth airgun show on Saturday, September 6. First, most of the tables in the main hall are reserved. We will now move the overflow into the second hall, which is 15 feet from the main hall. Both buildings are air conditioned.
Airgun collector Larry Hannusch will be displaying his ball reservoir airguns, so bring your camera. Unlike gun shows, this show allows cameras inside the show. There will be filming for TV and photography for print publications, plus filming for the internet all over the show. If that is a problem for anyone, they need to see me when they arrive. There will be a sign at the entry stating that filming and photography will be taking place on the ranges and in the hall.
Larry is also going to bring several Hakim air rifles to sell, for those who are interested in the type. He says these guns are more distressed, which will help with the price, so you may be able to afford this classic after all.
Scott Pilkington, a 10-meter airgun dealer, will be bringing some retired club target rifles. Many are FWB 300s in need of a rebuild and some TLC. RidgeRunner bought 2 of these from Scott and can tell you what to expect.
Umarex said they'll have a drawing for an airgun at their table. That's in addition to the three raffle guns and two door prizes I've already announced (AirForce Airguns Condor SS, Walther LGV Competition Ultra and Hatsan AT44-10 Long QE in the raffle — and Air Venturi Bronco and Benjamin Trail NP2 as door prizes).
A new big bore bullet maker, Tin Star Bullets, will be selling at the show, along with Seth Rowland (organizer of the Malvern airgun show), who also makes big bore bullets. If you have a big bore and want to bring it to the show, there will be lots of bullets to buy.
Crosman will be demonstrating their new .357-caliber Bulldog big bore air rifle at the show. They'll be on the 50-yard range most of the day if you want to try it out.
There will be an informal reception at the show hotel on Friday, the evening before the show. I'll be there to greet all who attend. It's from 7:00 p.m. until 8:30 p.m.
I'll also lead a caravan of cars from the hotel out to the show grounds on Friday at 4:00 p.m. If you want to scope out things the day before, this is your chance. There will be no setting up until Saturday morning at 6:30 a.m.
On to the report
I learned a lot about the Dan Wesson pellet revolver in today's test. I'll pass along all that I learned  because it looks like the manual hasn't got a clue!
Seating pellets — the unwritten lesson
The manual that says nothing about seating pellets, other than to put them into the steel cartridge noses and attach them to the front of the cartridges. But then I shot the first 6 RWS Hobby pellets and noted that the velocity ranged from a low of 198 f.p.s. to a high of 354 f.p.s. in just 6 shots. That's a spread of 156 f.p.s. I paused a minimum of 10 seconds between shots, so the spread wasn't from any cooling. I even had three shots where no pellet came out of the gun! The average velocity for the cartridges loaded this way, and shooting single-action, was 271 f.p.s.
Seating pellets
This huge velocity spread, plus the times when no pellets came out, alerted me to the fact that maybe Hobbys are a bit too large for this gun and maybe they're sticking in the cartridge noses. So, I inserted them deep into each steel nose with a ballpoint pen. This time the Air Venturi Pellet Seater did not work because it's too large to enter these steel noses, but a common ballpoint pen worked well. I just laid the cartridge nose-down on my desk, dropped a pellet in the rear and then pushed it as far in as it would go. The desk stopped it perfectly at the end of the steel cartridge nose.
It takes time to load each cartridge this way. If you're impatient, you're not going to like this airgun. This process was part of what killed the sales of the Brocock Tandem Air Cartridges — many shooters just didn't want to spend their time loading cartridges before they then loaded them into the airgun to shoot.
After seating, there was improvement
After deep seating the Hobby pellets, the velocity picked up. The next 6-shot string went from a low of 210 f.p.s, to a high of 321 f.p.s. — not good but better than the first time. The spread was now 111 f.p.s.
While this is an improvement, I felt that RWS Hobby pellets were probably just too fat for these cartridges, and subsequent testing proved me right. So, the Dan Wesson cartridges are sensitive to the size of the pellets, regardless of seating.
JSB Exact RS pellets
While RWS Hobby pellets are very light, they are also too large for these cartridges. JSB Exact RS pellets are slightly heavier, but they were much more consistent in velocity. A 6-shot string fired single-action ranged from a low of 271 f.p.s. to a high of 298 f.p.s. — a spread of only 27 f.p.s. They averaged 286 f.p.s., which is close to the Hobby average without the wild swing in velocity.
Single-action versus double-action
Up to this point in the test, all shots were fired single-action. That means the hammer was cocked and then the trigger was deliberately squeezed. This is the way most revolver shooters shoot their guns, because it's the most controllable and also the most accurate. But I sensed the Dan Wesson might work better in the double-action mode, when the trigger is pulled through for each shot — no hammer cocking. So, I switched to that mode and got the following results with the JSB Exact RS pellets.
Six shots now averaged 317 f.p.s. — an increase of 31 f.p.s. over single-action. The low was 310 f.p.s. and the high was 325 f.p.s., so the spread was 15 f.p.s. — a decrease of 12 f.p.s. over shooting in the single-action mode. Clearly, the Dan Wesson revolver works best in double-action. And, just as clearly, deep-seating the pellets is essential to consistency. And you want to use pellets that aren't too wide.
One final observation — at least one reader mentioned that these pellet revolvers were known to produce velocities well below the advertised 425 f.p.s. We're seeing that in this test. While the velocity is not bad, it is absolutely 100 f.p.s. below the advertised numbers.
How fast does it shoot?
Some people just want to know how absolutely fast the gun will shoot, so I tried it with both RWS HyperMAX pellets and with Crosman SSP Hollowpoints. Both pellets fit the steel cartridge noses very loosely and fell out of the cartridges as I was loading the gun.
The RWS HyperMAX pellets averaged 356 f.p.s. with a low of 304 and a high of 404 f.p.s. That's a 100 f.p.s. spread.
Crosman SSP Hollowppoints averaged 486 f.p.s. with a low of 474 and a high of 498 f.p.s. I shot both of these lead-free pellets in single-action because, as I mentioned, they were falling out of their cartridge noses. I didn't want to tie up the gun's action.
So, no arguments about the gun making the advertised velocity. However with the types of pellets you're likely to shoot, plan on 100 f.p.s. less.
H&N Finale Match Pistol pellets
The final pellet I tested was the H&N Finale Match Pistol pellet. These fit the steel cartridge noses the best of all. They averaged 311 f.p.s., in single-action, with a low of 296 and a high of 317 f.p.s. In double-action, this pellet averaged 339 f.p.s. with a low of 323 and a high of 344 f.p.s. That made this the fastest lead pellet of the test.
How many shots?
Given those results, I then tested the gun to see how many shots there are per fill. On shot 55, this same pellet was going 300 f.p.s. in SA (it averaged 339 in DA on shot 36). Shot 60 in SA went 293 f.p.s. with this pellet. Shot 70 in SA went 259 f.p.s., and that's where I stopped. Any slower, and pellets will start to stick in the barrel. A safe bet would be 11 cylinders per CO2 cartridge.
Trigger-pull
The trigger broke at 5 lbs., 14 oz in the single-action mode. That is a single-stage trigger-pull, as well — don't get confused. The double-action pull is 8 lbs., 6 oz, which is extremely light for a double-action revolver. People pay hundreds of dollars to get a trigger-pull like that on a firearm.
Evaluation so far
I feel that this revolver is not going to appeal to as many shooters as we first thought. It was made by an airsoft manufacturer whose corporate focus is perhaps different than that of Umarex and Crosman — both airgun makers. I didn't tell you this yet, but the entire barrel moves forward and back under spring pressure to lock the cylinder in position when firing. That may be okay for plastic balls and Hop-Up; but when Anics tried it in a pellet pistol, the accuracy went out the window.
Naturally, I will test the gun for accuracy. But you now see that I'm going to have to shoot it double-action, which isn't the easiest way to shoot a revolver. I'll also try it single-action, so we'll see the best it can do. I still have hopes for the gun, but today's test was revealing.
by Tom Gaylord, The Godfather of Airguns™
Writing as B.B. Pelletier
Today's report is the final part of the guest blog from HiveSeeker. He tells us about the various pellets he tested and gives their results.
If you'd like to write a guest post for this blog, please email me.
Over to you, HiveSeeker.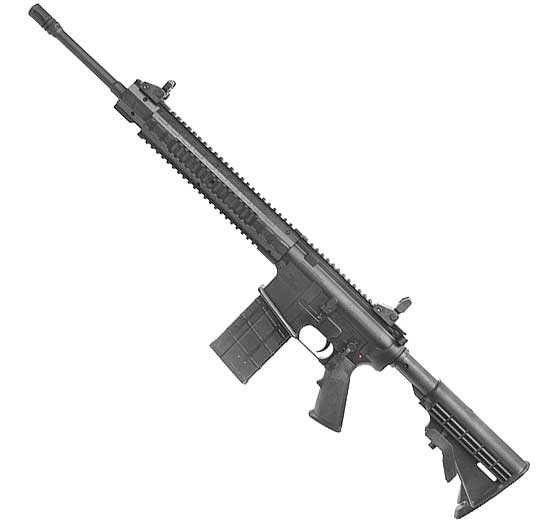 Daisy's Winchester MP4 is a realistic and fun-to-shoot military replica pellet rifle. The gun is shown here with added Leapers UTG 3-9×32 Bug Buster scope and AR-15 rubber recoil pad.
This report covers:
• Scope notes
• More pellet testing
• I know there's something going on
• The Winchester trio
• RWS Diabolo Basic pellets
• RWS Hobby pellets
• H&N Match Pistol pellets
• The magic bullet? Beeman hollowpoint coated pellets
• Retesting the best
• Conclusion
• Other military pellet rifles to consider
In Part 2, I found five pellets that would group 7/8 of an inch (0.875 inches) or better with the Winchester MP4 CO2 rifle at 10 yards (Crosman Destroyer pellets, Crosman Destroyer EX pellets (sold only in discount stores), Crosman Premier Hollowpoint pellets, H&N Finale Match Pistol pellets, and Air Arms Falcon pellets). This was about as good as I expected based on my research before purchasing this gun. However, I'd hoped that I could do better, and most of the reader comments on this blog expressed even greater concern with the mediocre accuracy of this gun than with the ammo feed problem. I'm pleased to report some slightly better news.
Scope notes
But first, I made a minor modification to my scope setup. I mentioned the trouble two other shooters had sighting through the Leapers UTG 3-9X32 Bug Buster scope I mounted on this rifle. I had positioned the scope for my own eye relief, and eye placement proved to be a lot more critical for this compact scope than it is with my full-sized Leapers UTG 4-16X40.
However, at least part of the difficulty they experienced may have been due to a fairly low Picatinny rail on this rifle. When the included factory scope rings loosened after 300 shots, I decided to try a different style mount and also decided to go with high-profile rings. I was surprised at how much easier it became to sight through the scope — especially since I would have thought I wasn't having any real difficulty before. For most shooters, I believe high-profile scope rings will be the way to go on this rifle. With my new scope setup, I was ready for some final accuracy testing.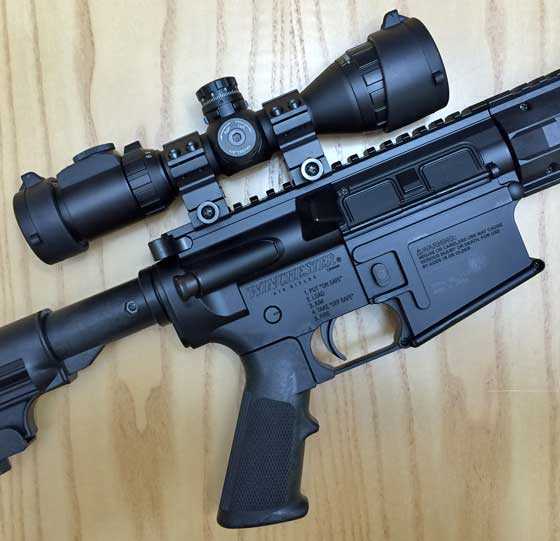 High-profile scope rings makes it a little bit easier to sight through the UTG 3-9X32 Bug Buster scope on the MP4′s low Picatinny rail.
One minor note here. On Picatinny rails there's usually a little play in the scope mounts within the individual recoil grooves, and I usually slide both my mounts forward until they contact the forward stops and then snug them up right there. This is the direction the laws of inertia demand that the scope and mounts will want to go in relation to a rifle recoiling backwards beneath them (especially pneumatic or CO2 guns with simpler recoil than a springer). If the mounts are already braced against the forward stops, then there's less chance for them to slip. However, on the Winchester MP4, I believe the semi-auto bolt re-cocking generates some recoil in the opposite direction – this may have actually loosened my initial scope installation. This time, I braced both scope mounts against the rear stops, and they seem to be holding fast, so far. I don't have the equipment to verify this recoil theory, but it's something to try if you run into a similar problem.
[Editor's note: While Picatinny rails and Weaver rails both have cross slots to stop the rings from moving, Weaver slots are 3.5mm wide and Picatinny slots are 5mm wide. That's the reason for the extra slop when Weaver rings are installed on Picatinny bases. And, for airguns, the pins should touch the rear of the slots.]
More pellet testing
I continued testing with seven new pellets, shooting 10-shot, 10-yard groups outdoors from a benchrest. I shot three groups with each pellet, and reported the best of three below. With my original accuracy testing, all the pellets I tried grouped about 1 inch, give or take a little. However, this time, the groups were generally tighter — even with pellets I'd previously tested. I believe this barrel may have a break-in period — roughly 500 shots by my estimation — and is now smoothed out a little. For this test, I used digital calipers to provide more exact group measurements — though, even with my sharp eyesight and a science background, you can take that third decimal place with a grain of salt!
I know there's something going on
There definitely seems to be something going on between the number of pellets in the rotary cylinder and accuracy. I'd already mentioned that the last two shots of my 10-shot groups, involving a magazine swap, often opened up the final grouping. Remember that the ammo mag has 8-round cylinders, so finishing off a 10-round group required switching to a cylinder with only the two final pellets loaded. I could blame the repositioning of the rifle between magazine swaps, except that this is not a problem I've had with rifles that require pumping or cocking and get repositioned with every shot. This time, I kept specific track of when my final two shots opened up a group, with the results illustrated below.

You can see how the final two shots (circled) opened up each of these 10-shot groups. Left-to-right are Crosman Premier Super Match pellets, RWS Hobby pellets, and Air Arms Falcon pellets.
This batch of testing also confirmed something else I thought I'd noticed before — groups often started off very small, then opened up as I emptied the magazine. Obviously, shooting more pellets will continue to open up a grouping. What I'm saying is that shot 10 was much more likely to miss the bullseye than shot 1, rather than having a similar probability of hitting or missing it. With this semiauto, I could lock myself into a rested shooting position and do nothing but breathe and squeeze the trigger for 8 shots. Barely moving, my aim and hold were rock solid. However, I almost felt like a spectator at times as I watched pellet strikes begin to roam wider and wider around my point of aim. I believe this is the same phenomenon I observed with my final two shots of each group. My best guess is that adjacent pellets in the magazine cylinder help reduce some CO2 blow-by, or that a full magazine cylinder does not shift or flex during firing as much as an empty one.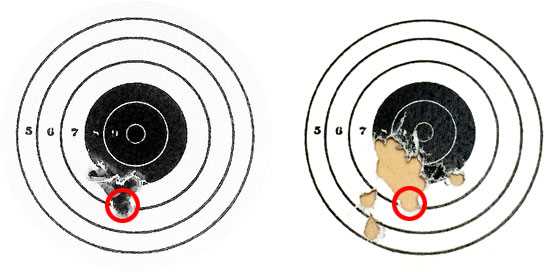 On the left, the first three shots with Beeman coated hollowpoint pellets go into 0.261 inches, center-to-center. Keeping my fingers crossed at this point! But the fourth shot (circled) opens this group up a bit more to 0.323 inches. Six increasingly scattered shots later, the final group on the right is now even broader at 0.682 inches (that fourth shot is circled on this target as a reference point). This pattern was observed repeatedly. This was not the best example I saw. It was just the one I interrupted to photograph.
The Winchester trio
Since this is a Winchester air rifle, I felt duty-bound to put the Winchester pellets through their paces. While they were the poorest performers of all the new pellets, their best groups were all still 1 inch or less: Winchester hollowpoint pellets (0.826 inches, center-to-center), Winchester pointed pellets (0.859 inches), and Winchester round nose pellets (1.000 inches exactly). As mentioned, the Winchester hollowpoints extended past the front of the rotary cylinder when fully seated and had to be pushed back in slightly before shooting. However, they caused no jams or other firing problems.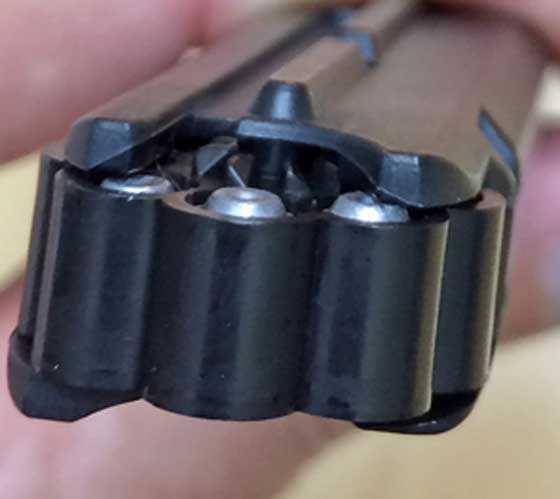 The Winchester hollowpoints extend past the front edge of the rotary cylinder when fully seated.
RWS Diabolo Basic pellets
The RWS Diabolo Basic pellets yielded the next largest group of the bunch, with its best-of-three at 0.791 inches. This pellet also produced the largest group that I observed during this second round of testing — 1.324 inches.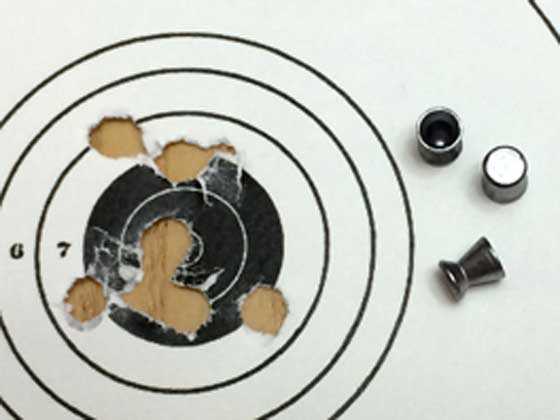 Ten RWS Diabolo Basic pellets grouped inside 0.791 inches –close to the best that was seen in the first round of accuracy tests.
RWS Hobby pellets
The RWS Hobby's smallest group measured 0.644 inches. This was the best group I'd seen from this gun so far. It's approaching the as-of-yet elusive half-inch mark, but not quite there.

Ten RWS Hobby pellets in 0.644 inches — easily my best group up to this point.
H&N Match Pistol pellets
I'd tested the more expensive H&N Finale Match Pistol pellets last time, but then I read about H&N Match Pistol pellets actually outperforming the Finales in another gun I own. That's why I ended up with a tin of these to try. At 0.716 inches, they grouped slightly better than the Finales (even with retesting, as you'll see in a minute) in this gun, too.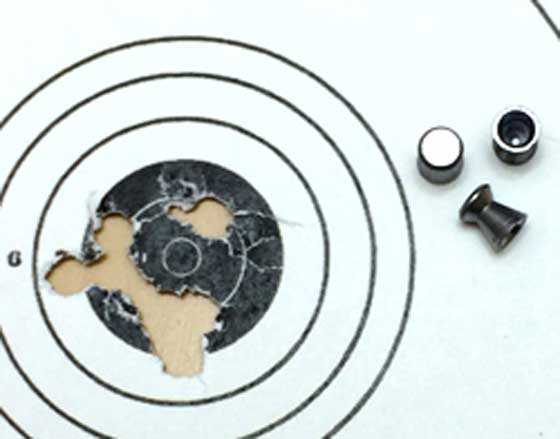 The H&N Match Pistol pellet, at 0.716 inches for 10, outperformed both previous and repeated testing of the H&N Finale Match Pistol pellets.
The magic bullet? Beeman hollowpoint coated pellets
Okay, I'll concede right up front that half-inch groups at 10 meters aren't all that magical in today's airgunning world. However, with a review quoting Daisy Customer Service as stating that MP4 owners should expect 1-1/2 inch groups at 10 meters, and with no measured groups under 1 inch reported by anybody, I was pleased to finally break the half-inch barrier with Beeman hollowpoint coated pellets.
I did not have high hopes for what is literally the cheapest pellet I tested. However, a single Pyramyd Air review mentioned it performed well (thank you, DaveTee!); and, for under five dollars a tin, it went into the shopping cart. I shot this pellet last, and it surprised me. My three test groups yielded 0.682 inches, 0.386 inches and 0.442 inches. At the eleventh hour, I'd finally found a pellet that could shoot under half an inch. While one thing that became clear during accuracy testing is that my rifle does not perform the same with specific pellets as other's MP4s, the Beeman hollowpoint coated is definitely one to try for anyone who owns an MP4, especially at this price point.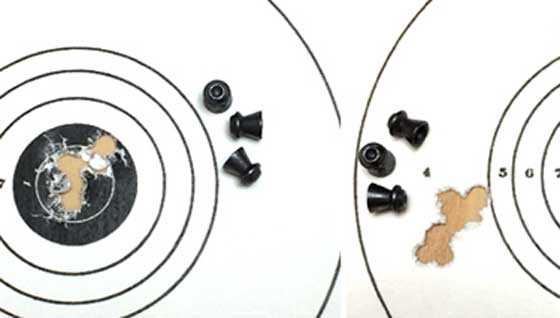 Thar she blows — these two groups shot with Beeman hollowpoint coated pellets clock in at under half an inch, at 0.386 and 0.442 inches, left to right. (Yes, the pellets are black.) Summer sun heating the barrel on one side caused the point-of-impact shift that can be seen here.
Retesting the best
To wrap up Part 4, I wanted to retest the best-performing pellets from before, which had all grouped 7/8 of an inch (0.875 inches) or less. I was pretty sure one or two could do better, and it seemed that my rifle was starting to produce tighter groups than it had straight out of the box. These were my results: Air Arms Falcon pellets (0.622 inches, beating out the RWS Hobby pellet for second place), Crosman Destroyer EX pellets (0.630 inches, taking third place and booting the RWS Hobby pellet to fourth), Crosman Destroyer pellet (0.742 inches, just a hair better than before), and H&N Finale Match Pistol pellets (0.963 inches, actually a little wider than first time's 0.875 inches and still getting beat out by the H&N Match Pistol pellet). A small surprise were the Crosman Premier Super Match pellets (0.707 inches) and Crosman Competition Wadcutter pellets (0.720 inches), which I used for initial sighting-in of my new scope mount setup. Both bettered their original 1-inch groups by more than a quarter inch. Again, I believe this barrel is now broken in after 500 shots or so, contributing to these tighter groups and providing better overall accuracy than we saw in the first tests.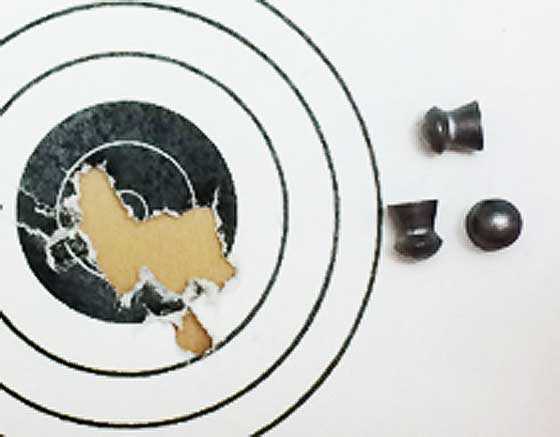 The best of the retests was the Air Arms Falcon pellet, second-best to the Beeman hollowpoint coated pellet, but grouping almost twice as broad at 0.622 inches.
Conclusion
Below is a summary of best groups one inch or better from all accuracy testing: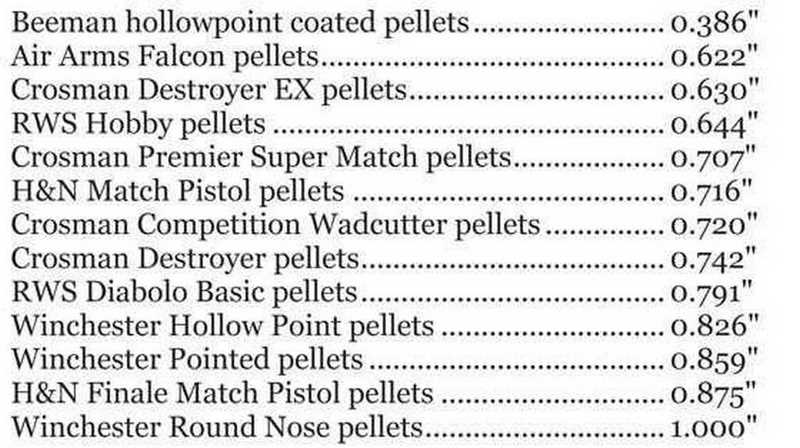 While discovering the Beeman hollowpoint coated doubles my effective shooting range to around 20 yards for a 1-inch target, it's a shame that this gun seems to be a "one-shot wonder" that shoots best with only one specific pellet. From the list above, there's no single pellet type that this gun seems to prefer as direction for additional testing, so I hope that blog readers will be kind enough to comment if they find other pellets that group under half an inch in the Winchester MP4.
Other military pellet rifles to consider
For the conclusion to my evaluation of the Winchester MP4, I'd like to mention some of the other military replica pellet rifles prospective buyers might consider if they decide that the MP4 is not for them. (BB-only rifles and machine guns are not included here.)
I've already mentioned the MP4′s historically older sibling, the Winchester M14. A replica of its namesake, this rifle is also a dual-CO2 canister BB and pellet semi-auto. It uses the same ammo mag and offers the same velocity as the MP4. However, it has no scope rail and many don't like the fact that the stock is composite instead of wood.
The unquestioned dominator of the military pellet rifle arena remains the Crosman M4-177. This M4 replica is a reliable single-shot BB and pellet pneumatic and bears the coveted Gaylord "Tom's Picks" seal in the Pyramyd Air catalog. It's available in a variety of tan or black color and accessory combinations. The new Crosman USMC MOS 0311 Rifleman (an exclusive Crosman variation of the M4-177) appears to be another variant of this very popular replica. This is the gun I had in mind when I mentioned that more accurate rifles than the Winchester MP4 are available for half the price.
The Crosman MK-177 is a replica of the Magpul Masada (now being produced as the FN SCAR). This composite-stock pneumatic offers higher velocity and similar accuracy to the M4-177 (also beating the Winchester MP4 in the latter department, and for half the price). This rifle is a BB and pellet single-shot. B.B. Pelletier recently used the MK-177 to test the Leapers Accushot Scout Scope. While many disparage the bolt placement on the left side of the receiver, I own — and love — one of these rifles and never minded it (this is a replica — check on which side the bolt is actually located on the Magpul Masada). The MK-177 is available in tan or black and has two kit variations.
The Crosman Crosman MTR77NP is an M16 replica that is a single-shot Nitro Piston gas springer. This pellet rifle offers the highest velocity of any of these military replicas but requires heavy cocking effort due to the short barrel. It's available in only black but comes in open-sight or scoped versions.
If you actually own an AR/M4 firearm, the Crosman MAR177 AR-15 Upper PCP conversion kit replaces the firearm upper with a .177-caliber competition precharged pneumatic unit. Designed specifically for 10-meter competition, velocity is a very nominal 600 fps. This is the most expensive option for a military pellet rifle (and a significant detour from the standalone guns listed here), but it seems like an ideal way to expand where and when you can shoot your military long gun.
The Beretta CX-4 Storm is an 88-gram CO2-powered replica of the tactical firearm of the same name. This semiauto's claim to fame is the 30-pellet belt magazine, capable of ripping through a tin of pellets in no time. Open-sight and red-dot versions are available, though a scope can be mounted on the Picatinny rail.
The Gamo MP9 copies the B&T MP-9 9mm SMG and is unique among the CO2-powered BB submachine guns in handling pellets as well. Interestingly, this gun is listed as using the same ammunition magazine as the Winchester MP4 and M14, making it a 16-shot semi-auto (with the magazine flip). I included this odd-gun-out because it has a (collapsible) stock and scopeable Picatinny/Weaver rail.


The Winchester MP4 is a fun military replica that, despite some issues and limitations, will keep you looking like a well-armed commando whenever you feel the need to reconnoiter the backyard.
The options for new military replica pellet rifles are very limited at the moment. I hope that this blog has sufficiently informed readers about the Winchester MP4 to make an educated choice if buying one – or to achieve the best performance from their rifle if they already own one. I also hope that manufacturers will look to success stories like the Crosman M4-177 as well as the burgeoning airsoft market and bring some novel products to this mostly unexplored marketplace.
Editor's final comment: HiveSeeker has done a super job in testing, researching and documenting his work on the Winchester MP4. I think his report will stand as the best article written about the airgun for a long time.
by Tom Gaylord, The Godfather of Airguns™
Writing as B.B. Pelletier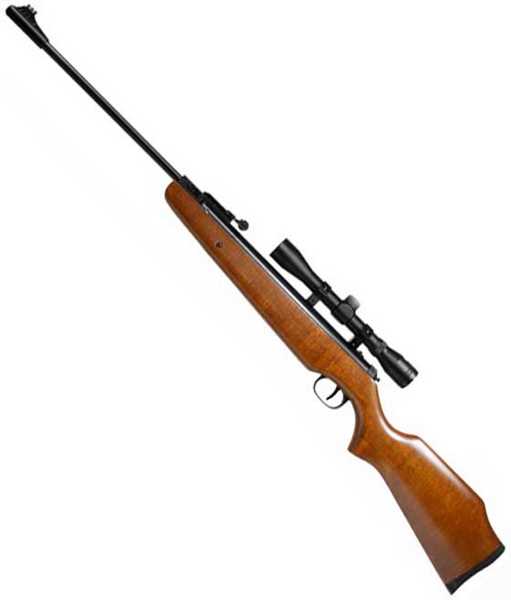 Ruger Air Hawk combo is very popular.
This report covers:
• Doing something different
• Tightened the barrel joint
• Sight-in and the first group with Hobby pellets
• Air Arms Falcon pellets
• RWS Superdome pellets
• H&N Baracuda Match pellets
• JSB Exact Express pellets
• Crosman Premier 7.9-grain pellets
• Alternate hold
• Conclusions
I started this test in July but have laid off for several weeks. Thanks for bearing with me. Today, we'll look at the accuracy of the Ruger Airhawk combo at 10 meters.
I'm looking at this combo because a number of readers say they really like the rifle. Of course, it's been compared to an RWS Diana 34, but I wouldn't go that far. Yes, there are similarities between the two rifles, but they're not identical. And each has its own unique firing characteristics – and we'll all learn a lot about those as I fire the rifle for accuracy using the open sights.
If this rifle proves to be accurate, it'll be a best buy, given the price of just $130. I know my test rifle is shooting slower than the advertised velocity, but I plan on testing the velocity, again, after the accuracy test, so don't give up just yet.
Doing something different
I'm changing the way I test air rifles in an attempt to make some progress faster than in the past. I'll shoot just 5 shots at 10 meters off a rest with each pellet and then look at the group. If the group shows promise, I will come back to the pellet. If not, I'll move on. That way, I'll be able to test more pellets in the same time.
I'll also test at least 2 different variations of the artillery hold — the 2 that have proven the most successful over the years. If one seems better than the other, I'll continue to use that hold for all the other tests.
Tightened the barrel joint
I noticed last time that the barrel joint wasn't tight. This barrel has a bolt that can be tightened, so I removed the action from the stock and tightened the barrel pivot bolt. When I was doing that, I noticed that all of them were loose. The inletting of the action in the stock was very tight — fully the equal of anything made in Europe. That gives me hope this rifle will be accurate.
Sight-in and the first group with Hobby pellets
I sighted-in the gun and shot the first group with RWS Hobby pellets. Sight-in amounted to just one shot that told me the rifle was on target from the factory.
I'm showing the sight-in shot along with the first group for two reasons. First, it shows how low the first shot was, yet I knew I'd be okay because I was shooting from just 12 feet. I knew the group would hit the paper higher. Second, it shows how much the shots climbed on target when I shot from 10 meters. This lesson demonstrates that you cannot sight-in a gun for anything under 10 yards and expect it to be on at any other distance. Even 10 meters is too close to sight-in a rifle if you expect to ever hit things at 15 yards and beyond. The sights are too close to the target, and the angular separation from the bore is too great when you're this close.
I held the rifle on the flat of my off hand with the triggerguard touching the heel of that hand. The group of 5 Hobbys measures 0.678 inches between centers. This is too large for a 10-meter group, so Hobbys are out of consideration.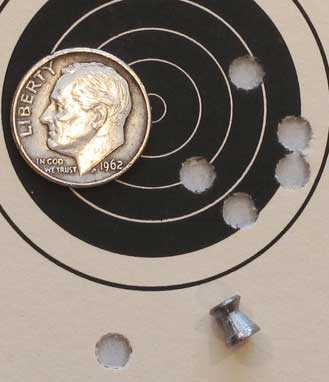 The sight-in shot hit below the bull, telling me the rifle was sighted-in. Five RWS Hobbys made a 0.678-inch group at 10 meters. Not good enough!
After this group, I adjusted the rear sight 7 clicks to the left but didn't touch the elevation. The sight remained in that setting for the rest of this test.
Air Arms Falcon pellets
Next, I tried Air Arms Falcon pellets. Falcons hit the target well-centered but much lower than the Hobbys. Five pellets went into a group that measures 0.493 inches between centers. While that isn't as good as I'd like to see at 10 meters, it does show some promise. I'll probably shoot Falcons from 25 yards, as well.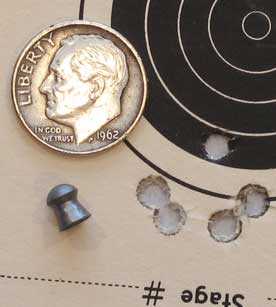 Five Air Arms Falcon pellets went into 0.493 inches at 10 meters. This is interesting.
RWS Superdome pellets
Next, I tried RWS Superdomes. They gave me a puzzling result. Four of the 5 pellets went into 0.506 inches, but the final shot opened the group to 0.906 inches. That might have been an aiming error; but at 10 meters, I usually don't make mistakes that large. I might try these again, but not if I find 2 other pellets that are better.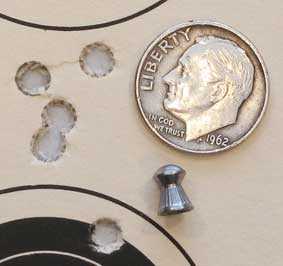 Five RWS Superdome pellets went into 0.906 inches, but 4 of them are in 0.506 inches. Interesting, but not good enough.
H&N Baracuda Match pellets
Next, I shot 5 H&N Baracuda Match pellets. Sometimes these pellets that seem too heavy for a gun will surprise you with their accuracy, although I have to say that happens more with heavy .22-caliber pellets than with .177s. It certainly didn't happen this time. Five Baracuda Match went into 1.372 inches. Although 3 pellets are close, I don't think this pellet is right for this rifle.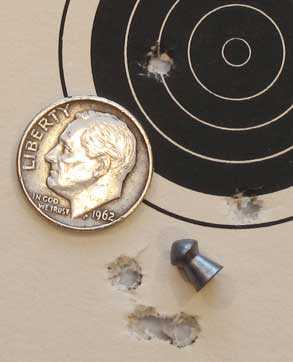 Five Baracuda Match pellets in 1.372 inches at 10 meters. Not the pellet for this rifle.
JSB Exact Express pellets
Five JSB Exact Express pellets were next. I have to confess that, while I like JSB pellets a lot, I've never had any luck with the Express pellet in either caliber. Today was no different. Five went into a 1.466-inch group that proved to be the largest of the test. Definitely out of the running for this rifle!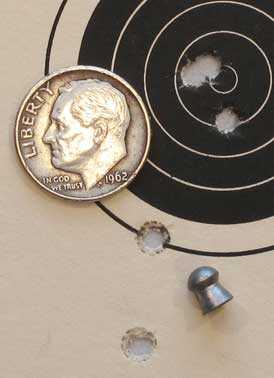 JSB Exact Express pellets made the largerst group of the test — 5 in 1.466 inches at 10 meters.
Crosman Premier 7.9-grain pellets
I felt I had to try the 7.9-grain Crosman Premier pellet that's often the best in some rifles. And I got an interesting result. The first pellet hit the target high and near the center of the bull. Then the next 4 dropped over one inch and grouped in 0.411 inches.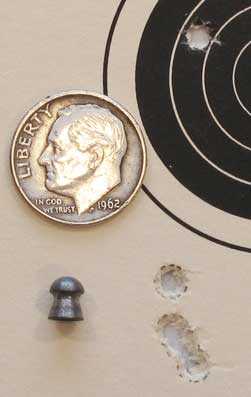 As a 5-shot group, Premier lites were not impressive, but only the first shot is apart from the group. Four went into 0.411 inches at 10 meters. This is a pellet worth testing further.
This group is small enough to interest me, so I shot a second group of 10 pellets. They landed in 0.746 inches, which is okay, but not the best. However, if you look at the group, you can see that 6 of the 10 pellets went into a much tighter group that's a single hole measuring 0.357 inches between centers. I know that aiming errors can put me off by as much as these 4 outlying pellets at 10 meters, so this group gives me confidence that the Airhawk can really shoot.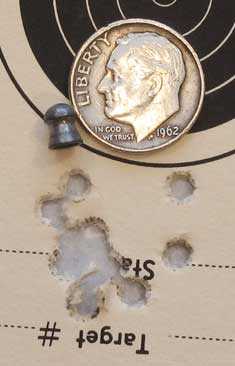 Ten Premier lites went into 0.746 inches at 10 meters, but 6 of them went into just 0.357 inches. That looks promising!
Alternate hold
I then tried the same Premier lite pellets with my off hand slid forward so I could feel the beginning of the cocking slot against my palm. Now that I know this is a good pellet, I can try different things like this. Five pellets went into 0.852 inches, which isn't good — but look where 3 of them went! That hole is a group measuring 0.069 inches! I don't think that was due to the different hold, but I do think it tells me this rifle can really shoot and that the Premier lite pellet is right for this gun.

Using an alternate artillery hold, 5 Premier lites went into 0.852 inches. While that isn't so good, 3 of those pellets went into 0.069 inches. I think the rifle can shoot, and this pellet is the right one – but the first hold is best.
Conclusions
Edith spotted the fact that I may have skewed the test results by not seasoning the barrel for each pellet. I guess that's the down side of shooting so many 5-shot groups. It does bring up a good point. I think that when I move back to 25 yards, I'll season the barrel with 20 shots per pellet before shooting the first 10-shot group.
She also suggested that I do a seasoned barrel vs. unseasoned barrel accuracy test. There are enough of you who believe in the seasoning process, so that makes such a test worth the effort.