by Tom Gaylord, The Godfather of Airguns™
Writing as B.B. Pelletier
Today's report is the final part of the guest blog from HiveSeeker. He tells us about the various pellets he tested and gives their results.
If you'd like to write a guest post for this blog, please email me.
Over to you, HiveSeeker.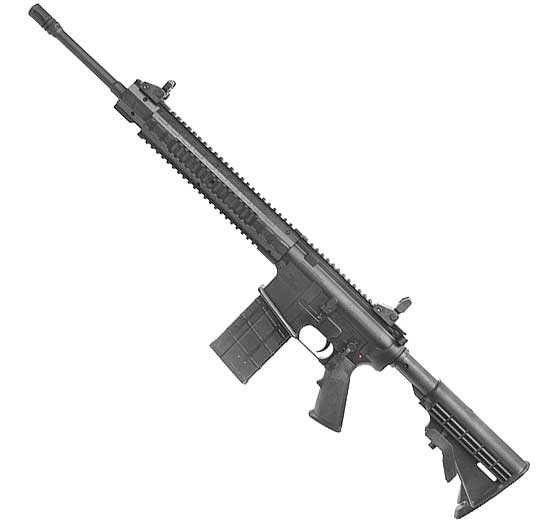 Daisy's Winchester MP4 is a realistic and fun-to-shoot military replica pellet rifle. The gun is shown here with added Leapers UTG 3-9×32 Bug Buster scope and AR-15 rubber recoil pad.
This report covers:
• Scope notes
• More pellet testing
• I know there's something going on
• The Winchester trio
• RWS Diabolo Basic pellets
• RWS Hobby pellets
• H&N Match Pistol pellets
• The magic bullet? Beeman hollowpoint coated pellets
• Retesting the best
• Conclusion
• Other military pellet rifles to consider
In Part 2, I found five pellets that would group 7/8 of an inch (0.875 inches) or better with the Winchester MP4 CO2 rifle at 10 yards (Crosman Destroyer pellets, Crosman Destroyer EX pellets (sold only in discount stores), Crosman Premier Hollowpoint pellets, H&N Finale Match Pistol pellets, and Air Arms Falcon pellets). This was about as good as I expected based on my research before purchasing this gun. However, I'd hoped that I could do better, and most of the reader comments on this blog expressed even greater concern with the mediocre accuracy of this gun than with the ammo feed problem. I'm pleased to report some slightly better news.
Scope notes
But first, I made a minor modification to my scope setup. I mentioned the trouble two other shooters had sighting through the Leapers UTG 3-9X32 Bug Buster scope I mounted on this rifle. I had positioned the scope for my own eye relief, and eye placement proved to be a lot more critical for this compact scope than it is with my full-sized Leapers UTG 4-16X40.
However, at least part of the difficulty they experienced may have been due to a fairly low Picatinny rail on this rifle. When the included factory scope rings loosened after 300 shots, I decided to try a different style mount and also decided to go with high-profile rings. I was surprised at how much easier it became to sight through the scope — especially since I would have thought I wasn't having any real difficulty before. For most shooters, I believe high-profile scope rings will be the way to go on this rifle. With my new scope setup, I was ready for some final accuracy testing.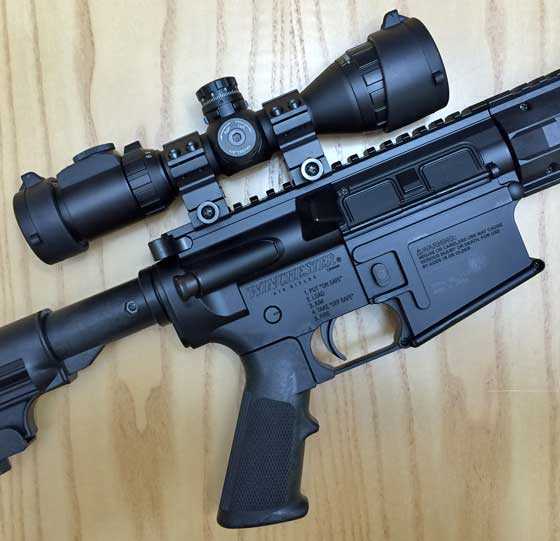 High-profile scope rings makes it a little bit easier to sight through the UTG 3-9X32 Bug Buster scope on the MP4′s low Picatinny rail.
One minor note here. On Picatinny rails there's usually a little play in the scope mounts within the individual recoil grooves, and I usually slide both my mounts forward until they contact the forward stops and then snug them up right there. This is the direction the laws of inertia demand that the scope and mounts will want to go in relation to a rifle recoiling backwards beneath them (especially pneumatic or CO2 guns with simpler recoil than a springer). If the mounts are already braced against the forward stops, then there's less chance for them to slip. However, on the Winchester MP4, I believe the semi-auto bolt re-cocking generates some recoil in the opposite direction – this may have actually loosened my initial scope installation. This time, I braced both scope mounts against the rear stops, and they seem to be holding fast, so far. I don't have the equipment to verify this recoil theory, but it's something to try if you run into a similar problem.
[Editor's note: While Picatinny rails and Weaver rails both have cross slots to stop the rings from moving, Weaver slots are 3.5mm wide and Picatinny slots are 5mm wide. That's the reason for the extra slop when Weaver rings are installed on Picatinny bases. And, for airguns, the pins should touch the rear of the slots.]
More pellet testing
I continued testing with seven new pellets, shooting 10-shot, 10-yard groups outdoors from a benchrest. I shot three groups with each pellet, and reported the best of three below. With my original accuracy testing, all the pellets I tried grouped about 1 inch, give or take a little. However, this time, the groups were generally tighter — even with pellets I'd previously tested. I believe this barrel may have a break-in period — roughly 500 shots by my estimation — and is now smoothed out a little. For this test, I used digital calipers to provide more exact group measurements — though, even with my sharp eyesight and a science background, you can take that third decimal place with a grain of salt!
I know there's something going on
There definitely seems to be something going on between the number of pellets in the rotary cylinder and accuracy. I'd already mentioned that the last two shots of my 10-shot groups, involving a magazine swap, often opened up the final grouping. Remember that the ammo mag has 8-round cylinders, so finishing off a 10-round group required switching to a cylinder with only the two final pellets loaded. I could blame the repositioning of the rifle between magazine swaps, except that this is not a problem I've had with rifles that require pumping or cocking and get repositioned with every shot. This time, I kept specific track of when my final two shots opened up a group, with the results illustrated below.

You can see how the final two shots (circled) opened up each of these 10-shot groups. Left-to-right are Crosman Premier Super Match pellets, RWS Hobby pellets, and Air Arms Falcon pellets.
This batch of testing also confirmed something else I thought I'd noticed before — groups often started off very small, then opened up as I emptied the magazine. Obviously, shooting more pellets will continue to open up a grouping. What I'm saying is that shot 10 was much more likely to miss the bullseye than shot 1, rather than having a similar probability of hitting or missing it. With this semiauto, I could lock myself into a rested shooting position and do nothing but breathe and squeeze the trigger for 8 shots. Barely moving, my aim and hold were rock solid. However, I almost felt like a spectator at times as I watched pellet strikes begin to roam wider and wider around my point of aim. I believe this is the same phenomenon I observed with my final two shots of each group. My best guess is that adjacent pellets in the magazine cylinder help reduce some CO2 blow-by, or that a full magazine cylinder does not shift or flex during firing as much as an empty one.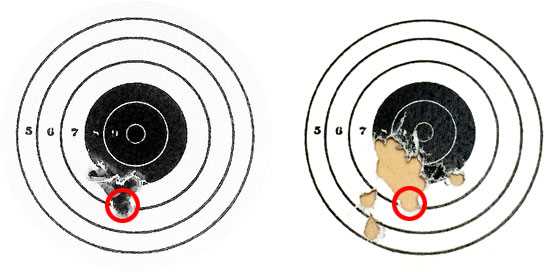 On the left, the first three shots with Beeman coated hollowpoint pellets go into 0.261 inches, center-to-center. Keeping my fingers crossed at this point! But the fourth shot (circled) opens this group up a bit more to 0.323 inches. Six increasingly scattered shots later, the final group on the right is now even broader at 0.682 inches (that fourth shot is circled on this target as a reference point). This pattern was observed repeatedly. This was not the best example I saw. It was just the one I interrupted to photograph.
The Winchester trio
Since this is a Winchester air rifle, I felt duty-bound to put the Winchester pellets through their paces. While they were the poorest performers of all the new pellets, their best groups were all still 1 inch or less: Winchester hollowpoint pellets (0.826 inches, center-to-center), Winchester pointed pellets (0.859 inches), and Winchester round nose pellets (1.000 inches exactly). As mentioned, the Winchester hollowpoints extended past the front of the rotary cylinder when fully seated and had to be pushed back in slightly before shooting. However, they caused no jams or other firing problems.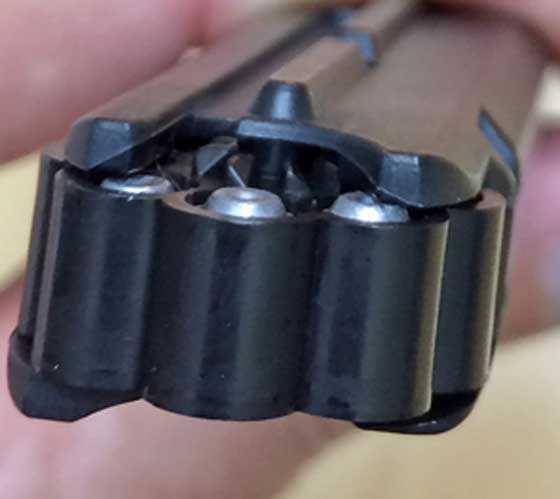 The Winchester hollowpoints extend past the front edge of the rotary cylinder when fully seated.
RWS Diabolo Basic pellets
The RWS Diabolo Basic pellets yielded the next largest group of the bunch, with its best-of-three at 0.791 inches. This pellet also produced the largest group that I observed during this second round of testing — 1.324 inches.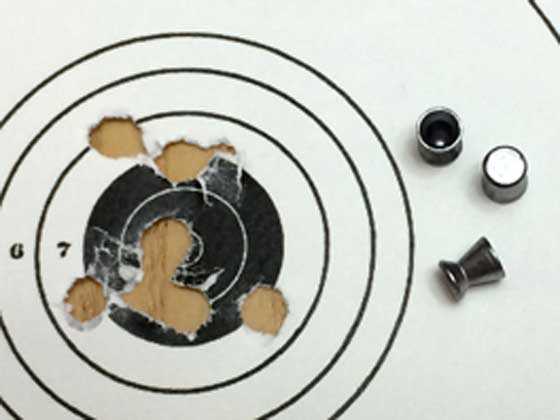 Ten RWS Diabolo Basic pellets grouped inside 0.791 inches –close to the best that was seen in the first round of accuracy tests.
RWS Hobby pellets
The RWS Hobby's smallest group measured 0.644 inches. This was the best group I'd seen from this gun so far. It's approaching the as-of-yet elusive half-inch mark, but not quite there.

Ten RWS Hobby pellets in 0.644 inches — easily my best group up to this point.
H&N Match Pistol pellets
I'd tested the more expensive H&N Finale Match Pistol pellets last time, but then I read about H&N Match Pistol pellets actually outperforming the Finales in another gun I own. That's why I ended up with a tin of these to try. At 0.716 inches, they grouped slightly better than the Finales (even with retesting, as you'll see in a minute) in this gun, too.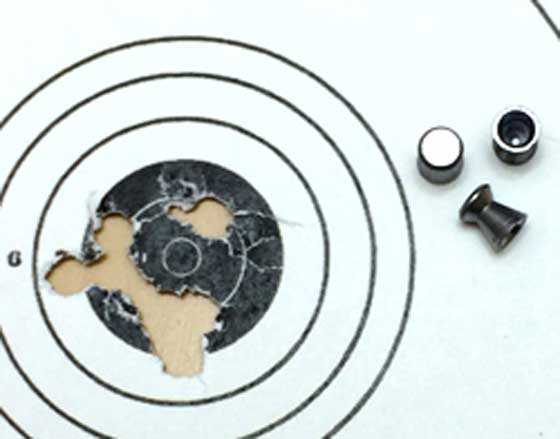 The H&N Match Pistol pellet, at 0.716 inches for 10, outperformed both previous and repeated testing of the H&N Finale Match Pistol pellets.
The magic bullet? Beeman hollowpoint coated pellets
Okay, I'll concede right up front that half-inch groups at 10 meters aren't all that magical in today's airgunning world. However, with a review quoting Daisy Customer Service as stating that MP4 owners should expect 1-1/2 inch groups at 10 meters, and with no measured groups under 1 inch reported by anybody, I was pleased to finally break the half-inch barrier with Beeman hollowpoint coated pellets.
I did not have high hopes for what is literally the cheapest pellet I tested. However, a single Pyramyd Air review mentioned it performed well (thank you, DaveTee!); and, for under five dollars a tin, it went into the shopping cart. I shot this pellet last, and it surprised me. My three test groups yielded 0.682 inches, 0.386 inches and 0.442 inches. At the eleventh hour, I'd finally found a pellet that could shoot under half an inch. While one thing that became clear during accuracy testing is that my rifle does not perform the same with specific pellets as other's MP4s, the Beeman hollowpoint coated is definitely one to try for anyone who owns an MP4, especially at this price point.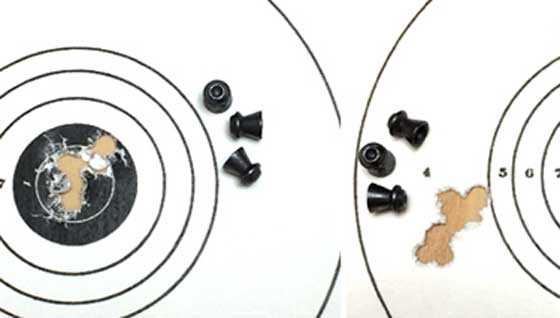 Thar she blows — these two groups shot with Beeman hollowpoint coated pellets clock in at under half an inch, at 0.386 and 0.442 inches, left to right. (Yes, the pellets are black.) Summer sun heating the barrel on one side caused the point-of-impact shift that can be seen here.
Retesting the best
To wrap up Part 4, I wanted to retest the best-performing pellets from before, which had all grouped 7/8 of an inch (0.875 inches) or less. I was pretty sure one or two could do better, and it seemed that my rifle was starting to produce tighter groups than it had straight out of the box. These were my results: Air Arms Falcon pellets (0.622 inches, beating out the RWS Hobby pellet for second place), Crosman Destroyer EX pellets (0.630 inches, taking third place and booting the RWS Hobby pellet to fourth), Crosman Destroyer pellet (0.742 inches, just a hair better than before), and H&N Finale Match Pistol pellets (0.963 inches, actually a little wider than first time's 0.875 inches and still getting beat out by the H&N Match Pistol pellet). A small surprise were the Crosman Premier Super Match pellets (0.707 inches) and Crosman Competition Wadcutter pellets (0.720 inches), which I used for initial sighting-in of my new scope mount setup. Both bettered their original 1-inch groups by more than a quarter inch. Again, I believe this barrel is now broken in after 500 shots or so, contributing to these tighter groups and providing better overall accuracy than we saw in the first tests.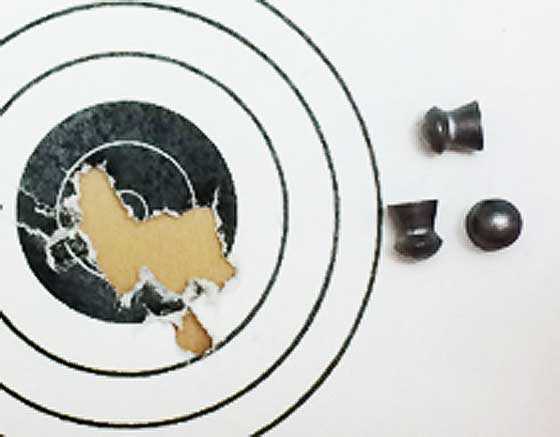 The best of the retests was the Air Arms Falcon pellet, second-best to the Beeman hollowpoint coated pellet, but grouping almost twice as broad at 0.622 inches.
Conclusion
Below is a summary of best groups one inch or better from all accuracy testing: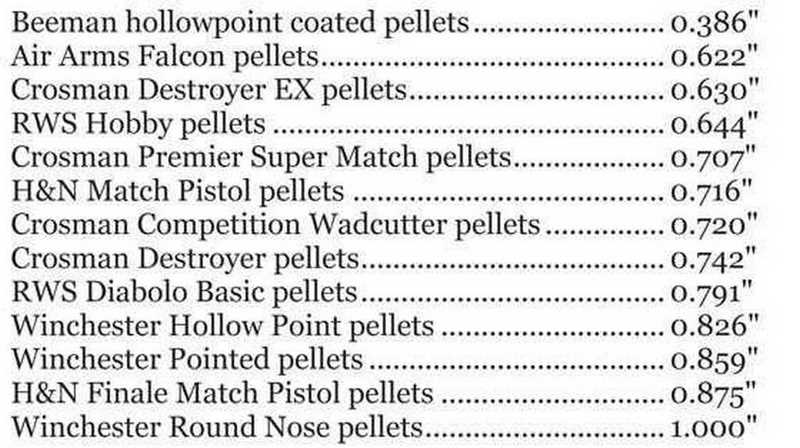 While discovering the Beeman hollowpoint coated doubles my effective shooting range to around 20 yards for a 1-inch target, it's a shame that this gun seems to be a "one-shot wonder" that shoots best with only one specific pellet. From the list above, there's no single pellet type that this gun seems to prefer as direction for additional testing, so I hope that blog readers will be kind enough to comment if they find other pellets that group under half an inch in the Winchester MP4.
Other military pellet rifles to consider
For the conclusion to my evaluation of the Winchester MP4, I'd like to mention some of the other military replica pellet rifles prospective buyers might consider if they decide that the MP4 is not for them. (BB-only rifles and machine guns are not included here.)
I've already mentioned the MP4′s historically older sibling, the Winchester M14. A replica of its namesake, this rifle is also a dual-CO2 canister BB and pellet semi-auto. It uses the same ammo mag and offers the same velocity as the MP4. However, it has no scope rail and many don't like the fact that the stock is composite instead of wood.
The unquestioned dominator of the military pellet rifle arena remains the Crosman M4-177. This M4 replica is a reliable single-shot BB and pellet pneumatic and bears the coveted Gaylord "Tom's Picks" seal in the Pyramyd Air catalog. It's available in a variety of tan or black color and accessory combinations. The new Crosman USMC MOS 0311 Rifleman (an exclusive Crosman variation of the M4-177) appears to be another variant of this very popular replica. This is the gun I had in mind when I mentioned that more accurate rifles than the Winchester MP4 are available for half the price.
The Crosman MK-177 is a replica of the Magpul Masada (now being produced as the FN SCAR). This composite-stock pneumatic offers higher velocity and similar accuracy to the M4-177 (also beating the Winchester MP4 in the latter department, and for half the price). This rifle is a BB and pellet single-shot. B.B. Pelletier recently used the MK-177 to test the Leapers Accushot Scout Scope. While many disparage the bolt placement on the left side of the receiver, I own — and love — one of these rifles and never minded it (this is a replica — check on which side the bolt is actually located on the Magpul Masada). The MK-177 is available in tan or black and has two kit variations.
The Crosman Crosman MTR77NP is an M16 replica that is a single-shot Nitro Piston gas springer. This pellet rifle offers the highest velocity of any of these military replicas but requires heavy cocking effort due to the short barrel. It's available in only black but comes in open-sight or scoped versions.
If you actually own an AR/M4 firearm, the Crosman MAR177 AR-15 Upper PCP conversion kit replaces the firearm upper with a .177-caliber competition precharged pneumatic unit. Designed specifically for 10-meter competition, velocity is a very nominal 600 fps. This is the most expensive option for a military pellet rifle (and a significant detour from the standalone guns listed here), but it seems like an ideal way to expand where and when you can shoot your military long gun.
The Beretta CX-4 Storm is an 88-gram CO2-powered replica of the tactical firearm of the same name. This semiauto's claim to fame is the 30-pellet belt magazine, capable of ripping through a tin of pellets in no time. Open-sight and red-dot versions are available, though a scope can be mounted on the Picatinny rail.
The Gamo MP9 copies the B&T MP-9 9mm SMG and is unique among the CO2-powered BB submachine guns in handling pellets as well. Interestingly, this gun is listed as using the same ammunition magazine as the Winchester MP4 and M14, making it a 16-shot semi-auto (with the magazine flip). I included this odd-gun-out because it has a (collapsible) stock and scopeable Picatinny/Weaver rail.


The Winchester MP4 is a fun military replica that, despite some issues and limitations, will keep you looking like a well-armed commando whenever you feel the need to reconnoiter the backyard.
The options for new military replica pellet rifles are very limited at the moment. I hope that this blog has sufficiently informed readers about the Winchester MP4 to make an educated choice if buying one – or to achieve the best performance from their rifle if they already own one. I also hope that manufacturers will look to success stories like the Crosman M4-177 as well as the burgeoning airsoft market and bring some novel products to this mostly unexplored marketplace.
Editor's final comment: HiveSeeker has done a super job in testing, researching and documenting his work on the Winchester MP4. I think his report will stand as the best article written about the airgun for a long time.
by Tom Gaylord, The Godfather of Airguns™
Writing as B.B. Pelletier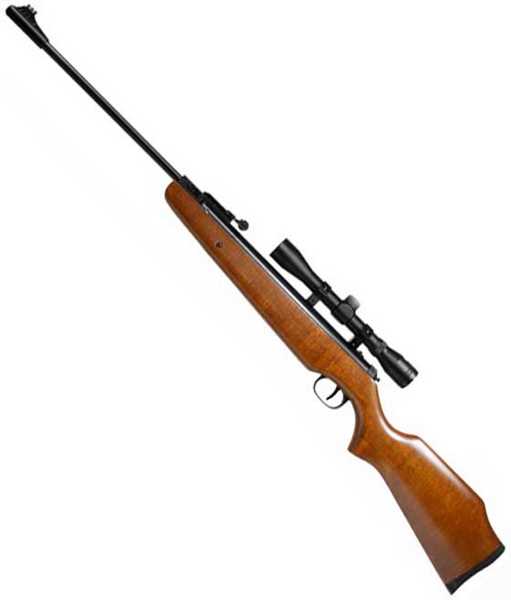 Ruger Air Hawk combo is very popular.
This report covers:
• Doing something different
• Tightened the barrel joint
• Sight-in and the first group with Hobby pellets
• Air Arms Falcon pellets
• RWS Superdome pellets
• H&N Baracuda Match pellets
• JSB Exact Express pellets
• Crosman Premier 7.9-grain pellets
• Alternate hold
• Conclusions
I started this test in July but have laid off for several weeks. Thanks for bearing with me. Today, we'll look at the accuracy of the Ruger Airhawk combo at 10 meters.
I'm looking at this combo because a number of readers say they really like the rifle. Of course, it's been compared to an RWS Diana 34, but I wouldn't go that far. Yes, there are similarities between the two rifles, but they're not identical. And each has its own unique firing characteristics – and we'll all learn a lot about those as I fire the rifle for accuracy using the open sights.
If this rifle proves to be accurate, it'll be a best buy, given the price of just $130. I know my test rifle is shooting slower than the advertised velocity, but I plan on testing the velocity, again, after the accuracy test, so don't give up just yet.
Doing something different
I'm changing the way I test air rifles in an attempt to make some progress faster than in the past. I'll shoot just 5 shots at 10 meters off a rest with each pellet and then look at the group. If the group shows promise, I will come back to the pellet. If not, I'll move on. That way, I'll be able to test more pellets in the same time.
I'll also test at least 2 different variations of the artillery hold — the 2 that have proven the most successful over the years. If one seems better than the other, I'll continue to use that hold for all the other tests.
Tightened the barrel joint
I noticed last time that the barrel joint wasn't tight. This barrel has a bolt that can be tightened, so I removed the action from the stock and tightened the barrel pivot bolt. When I was doing that, I noticed that all of them were loose. The inletting of the action in the stock was very tight — fully the equal of anything made in Europe. That gives me hope this rifle will be accurate.
Sight-in and the first group with Hobby pellets
I sighted-in the gun and shot the first group with RWS Hobby pellets. Sight-in amounted to just one shot that told me the rifle was on target from the factory.
I'm showing the sight-in shot along with the first group for two reasons. First, it shows how low the first shot was, yet I knew I'd be okay because I was shooting from just 12 feet. I knew the group would hit the paper higher. Second, it shows how much the shots climbed on target when I shot from 10 meters. This lesson demonstrates that you cannot sight-in a gun for anything under 10 yards and expect it to be on at any other distance. Even 10 meters is too close to sight-in a rifle if you expect to ever hit things at 15 yards and beyond. The sights are too close to the target, and the angular separation from the bore is too great when you're this close.
I held the rifle on the flat of my off hand with the triggerguard touching the heel of that hand. The group of 5 Hobbys measures 0.678 inches between centers. This is too large for a 10-meter group, so Hobbys are out of consideration.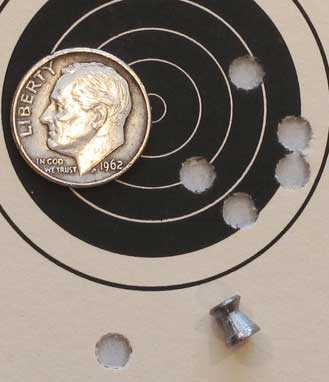 The sight-in shot hit below the bull, telling me the rifle was sighted-in. Five RWS Hobbys made a 0.678-inch group at 10 meters. Not good enough!
After this group, I adjusted the rear sight 7 clicks to the left but didn't touch the elevation. The sight remained in that setting for the rest of this test.
Air Arms Falcon pellets
Next, I tried Air Arms Falcon pellets. Falcons hit the target well-centered but much lower than the Hobbys. Five pellets went into a group that measures 0.493 inches between centers. While that isn't as good as I'd like to see at 10 meters, it does show some promise. I'll probably shoot Falcons from 25 yards, as well.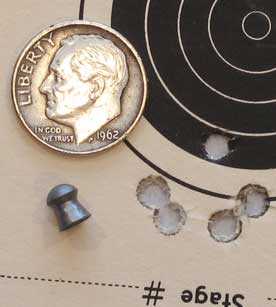 Five Air Arms Falcon pellets went into 0.493 inches at 10 meters. This is interesting.
RWS Superdome pellets
Next, I tried RWS Superdomes. They gave me a puzzling result. Four of the 5 pellets went into 0.506 inches, but the final shot opened the group to 0.906 inches. That might have been an aiming error; but at 10 meters, I usually don't make mistakes that large. I might try these again, but not if I find 2 other pellets that are better.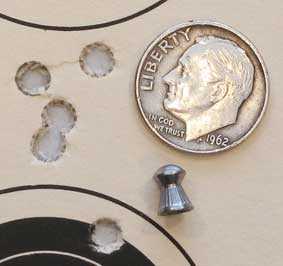 Five RWS Superdome pellets went into 0.906 inches, but 4 of them are in 0.506 inches. Interesting, but not good enough.
H&N Baracuda Match pellets
Next, I shot 5 H&N Baracuda Match pellets. Sometimes these pellets that seem too heavy for a gun will surprise you with their accuracy, although I have to say that happens more with heavy .22-caliber pellets than with .177s. It certainly didn't happen this time. Five Baracuda Match went into 1.372 inches. Although 3 pellets are close, I don't think this pellet is right for this rifle.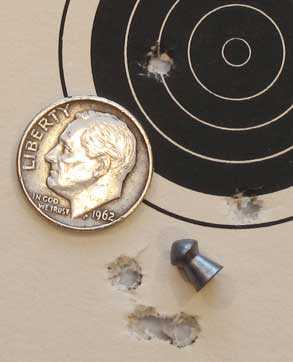 Five Baracuda Match pellets in 1.372 inches at 10 meters. Not the pellet for this rifle.
JSB Exact Express pellets
Five JSB Exact Express pellets were next. I have to confess that, while I like JSB pellets a lot, I've never had any luck with the Express pellet in either caliber. Today was no different. Five went into a 1.466-inch group that proved to be the largest of the test. Definitely out of the running for this rifle!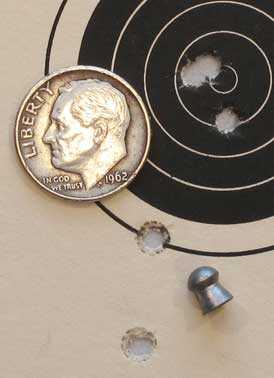 JSB Exact Express pellets made the largerst group of the test — 5 in 1.466 inches at 10 meters.
Crosman Premier 7.9-grain pellets
I felt I had to try the 7.9-grain Crosman Premier pellet that's often the best in some rifles. And I got an interesting result. The first pellet hit the target high and near the center of the bull. Then the next 4 dropped over one inch and grouped in 0.411 inches.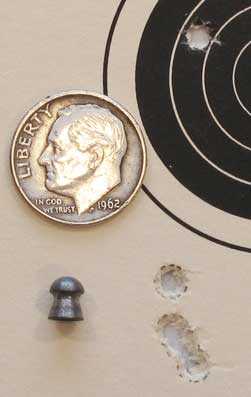 As a 5-shot group, Premier lites were not impressive, but only the first shot is apart from the group. Four went into 0.411 inches at 10 meters. This is a pellet worth testing further.
This group is small enough to interest me, so I shot a second group of 10 pellets. They landed in 0.746 inches, which is okay, but not the best. However, if you look at the group, you can see that 6 of the 10 pellets went into a much tighter group that's a single hole measuring 0.357 inches between centers. I know that aiming errors can put me off by as much as these 4 outlying pellets at 10 meters, so this group gives me confidence that the Airhawk can really shoot.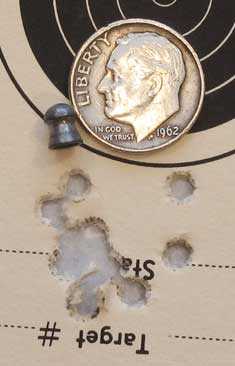 Ten Premier lites went into 0.746 inches at 10 meters, but 6 of them went into just 0.357 inches. That looks promising!
Alternate hold
I then tried the same Premier lite pellets with my off hand slid forward so I could feel the beginning of the cocking slot against my palm. Now that I know this is a good pellet, I can try different things like this. Five pellets went into 0.852 inches, which isn't good — but look where 3 of them went! That hole is a group measuring 0.069 inches! I don't think that was due to the different hold, but I do think it tells me this rifle can really shoot and that the Premier lite pellet is right for this gun.

Using an alternate artillery hold, 5 Premier lites went into 0.852 inches. While that isn't so good, 3 of those pellets went into 0.069 inches. I think the rifle can shoot, and this pellet is the right one – but the first hold is best.
Conclusions
Edith spotted the fact that I may have skewed the test results by not seasoning the barrel for each pellet. I guess that's the down side of shooting so many 5-shot groups. It does bring up a good point. I think that when I move back to 25 yards, I'll season the barrel with 20 shots per pellet before shooting the first 10-shot group.
She also suggested that I do a seasoned barrel vs. unseasoned barrel accuracy test. There are enough of you who believe in the seasoning process, so that makes such a test worth the effort.
by Tom Gaylord, The Godfather of Airguns™
Writing as B.B. Pelletier
This report covers:
• What color temperatures mean
• Digital cameras changed everything
• Using light
• First, a look at the lights
• How the lights are used
• Light is a key element in photography
I've been asked several times to describe the kind of lighting I use to take my pictures. I'll show you what I use. I'll also discuss what to do and what not to do with incandescent lighting.
Today, I'm going to show you some uncropped pictures, so you can see what things look like before I clean them up. That may be the most instructive thing in this report.
What color temperatures mean
Light is seen by a camera in a variety of hues called color temperatures. The cool temperature tones are the blues and whites, while the warmer tones are the yellows and reds. This is stated as a Kelvin temperature number, but that's not something you have to remember. Just remember that bluish-white colors are cool and reddish-yellows are warm.
Back when we used film, we bought our film in temperature ranges, too. There were cool (daylight) films and warm (tungsten) films, and we matched these to the light we expected to use. Sometimes, we had to correct the available lighting with filters. If we were using a warm (tungsten emulsion) film with tungsten (incandescent or indoor) lighting, the picture came out pretty close to what the eye saw — the whites looked white and so forth. But if we used tungsten film outdoors in daylight, everything tended to have a very bluish cast. And daylight films used in tungsten light tended to look yellowish-orange. We used gel filters over the lens to correct for this.
There are other types of light that cause problems, as well. Fluorescent lights cause a greenish cast to the image. Digital cameras usually have settings that can be selected to correct for the lighting — or you can set them on automatic and the camera's software does all the work. I usually let the camera do the work unless I want a certain effect.
I will not get into reciprocity failure, which is the change in the film's response to light the longer it remains exposed. I'm mentioning it only because we have several photographers reading the blog, and they may want to touch on the subject. Suffice to say that because film relies on chemistry, things are not as straightforward as I'm reporting. There are many subtleties to consider. Film photographers had to look at more than just the light source and the type of film being used; they also had to consider the exposure time and how that particular film changed as the exposure increased.
Digital cameras changed everything
Digital cameras changed the way all of this works because they have software to compensate for things like exposure time and color temperatures. As long as your camera is set to automatic, the computer is handling everything and you get the best image possible, meaning the image that's the most neutral. But sometimes that's not what you want. Sometimes, it's important to see detail more than it is to see the correct color. Edith and I disagree on this all the time. I always go for maximum detail, with the result that you may see a black airgun with a golden or even whitish cast. She values color fidelity over detail and will correct my images to the right color at the expense of losing some finer points. [Note from Edith: I don't see any reduction in finer points, so that means I'm right!]
Allow me to show you how this works. The following two images were taken with the same light, but different camera settings.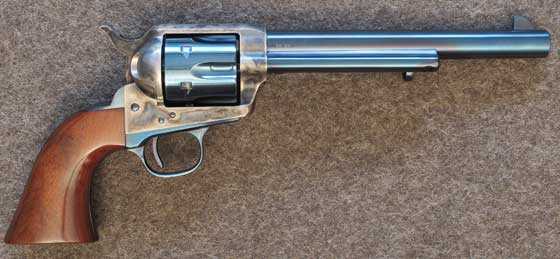 In this image, I let the camera filter the light for me by using the automatic setting. There was a little daylight coming through a window and a lot of reflected incandescent (tungsten) light shining on the subject. This is a neutral exposure.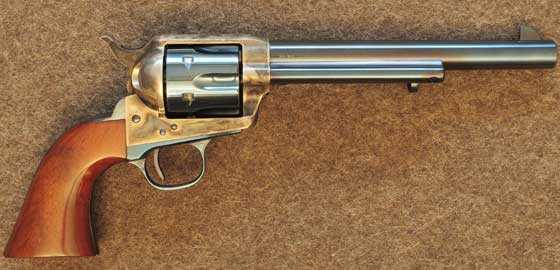 For this exposure, I set the camera on daylight. It thought the light on the subject would be daylight; but since it was mostly tungsten, the image has a yellowish-orange cast. Same amount of the same light in the same position — just different camera settings.
But even at that, I can get finer details with a digital camera than I can with a film camera. And Edith can often correct the color balance in Photoshop, so we often both get what we want. I won't get into that (correcting images) today, but we did look at it to some extent in the last report.
Using light
Your natural inclination is to shine light directly on the subject, but that's usually wrong. Doing that gives you shadows behind the subject and bright spots (called specular highlights) on the subject. Sometimes, we want shadows and specular highlights for artistic reasons; but when you want to see details, they're not desirable.
Reflected light is more diffuse. Like the light on an overcast day, reflected light seems to come from all directions and causes no shadows. It's perfect for showing details. In fact, before I learned how to use interior lighting this way, I took most of my pictures outdoors on overcast days, or I took them on bright days, but in the shadows where sunlight couldn't reach my subject. I'll now show you how I use reflected light.
First, a look at the lights themselves
I use a Tota light. Tota is a brand name of the Lowel company that uses quartz bulbs of various strengths. I use 500-watt bulbs in mine, and they last for many years. The Tota light fixture has side reflectors called barn doors that allow me to concentrate or scatter the light as I choose.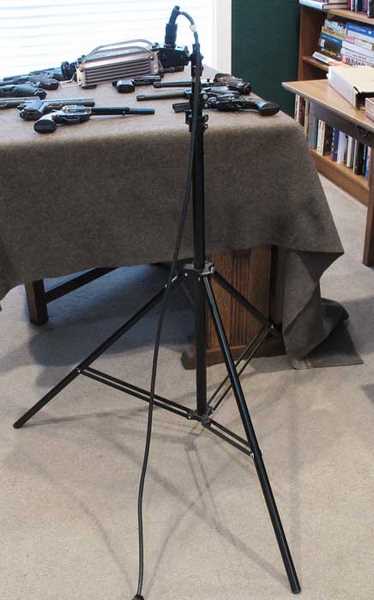 This is one Tota light fixture standing in front of a table full of guns.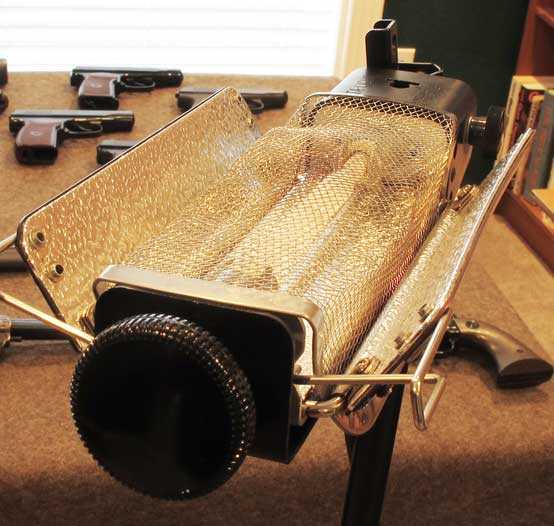 This is the Tota light fixture turned upside-down. It's jointed to turn in all directions. The barn doors are the flaps on either side of the central fixture, and here they're closed. There's a screen over the bulb for safety in case of a bulb explosion.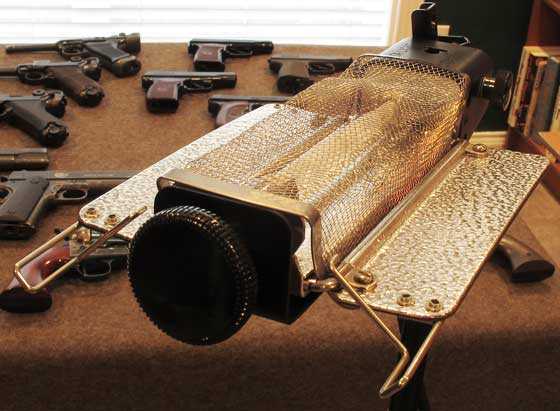 Here, the Tota light barn doors are open to scatter the reflected light wide.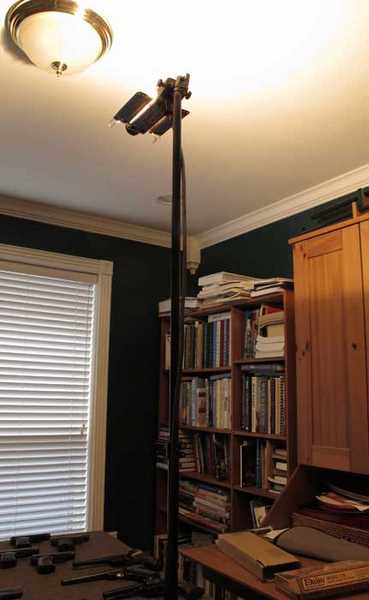 I have extended the Tota light to 7 feet and am bouncing it off the white ceiling. Objects on the floor below will receive scattered light from this. If I wanted the light on the subject to be even more diffuse I would not put the light fixture this close to the ceiling.
How the lights are used
I can use one, two and even three lights, though I've never used more than two in the 16 years I've been doing this. Since the light is scattered, you don't need many sources. I normally use one light because it creates fewer problems.
Remember "painting with light," which I wrote about in another 3-part photography series on this blog? That was a tip I described to you in 2008, where you use very little light over a long exposure to get light on all the places it's needed. A small $10 tactical flashlight can do the work of $1000 worth of studio lighting, as long as time is factored in. I also showed you what specular highlights are in that report. You can do the same kinds of things with indirect lighting to enhance the effects. Let me show you what I mean.
In two of the next pictures I'm not cropping out anything. You'll see my feet, the tripod's feet and various other things in the frame, along with the subject. Several of you asked about this, so I thought I'd show it to you today. The point of the next photos is to show how you can paint with diffuse reflected light like a Tota light and make one light fixture do the work of many. These pictures were all taken using the reflected light you see in the last picture, above.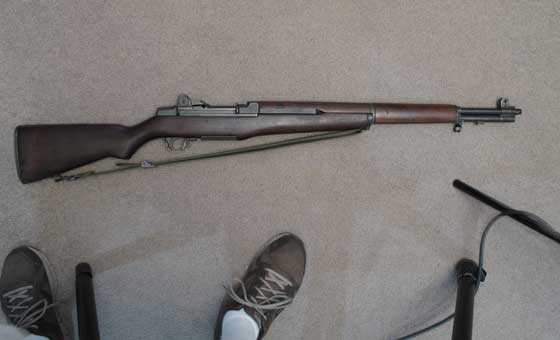 I'm using a single Tota light reflected off the ceiling for this shot. The Garand is illuminated more toward the front of the gun, leaving the butt dark and featureless. Those are my feet, the tripod's feet and the Tota light's feet in the image.


Here is that same image cropped, with the Tota light leg Photoshopped out. If this was going in a report, I might put the rifle on a 45-degree angle to make it larger, and knock out the background to make it stand out. But the butt would still be dark, and fixing it would take a lot more work.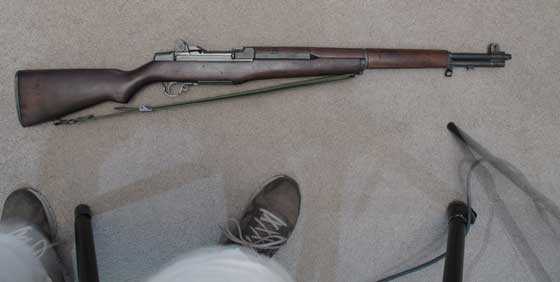 Same image but I moved the Tota light during the 1/2-second exposure. You can see the blur of my pants legs and the legs of the Tota light stand. The rifle is lit more evenly.


Here, I have cropped the photo with the more even light, and I've gotten rid of the Tota light stand's leg. Notice the butt has some light on it in this image. This will need less work in Photoshop to look good.
I've shown you two images with subtle differences in this report. Because of the limitations of the internet (72 dots per inch resolution), I can't show these differences in their finest detail. But if I were to make the rifle 13 inches long at 300 DPI for a magazine, you would see a much greater difference between the two photos.
Light is a key element in phtography
Product photography is the art of making things appear in images as though you're seeing them in person. Light plays a huge role in this, and I hope today's essay has shown you how you can use indirect lighting to your advantage. Tota lights are not expensive, but you can do everything I've shown here with common quartz shop lights that you buy at a hardware store.
One of the best images I ever saw that used this technique was of the interior of a dark church. The photographer went in at night when there was no light and simply opened his camera's shutter. Then he walked around the room firing a camera strobe about a dozen times in different places. The resulting picture looks like the church is illuminated with dozens of bright lights that can't be seen. The photographer painted that large room with light!
by Tom Gaylord, The Godfather of Airguns™
Writing as B.B. Pelletier
This report covers:
• Equipment to fill the gun
• Silicone chamber oil
• Diver's silicone grease
• Plumber's tape
• No such thing as Teflon tape
• A chronograph tells the whole story
• Other things?
• Summary
Today, I'm writing this for the sales representatives at Pyramyd Air, who are always asked what else you'll need when you buy a precharged airgun. Precharged airguns need some things to go with them to operate smoothly. Think of  the batteries you always need for electronics. Are they included in the box or do you have to buy them extra?
Equipment to fill the gun
This is the big one! How does air get into your new gun? Back in the 1980s, customers were surprised to learn they had to buy the fill device (also called a decant device, hose and gauge, and other things) separate from the airgun. They never thought about people possibly owning two such guns that one fill device would service. And they also didn't appreciate how much these fill devices cost — and how much could be saved by not buying a second one that was identical.
These days, most people know you need a fill device of some kind to connect an air source to an airgun, but there's more to it than just that. Some companies, such as AirForce, Crosman, Daystate and Dennis Quackenbush, use the now-common Foster quick-disconnect fittings that simplify everything. One common fill hose services all the airguns made by these companies. On the other hand, Air Arms, BSA, Evanix and others still have proprietary connections. The question is: What do you need to fill your new airgun?
Pyramyd Air provides an easy solution to this dilemma — a little decision tree that helps you find exactly what you need for your new airgun. You can try it out right now and see how it works. Select any PCP on their website and look at the product page. I'm going to choose the Air Arms S510 Xtra PCP Carbine.
On that page, find the tabs where you see these words:
Description  Specifications  Customer reviews  Questions & Answers  PCP Hookup
Click on the words PCP Hookup, and you'll see the tool they've provided. Don't be embarrassed if this is new to you. I didn't notice it until Edith came into my office and walked me through it — and I write this blog!

When you click on PCP Hookup, this is what you'll see.
Now, click on the air source you will be using to fill your PCP, and the complete connection requirements will come up. Try several of these fill source options (by clicking the reset button), so you can fully appreciate what they've done for you. As the fill source changes, so do the connection requirements. If no additional adapters or hoses are shown after you click on your preferred fill device, that means none are needed. And it states that at the top of the left side.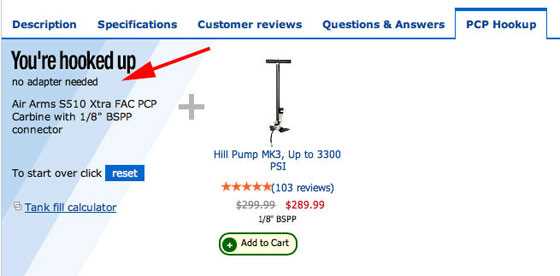 When I clicked on the Hill MK3 pump as my preferred fill device, it said on the top left column that I didn't need any additional hoses or adapters to make this fit the Air Arms S510 Xtra FAC PCP air rifle. If I wanted to find other fill devices, I would click the "reset" button to go back to the full list on the PCP Hookup tab.
Like Einstein's relativity equation, everything sounds simple after seeing this software tool. But airgunners have lived 34 years without it and can tell you — it isn't obvious!
[Editor's note: Whether you're looking for hand pumps or carbon fiber tanks, always check out more than one fill option. Some devices are more expensive, but they may already include the hoses and adapters you need and may end up being more economical than buying a fill device that requires you to buy additional hoses and adapters.]
Silicone chamber oil
If you've read even a couple weeks worth of these reports, you've seen me recommend silicone chamber oil for sealing airguns. This stuff is so necessary that veteran airgunners should all know they need it. When I worked at AirForce Airguns, I was responsible for testing every valve they made. When a valve leaked (and a small percentage of them did leak on the first test) it was my job to fix it. There are just two things that can fix most high pressure air valves — getting rid of dirt and silicone chamber oil.
I would use a heavy rubber mallet to smack the valves, causing them to pop open loudly under pressure. That also blew out any dirt that was in the sealing surfaces and also made a perfect impression of the metal valve face in the hard synthetic valve seat. It was like breaking in leather shoes. Once broken-in that way, that valve would work reliably for — well, I don't really know. I have some valves that are now 14 years old, and they still hold indefinitely.
But silicone oil was needed for the o-ring that seals the valve inside the air tank. We actually used a light industrial silicone grease that works very well when you can apply it directly to the parts; but when the gun is together, it's hard to get grease to go where you want. Light silicone oil will go everywhere, and I cannot remember how many hundreds of airguns I've fixed with it — the most recent being the Crosman 2240 that has the HiPAC air conversion installed.
I'll even go farther and advise you to get a bottle of silicone chamber oil with a needle applicator. That applicator is very handy for putting the oil exactly where you want it. You'll also find it wonderful for oiling piston seals on a spring gun through the air transfer port.
Diver's silicone grease
I just said that silicone grease and oil could be used interchangeably, but what I didn't say is that you pick the one that best suits the job. That's why I also have silicone grease on hand at all times. If there's an o-ring that can be seen, like on the bottom of 200- and 300-bar air fittings, use the grease instead of the oil. For the o-ring that seals the HiPAC air tank to the Crosman 2240 pistol, use the grease. Not only does the silicone grease seal air just like silicone oil, it also remains on the parts for a long time. I have 3 jars of it, and one is always in my range bag.
Plumber's tape
Here's a product that Pyramyd Air doesn't carry! But no worries, because just about every hardware store stocks it. Plumber's tape is for sealing joints that thread together.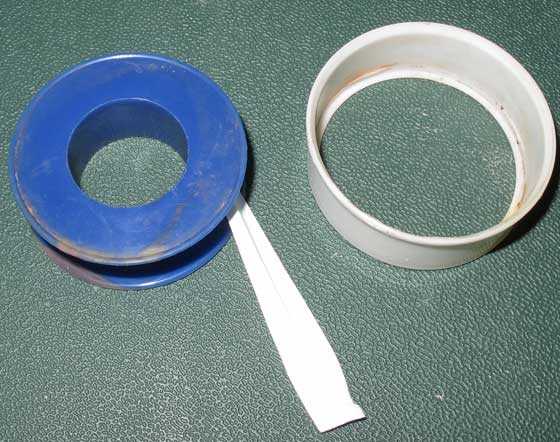 Plumber's tape is not sticky. It seals the smallest holes in threaded joints.
If this is new to you, it's tape that doesn't stick to anything. It has no glue! It is elastic and rather thin, but when you wrap threads with it the correct way, it expands into the smallest crevices and seals the threads against air loss. And, having written that, I guess I will now do a report on how to properly wrap threads for a repair.
Plumber's tape lubricates the threads, so joints go together tighter (farther), plus it deforms easily, blocking those same threads. It also keeps threads from seizing, so they come apart easier.
No such thing as Teflon tape
Many people call this Teflon tape. But it isn't. Teflon is a registered trademark of Dupont; so, unless they make the tape (they don't at the present time), it isn't Teflon. It's more correctly called PTFE (polytetrafluoroethylene) tape – but plumber's tape is probably the best name for it.
It's not expensive, and I use it a lot; so, I keep several rolls around the house. I also keep a roll in my range bag, where it's saved a PCP field test more than once.
A chronograph tells the whole story
You knew I was going to recommend one of these, didn't you? If not, you're a new reader of this blog. This is one of the most important diagnostic tools an airgunner can own. A chronograph tells you how fast the pellets are traveling when they leave the muzzle of your airgun.
For many years, I used the Oehler 35P printing chronograph. I was raised in a time when Oehler chronographs were the most accurate instruments money could buy, and writers had to have one to be taken seriously. Then, I started writing this blog, and my chronographing needs increased tenfold! When I did a test of the Shooting Chrony chronograph, I was impressed with how convenient it is. I now keep one set up in my office permanently, which is where all my indoor velocity data is gathered. The price is right, and the unit is small, rugged and easy to transport. And it has an anchor point to mount it to a camera tripod.
If you want a choice, I've read good reports about the Competition Electronics Pro Chrono Digital Chronograph. The Bianchi Cup uses it, and that's a big-time firearm competition! It doesn't cost much more than the Shooting Chrony, so you have two good instruments to choose from.
Other things?
Is there more? Of course, but these are the essentials. The chronograph you can live without for a little while, but the other things you really should get right away.
Summary
Buying your first PCP airgun always seems to be a leap of faith. You're going where you've never been, to places others have warned you to avoid. You've done the research, but you still wonder if the good stories aren't all just part of a grand scheme to hoodwink you.
I've told you about all the things I think you absolutely need when you get a PCP. Pyramyd Air has coined a new word for them — PCP necessories. Obviously you don't need 2 chronographs or 2 different silicone oils, but you'll eventually need one of each if you're going to enjoy your new precharged airgun to its fullest.
by Tom Gaylord, The Godfather of Airguns™
Writing as B.B. Pelletier
This report covers:
• What motivates people to buy?
• Problems are the perfect time to succeed!
• Try the product you sell!
• Don't fire your star salesman!
• Listen to your customers
• Make THEM do it!
• The point
"To sell John Brown what John Brown buys, you have to see the world through John Brown's eyes."
What motivates people to buy?
That profound saying came to me when I was 16; and when I first read it, it made perfect sense. I knew that I responded best when a sale was structured in my favor, so why wouldn't that work the same for everybody? You might also say, "Put yourself in the buyer's shoes."
But organizations don't always do that — do they? And when they don't, we feel the disconnect of poor decisions made to favor the company rather than the customer.
For example, long ago, I bought a Beeman Model 66 Blue Ribbon scope from a gun store in Silver Spring, Maryland. This store was a place where I did business frequently. I bought the scope because it was a Beeman; and at the time (the late 1980s), the American airgun community thought very highly of Beeman and their products. This had to be a wonderful scope — it cost a lot of money and carried the Beeman name.
Alas, the scope broke soon after I mounted it on an air rifle. The reticle tilted on an angle inside the tube, and I didn't have to know much about scopes to know it was broken. So, I returned it to the store. They told me they could not fix it, and they had to return it to Beeman for repairs. I was so naive in those days that I really thought Beeman repaired scopes.
One month passed, then two months and no scope. I called the store every few days to learn the status, which was always the same — no scope yet. Finally, I went down and talked to the store owner. I reminded him of the details of this transaction and told him I thought he should do something about it right then and there. We went back and forth for a few minutes, and I walked out with a small refund and a new RWS scope.
Here's my point. Beeman Precision Airguns in California set this Maryland dealer up as a "5-Star Beeman Dealer." They had to buy a certain amount of Beeman products to get that status; but once they did, Beeman published the store's name in their catalog, along with all other Beeman 5-Star dealers. Beeman told them that they stood behind all their products, and that being a 5-Star Beeman Dealer was a very good thing. And I'm sure Beeman thought that it was! I'm sure that in their company conference room, all the Beeman employees smiled at one another and agreed that this was a sound business plan that would help the dealers and grow the parent company, Beeman Precision Airguns, as well.
But they forgot one thing — the customer! The reason I shopped at a brick-and-mortar store, rather then going through the mail, was because I could go to someone when I had a problem and look them in the eye to get it resolved. Beeman overlooked that by turning this brick-and-mortar store into a mail-order drop-house for Beeman products. When there was a problem with anything carrying the Beeman name, it had to be handled through the mail and on the telephone. In other words, I was no better off than if I'd dealt directly with Beeman and cut the store out of the equation!
If a Remington rifle broke down, the same system was in place to support it, but Remington had something Beeman didn't — territorial representatives. They were the guys who made the system work behind the scenes, so people like me didn't have to wait two months to get satisfaction.
Beeman was thinking of themselves when they set up their sales program. I'm sure they had every intention of making it work as it should, but it didn't. And this is not an isolated incident. Several years later, when I was writing the R1 book, my first R1 rifle broke in a way that I could not fix. It had to have a part welded back on the gun. The store wouldn't send it back for me, so I had to return it myself. When I did, Beeman was faithful to their Lifetime Repair Policy I'd purchased with the gun — and they fixed it right away. But they had to disassemble the gun to weld it, so when they assembled it again, they gave it a moly tune. I was in the middle of recording the break-in of a factory-new rifle for my book, and this unscheduled moly tune ruined the entire test.
Beeman didn't like hearing about my problem, but I demanded and got a second brand-new gun, which then had to be broken-in and documented all over again. If you've read the R1 book, it's all in there.
Again, I was dealing with a company by remote control — through the filters of a continent, three time zones and the telephone system. And they had a hard time understanding why the kind thing they did for me (the lubing of the repaired gun) wasn't good. I was the customer, and in their eyes I clearly wasn't right! I didn't understand that they were being nice to me.
Problems are the perfect time to succeed!
Joe Girrard holds the world record for selling the most cars in one year. All his sales are one at a time — no fleet sales! As a result, he's been called The World's Greatest Salesman by the Guiness Book of World Records. He always tries to satisfy his customers; but when there are problems, he really swings into action! He's learned that by solving a customer's problems, he can make as many as 250 important word-of-mouth contacts, which is how he earned his salesman's title. He knows that people don't talk much when they're satisfied, but you can't shut them up when they have a problem! So, solving problems after the sale is more important than making the sale to begin with. If you solve them, your customers will refer you to their friends — and even to their recent acquaintances! Ain't nobody who don't need a good car guy or plumber, these days!
…people don't talk much when they are satisfied, but you can't shut them up when they have a problem!
The reverse is also true. A bad experience becomes a cautionary tale that gets retold hundreds of times. "Whatever you do, don't shop there!" In the Army, we had a saying that sums this up. One bad experience cancels 100 attaboys (only we didn't say "bad experience").
Try the product you sell!
I never cease to be amazed that the decision-makers in companies have not tried the products their company makes. Let's stay with airguns. What does a company president think when he cocks a breakbarrel rifle that takes 50 lbs. of effort, and he has to do it 50 times at one sitting? Having done that more than once myself, I'm pretty sure that no company president ever did the same. If they did, that gun wouldn't have made it to market.
I know that companies pass new products around the conference table to let everyone in the management team get their hands on them, but who actually tries these products? "Oh, we let our engineers handle that!" should not be the answer.
If a product requires skill to operate, you don't let the designer test it! You don't let software engineers who program websites test those websites, too! They know how those sites are supposed to work. You don't want that. You want people who are barely able to navigate around the internet testing your new websites, because they'll make all the mistakes that your customers will. If you're clever, they'll make these mistakes before the website goes live! Or, you can just do what the Obama Care website did earlier this year, and suffer a huge publicity embarrassment when the new site launches and then locks up.
Don't fire your star salesman!
What I'm about to describe is so unbelievable, yet also so common that I think it must be a sign of widespread mental illness. Out of a group of salespeople in a company, one person often rises above the rest. He or she out-sells everyone and earns large commissions. When that fact becomes well-known, corporate insanity sets in. At first, the sales manager takes territory away from the star to "level the playing field." But the star keeps right on performing, and the mediocre sales staff start screwing up the company's top accounts that were given to them. Maybe the sales manager has discovered that the top salesperson earns more money than him or her. That can't be right, can it?
In some instances, the top salesperson out-earned the company CEO! Then, they were fired. Because you can't have someone working for you who out-earns you. That doesn't make sense — does it?
I used a salesman in my example, but the same holds true for a good engineer, a dynamite warehouse manager who keeps the wheels turning, a popular customer service representative whom everyone asks for when they call the company, and a top-flight maintenance tech who makes the customers' problems their own. None of these people earn commissions, so they aren't going to trigger the jealousy response based on dollars, but people can still be jealous for many reasons not related to money. Maybe, the star employee has a long history with the company and knows more about what they do (and have done) than those currently in charge. Or maybe they're the new person on the team who sees that the emperor is not wearing clothes and says so out loud.
We think companies are in business to make money and to succeed, but there are dangerous games played by some employees that can negate any good done on the company's behalf. The various intelligence and law enforcement organizations of this nation play these games. In their world, it can be more important that "they" (the sister organizations) fail, than it is for "us" to succeed.
Listen to your customers
The internet allows companies to listen to what their customers are saying about products. Of course, you have to filter through these comments to remove the drivel and the meaningless chatter, but that's no different than being at a party and listening to all the conversations. The ones that make sense are the ones you listen to.
For instance, let's say that on an airgun blog, 90 percent of those commenting dislike fiberoptic sights. Let's say they make it very clear they would rather not have fiberoptics of any kind on their airguns.
But let's also say that your marketing manager learns that 75 percent of all shooters like fiberoptic sights and will only buy guns that have them. Which source should you believe? Would you believe they can both be right?
If the people who comment on the blog are known to spend $300 and more on an air rifle, but the people your marketing manager polled are those who only buy airguns from discount stores, then perhaps there is a dichotomy to the data. Perhaps those who spend a lot of money on airguns want plain sights, while those who buy based on price alone want fiberoptics. A clever company, discovering this, would have a price point above which the guns would have plain sights and below which they would have fiberoptics. They would then be listening to all their customers.
Make THEM do it!
I remember the old M60A1 tank, whose air-cooled generator sat on the bottom of the engine compartment, under the 12-cylinder air-cooled twin-turbo diesel engine, where the hot air surrounded it and didn't circulate. That generator failed more than any other single part on the tank engine; and when it did, you had to pull the engine out of the tank to replace it.
The people who designed the M60 and M60A1 put things where they wanted and where it was convenient for them. To pull an engine required the disconnection of many electrical quick-disconnect Cannon plugs that were located all around the engine bay. Disconnecting some of those plugs required the services of the proverbial left-handed double-jointed skinny mechanic.
About 15 years after it was introduced, the Army put the M60 A1 tank through a Reliability Improved through Systems Engineering (RISE) program. All the electrical Cannon plugs were routed to a central panel that was easy to get at, and the generator went from being air-cooled to oil-cooled. The engine that had taken about 12 man-hours to remove dropped to about two man-hours, but removing it ceased to be necessary because the oil-cooled generator stopped failing altogether! The availability of the M60-series tanks went from low to very high, just as a result of changing these few things.
The RISE program was a "How would you build it if you could?" program, and it changed the readiness of American battle tanks overnight. Using the same logic, an air-cooled Volkswagen Beetle engine is replaceable in a few hours, while on certain performance cars you have to lift the engine off the motor mounts to get enough clearance to check all the spark plugs.
In all these examples, those vehicles that were designed for easy maintenance were designed by people who maintained vehicles, while the ones that were not designed that way were designed by stylists whose only concern was what something looked like.
The point
The point of all of this is to put yourself in the customer's position. Use the product the way he has to use it. Maintain the product the way you ask him to maintain it. I believe that if all corporate decisions were required to pass a test like this, fewer poorly designed products would get to the market.
by Tom Gaylord, The Godfather of Airguns™
Writing as B.B. Pelletier
Today's report is the start of a guest blog from airgunner and blog reader Fred_BR from Brazil. He's going to tell us about a breakbarrel spring-piston air rifle he recently acquired. It's a civilian copy of a scarce military trainer.
If you'd like to write a guest post for this blog, please email me.
Over to you, Fred.
This report covers:
• FAL in the Brazilian army
• FAC: Fuzil de Ar Comprimido
• My Model Sport 82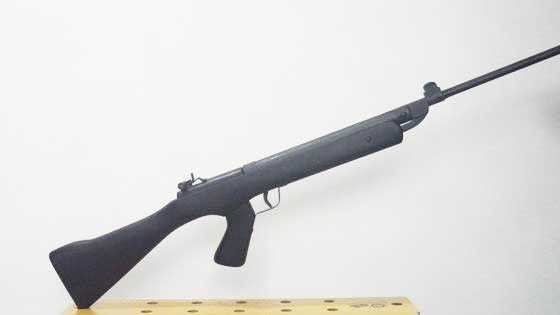 Rossi Sport 82
Today, I'll show you an old rifle that I believe most of you have never seen: the Brazilian-made Rossi Model Sport 82. It is a civilian version of a military training rifle used by the Brazilian army to train recruits before letting them handle the firearm – the FN-FAL 7.62 NATO battle rifle.
FAL in the Brazilian army
In 1964, the Brazilian army adopted the FN FAL 7.62X51mm (.308 Winchester) battle rifle as a replacement for the old bolt-action Mauser rifles then in use. IMBEL, the Brazilian Government arsenal, acquired the rights to produce a local version of the firearm, eventually making 250,000 of them according to some sources. The FAL proved to be a very sound choice, and to this day it's the preferred rifle of many military and police elite units. For recruits, however, the FAL is not exactly easy to master, especially for inexperienced hands.
The Brazilian army approached Amadeo Rossi S/A and asked for a version of their standard air rifle to mimic the FN FAL. Rossi, a Brazilian manufacturer well known to American shooters for its line of budget-priced revolvers, is also a traditional maker of popular air rifles, mostly inexpensive and very simple in design — but well built.
The response from Rossi was a breakbarrel spring-piston rifle with a redesigned stock that has a pistol grip, a false magazine, and front and rear metallic sights that copy those of the FAL. Lead inserts would bring the weight close to that of the standard FAL rifle. Even the carry handle was included. Caliber was .177, the only airgun caliber then available in Brazil.

The Sport 82 is a civilian version of the military FAC, or compressed air rifle, used by the Brazilian army for training.
[Editor's note: Many countries do not permit former military weapons or even airguns to be sold to civilians. They feel it promotes theft, which it certainly does. Some countries don't even allow civilians to use firearms chambered for military cartridges for the same reason.]
FAC: Fuzil de Ar Comprimido
The resulting gun would be adopted as the "FAC – Fuzil de Ar Comprimido," Portuguese for "compressed air rifle," a nickname sufficiently close to "FAL" to satisfy the officers. The rifle would be the initial introduction of recruits to shooting, before being allowed to use the firearm.
Rossi would sell this rifle to civilians with some modifications. Some say they were obliged to do so because of military restrictions, others say they modified the rifle to become more acceptable to young shooters — then the only market for airguns in Brazil. Rossi may have realized that no kid in their early teens would buy such a heavy rifle and made it lighter and without the false magazine and carry handle, but keeping the FAL-style sights. This model would be released to the shooting public in Brazil as the Model Sport 82.
My Model Sport 82
I searched for an example of this rifle after B.B.'s post on the Egyptian Hakim airgun. It didn't take me long to find one. The gun is a spring-piston, breakbarrel rifle with 13.60 inches of barrel length, 38 inches overall, weighs 5 lb., 4 oz., and has a 15-inch length of pull. The stock is made of black-painted wood, and features a pistol grip and general style that basically copies the grip and stock of a standard fixed-stock FAL, although some models were sold with the natural color of wood. Later models would be equipped with barrel-mounted open sights, but my rifle has the FAL-style peep sights regulated for height and windage via two screws.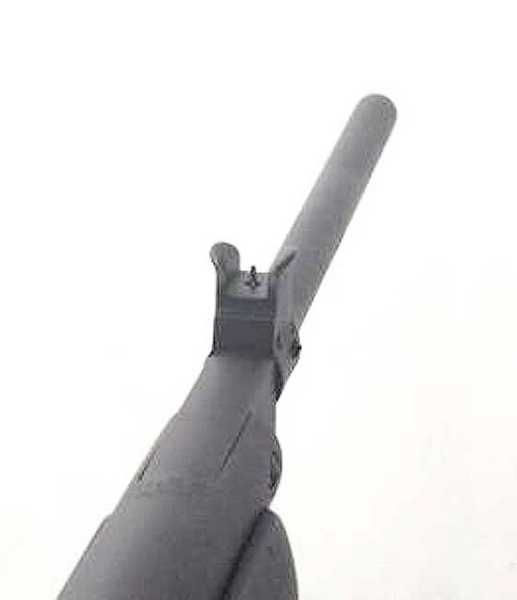 The front sight is a simple post protected by two ears like the FAL and located closer to the breech than on most airguns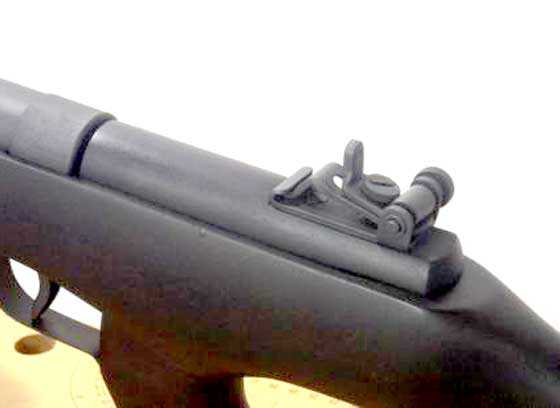 The rear sight is an aperture adjusted for height and windage by two screws. It's mounted on top of a wood extension to fit the FAL-sized stock.
The spring-piston tube assembly is very short, almost junior-sized. To meet the FAL-lookalike specs required by the army, Rossi added an extension behind the rear portion of the spring tube, apparently also made of wood, just to keep the action from being too short in the long stock made for this model. Keep in mind, fellow readers, that airguns made back then in Brazil were mostly considered youth rifles not intended for adults at all, so they were mostly compact and lightweight models. The gun has no safety of any kind, so it relies on good handling to avoid accidental discharges.
The breakbarrel action is very smooth and easy to cock, as a good youth models needs to be. The short-stroke spring-piston rifle can push pellets in the 450 f.p.s. to 480 f.p.s. range. This is sufficient for most applications of such a training airgun. That's the good news.
Now for the bad news: The trigger is horrendously heavy. I couldn't even measure the trigger weight. I can only tell you that this gun sports the heaviest trigger I've ever encountered on any rifle — airgun or firearm. The thing is so difficult to pull that, after a few shots, I was feeling pain in my trigger finger. It definitely took the fun out of the equation pretty quickly. As the gun has no safety, I can only think this was Rossi's way of preventing an accidental discharge by making the trigger so heavy that kids wouldn't pull it unintentionally. Well, I almost could not pull that thing even on purpose!
I would love to show you lots of pictures of very tight groups made with the Rossi 82, but the best I could do was a mere 1.25 inches at 10 meters with this gun. I blame the trigger for that, and I plan to disassemble the gun to check the exact condition of its trigger and sear. Maybe some careful trigger work will improve it.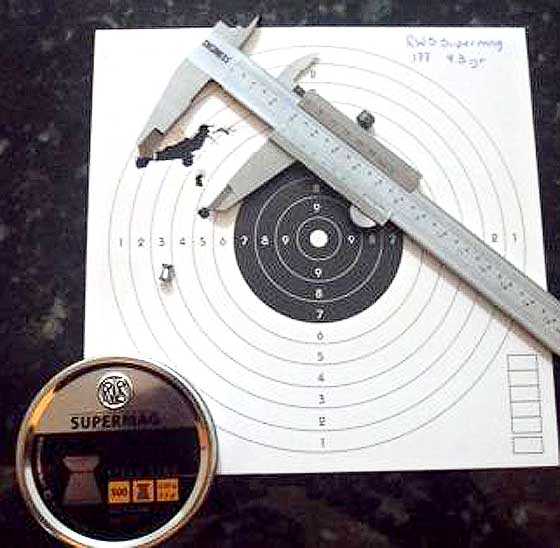 Ten 9.30-grain RWS Supermags grouped 1.25 inches at 10 meters, approximately. The rifle cannot really perform any better than this due to its heavy trigger.
Except for the trigger, the Sport 82 is a lightweight, easy-to-cock carbine with a distinguished look that sets it apart from other air rifles. It has a history of service to my country, training civilians and military recruits, and doing its job gallantly. To this day, the Brazilian army still introduces safe gun handling to trainees using the FAC.
by Tom Gaylord, The Godfather of Airguns™
Writing as B.B. Pelletier
Crosman 2240 conversion to air: Part 3
Crosman 2240 conversion to air: Part 2
Crosman 2240 conversion to air: Part 1
R.A.I. Adjustable AR Adapter for Crosman 2240 pistols: Part 2
R.A.I. Adjustable AR Adapter for Crosman 2240 pistols: Part 1
WARNING: This conversion changes the operation of the pistol to use air at up to three times the pressure it was designed for. The parts that are installed are strong, but there are other parts in the gun that aren't changed and could fail when subjected to the higher pressures. Pyramyd Air advises anyone making such a conversion to exercise extreme caution.

The conversion with the Tech Force TF90 dot sight and adjustable stock attached.
This report covers:
• Sight-in at 12 feet
• Back to 25 yards
• End of the test
• Ft. Worth airgun show update
• Boot Campaign
Today, we'll look at the accuracy of the 2240 on air at 25 yards. I've installed a 14.50-inch Crosman barrel on the gun, which boosted the velocity, as we saw last time. It also may have boosted the accuracy. Let's find out.
The UTG Pro 6-Position Adjustable Stock has been remounted using the R.A.I. adapter. So, this is now a handy carbine.
I'm filling the pistol to 2250 psi, because I learned that was necessary when using the factory valve and a heavier striker spring. I get exactly 10 good shots per fill, which works well with my 10-shot groups.
For a sight, I installed the Tech Force TF90 dot sight that was used to test the Hakim rifle at 25 yards. We saw in that report how well this sight works, so it should work just as well on this carbine-sized gun I've assembled.
I sighted-in with 5 shots at 12 feet, and the gun was ready to shoot at 25 yards. I'll show the sight-in target and explain it, so you can understand how this close sight-in works.
Sight-in at 12 feet
I sight-in at 12 feet because it's safer. I know I'll be on paper that close to the target, and I also know where the pellet needs to strike to be on at 20 yards. I used to sight-in all the rifles we sold at AirForce Airguns this way and was always on-target when I backed up to 23 yards. To learn more about this method, read this article.
What I'm looking for is the pellet landing in line (left and right) with the center of the bull, but as far below the center as the center of the sight is above the center of the bore. In other words, if you were to walk up to the target until the muzzle was touching the paper and center the dot (in this case) on the bull, where would the pellet strike the paper?
When you're 10-12 feet back, the impact point doesn't change much from that. But when you back up to 20 yards (20-30 yards, actually) the pellet rises up on the paper and ends up close to the aim point. It isn't exact, but it's the fastest way that I know to sight-in a pellet rifle.
My sight-in pellets were hitting the target a bit high, but not too high. Once they were centered, I left the sight where it was set and just backed up. I sighted-in with Crosman Premiers.

The first 3 pellets hit to the left of center. I adjusted the sight, and shot 4 hit to the right of center. I adjusted back to the left, and shot 5 was close to center. These are hitting too high at 12 feet, but I'll use the setting as it is.
Back to 25 yards
The first group was fired with 14.3-grain Crosman Premier pellets. The first 3 pellets hit high and right of center. I don't know how the rest of them hit, but you can see this is a fairly well-centered group of 10 shots. It measures 0.918 inches between centers, which isn't too bad for a small gun like this at 25 yards. Remember — I'm shooting 10 shots instead of only 5.

Ten pellets made this 0.918-inch group at 25 yards. This is pretty good!
Again, I must comment how nice and clear the TF90 sight is. It really holds a tight group – even though the target appears very small. That makes it a confidence-builder.
Next, I tried the JSB Exact Jumbo RS pellet. These often do well in lower-powered airguns. Remarkably, they went to the same point of impact as the Premiers. That means I don't have to change the sight settings when using either pellet. This time, 10 RS pellets made a 0.763-inch group! That was very good, I thought. Especially given that I was using a dot sight!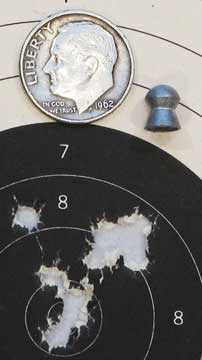 Ten JSB Exact RS pellets went into 0.763 inches at 25 yards. This is very good!
End of the test
I'd planned on trying Beeman Devastator pellets next; but when I filled the gun, I noticed a leak at the joint of the HiPAC tank and the pistol's tube. It was a fast leak and obviously the o-ring wasn't doing its job. I tried oiling the gun with silicone chamber oil and refilling it, but the leak didn't stop. So the test was over. I have to find out the problem and fix it if I can.
I do note that the pistol leaked down to 1750 psi and stopped. When I refilled it, the leak was much slower, so the oil may have done something. I think the o-ring and groove need to be cleaned and the tank installed again. But we'll see.
At any rate, today's test shows promising accuracy. It may not have been complete, but I'll return to test the gun again at 25 yards. I plan to mount the TF90 on the Crosman 1077 next, so it may be a while before I get back to the 2240.
Ft. Worth airgun show update
The hotel is filling up fast for the show. Don't forget to come to the reception at the hotel even if you aren't staying there. It will be 7 p.m. to 8:30 p.m. Friday evening. Nothing fancy — just a chance to meet and talk about airguns before we set up Saturday morning.
I'll be taking a caravan of people out to the range Friday afternoon from the hotel at 4 p.m. The range will be open earlier for people who want to get out there by themselves, but please tell me you are going, because this range is private. They need to know you're coming or the gate will be locked.
We plan to start the door prize and raffle drawings very early after the show opens, and they'll be held periodically throughout the day. Get there early and buy your raffle tickets for a chance to win a Walther LGV Competition Ultra, an AirForce Airguns CondorSS or a Hatsan AT44-10 Long QE! Since this show will probably not top a thousand attendees, you'll have a real chance to win one of these fabulous rifles. And everyone who pays admission gets a chance to win an Air Venturi Bronco and a Benjamin Trail NP2 door prize!
Boot Campaign
Another group coming to the show is the Boot Campaign — a Texas-based nonprofit organization dedicated to the military (past and present) and their families — cultivating awareness, promoting patriotism and providing assistance.
Also, American Airgunner TV host Rossi Morreale will be attending the show, as he's interviewing the ladies from the Boot Campaign.
I'll have more news about the show as it develops.