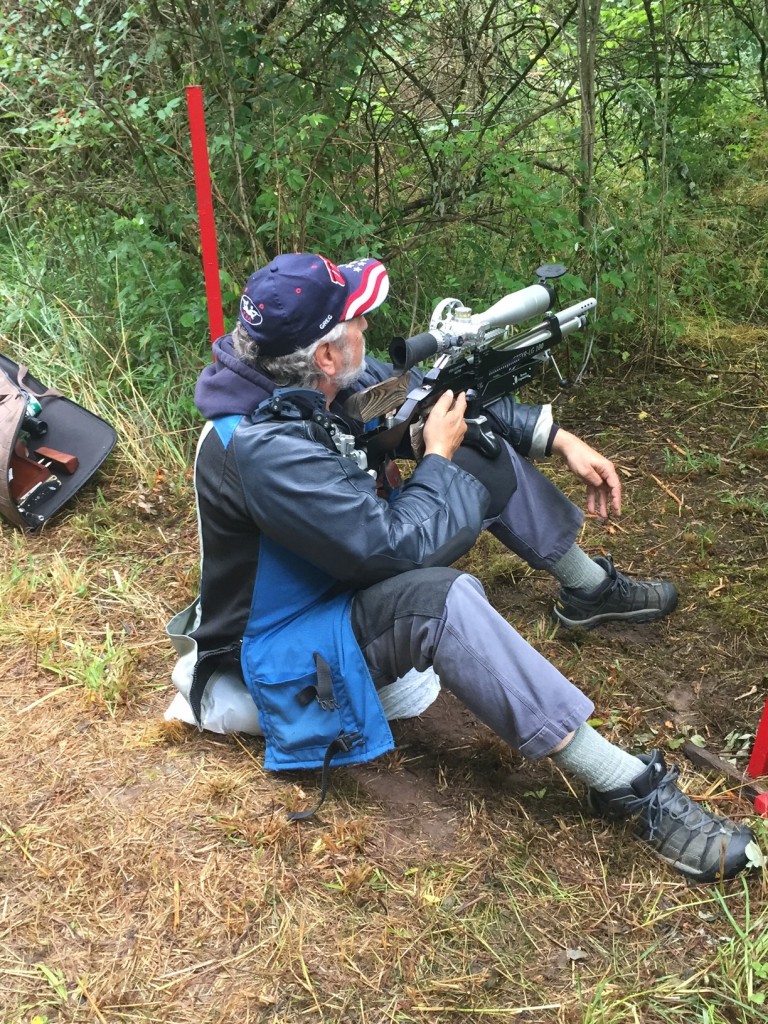 2016 marks the 7th year I have participated in the Crosman shoot. Before my first Crosman match I had traveled to Canada for 7 years to shoot their Nationals. There's a great group of shooters in Canada, and I really enjoyed the match. But the Crosman match counts for the U.S. Grand Prix totals and those totals help determine who shoots on Team USA for Worlds, along with U.S. Nationals results and prior Worlds results.
In the past I have flown to N.Y. from Green Bay, but this year my fellow BAGA member and friend Brian Vandenboom ("Boomer"), decided to make the trip.  Boomer has some serious driving chops and, after my 2 hour each way driving contribution he took the wheel.  Sure is nice to drive, cause you can take as much stuff as you want!
We arrived late Thursday evening and pretty much just hit the sack.  On Friday we headed to the range to check out our equipment.  This is one of the most fun days for me because I can take time and visit with people I haven't seen for a while and just talk airguns.  Once the match starts I tend to get tunnel vision and think only about the shooting.  It was nice to see old friends, meet new people, and see Hector and Veronika's new baby.
I had signed up for the Pyramyd Air "gunslynger" competition cause it's fun and more relaxed, because I have no expectations on my performance.  Since all the PCP's compete together I decided to shoot with straps and remove my side-wheel to load left handed.  I still used my sub 12 ft lb gun however and this added a challenge on day 2. I was fortunate to win my 2 prelim matches on day 1 and made the finals on day 2.  One problem, day 2 had some really gusty winds and I wasn't sure where that 8.4 gr pellet would blow!  It took me a couple shots on the rams and turkeys to figure out where I was blowing and the match came down to the last chicken.  As I was holding on it, I thought "hmmm, maybe I'll win this thing".  As I was thinking Bill Rabbitt was shooting, and he nailed the last chicken a split second before me!
The field target competition featured 15 lanes in the open (with LOTS of gusty wind) and 15 lanes in the woods, with only a couple of lanes with winds.  I really liked the woods course and congrats to Sean McDaniel and his staff on a great job in preparing it.
The first day of competition we were in the open field.  Wind was gusty, but mostly from behind.  So not a full value wind.  I held to the appropriate side of the KZ and cleared the first 8 lanes.  I dropped one long shot, by holding out too far, and then was clean again until the last lanes.  The wind really came up and was gusting and fishtailing.  It was at that point that we encountered a series of long crows.  I missed 2 of them twice and dropped one more in 3 lanes.  How quickly things can change!
On day 2 we were in the woods. It was a nice course with a variety of elevated shots.  There were a couple of hiccups with brush or grass obstructions, but for a course that did not exist a month earlier it was very well put together.   Again, I was clear for a good part of the course, but dropped one that was just behind a little rise.  Later I missed another long shot that was out in the breeze.  I knew it was going to be a challenge when I first looked at it through my scope.  It looked like a shotgun had blasted it.  Hits were all over.  I guess I like to go along with the crowd, because I missed it twice.  I dropped one other long one once so was down 4 for the day.  My main recommendations for the course would be to make at least one of each positional a challenging shot.  I recommend this with reservation because we finished on the standing lane, and it was very easy, which is a nice way to finish.
In summary, it was a great 3 days of shooting and visiting with fellow airgunners.  Crosman has a winner here and Sean and staff do a great job setting it up.  A big thank you to them!