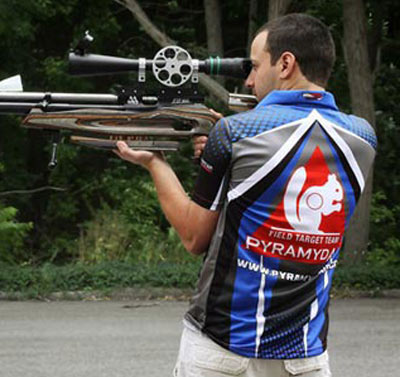 About
Tyler has been shooting FT for the past 3 years and has quickly fallen in love with the game. He loves shooting in the outdoors with good friends. Tyler is also a Pyramyd Air employee and has a passion for all things Airgun!
Home Club
Ohio Airgun & Field Target Shooters Association (OAFSTA)
Essential Field Target Gear
An Air gun is the most essential thing. Without it you cannot play the game. That said, I learned very quickly that you have to be absolutely comfortable with your scope. Regardless of what class you shoot and what magnification scope you use, if it does not suit you your results will suffer. For me, I really didn't gain a true comfort for my FT rigs until I found the right optic. That is a Leupold Competition scope, I have a 35x and 40x, love both and consider them to be my most essential pieces of equipment. There are many guns that can compete at a high level in FT, but not nearly as many scopes.
Competition rig
I have two, an Air Arms FTP 900 and a Steyr LG110 ZM. I alternate between which gun I shoot but I tend to shoot the Steyr at matches I have to fly to and the FTP 900 at matches I drive to. The Steyr breaks down easier and tends to travel a bit better as there is no stock to remove. Both rifles have Leupold Competition scopes on them.
Go-to airguns
Beeman R9 & Air Arms S400 Classic: Both are great guns and are great for small game or plinking.
How did you get into the sport?
I was in college at the time and looking for a way to get more trigger time with my airguns. I didn't have much space to shoot at the time so FT sounded like a good way to get out and shoot. I showed up at a match and absolutely fell in love with the game. It's a lot of fun being able to shoot out in the nature with other like minded airgunners! The nice thing about FT is that pretty much any club you go to, as a new shooter everyone is nice to you and will let you try their guns. Most in the game know well that a little kindness goes a long way and will keep shooters coming back time and time again.
How hard was it to get started?
Getting started was not terribly difficult for me as I already had a bunch of airguns, but none were really suited to FT. All of the guns I had were more hunting purposed and too powerful for FT. I decided I wanted to get the best gun I could afford and something I could use for years to come. So I decided to get a Steyr LG110 customized by Allen Zasadny. It was a few months wait, but well worth it. After saving for many months to afford it, I was very pleased. The hardest part was settling on a scope choice and just practicing. I took a lot of lumps in my first few matches with the gun and scope I had at the time. Once I got my Leupold though, things changed pretty dramatically for me. It is true that the more time you put in, the better you will get. I started practicing a lot and was able to achieve some really good results in my first year on the circuit.
Advice to field target beginners
The first thing I would do is find a local club. That is vital! Most clubs here in the US have plenty of shooters that own multiple rigs, all of which they will let you shoot! So not only will you be able to learn the game from experienced shooters, but you will also get the opportunity to see and shoot a lot of guns to find the one that suits you best! Also, DO NOT skimp on your equipment! Buy the best you can afford. If that means a RWS 34 is the best gun you can afford, get that gun! Most people see all the fancy rigs and think they cannot compete. Many folks (teammate Scott Hull included) will tell you other wise. Now if you can afford a higher end gun and scope, get it! If you have to save for a few months to get the gun you really want, do it! Just go out to matches and borrow a rig from someone, I know I did that many times and it gave me an opportunity to try a lot of guns and become familiar with the game at the same time. By the time I got my gun, I halfway knew what I was doing! The last bit of advice I have is to practice! Practice is the only way to get more comfortable behind the trigger and try new things. The gun is a fine tuned machine, you have to be in tune with the gun in order to shoot your best and the only way to do that is to practice.
Where do you see the sport going in the next 5 to 10 years?
With the increasing coverage of the World Championships the last few years, I think we will see 12 FPE WFTF class grow more. I hope the game will continue to grow. FT has been around since the late 80's/early 90's here in the US so it has gone through some ups and downs. I think right now we are in a great place as airguns are really becoming more popular which will bring new shooters into the game. With the support of companies like Pyramyd Air and Crosman, it will certainly get more people interested and that is what the game needs.
Biggest change in the industry since starting
Not sure I can really comment since I've only been shooting for a few years. One thing I have noticed is pistol field target is growing in popularity. I had the opportunity to try it out at the Cajun Spring Classic in April 2014 and really enjoyed it. It's a fun way to get into the game and doesn't cost a whole heck of a lot. A good CO2 pistols could do well since the majority of matches are shot in the warmer months.
Awards
2017 2nd Place Crosman All American FT Championship (WFTF PCP)
2017 1st Place Crosman All American FT Championship (Open Pistol)
2017 1st Place Southern Open (Open Pistol)
2016 2nd Place AAFTA National Championships (Open Pistol)
2016 3rd Place Crosman All American FT Championship (WFTF PCP)
2016 2nd Place Southern Open (WFTF PCP)
2016 3rd Place Cajun Spring Classic (WFTF PCP)
2016 2nd Place Cajun Spring Classic (Open Pistol)
2015 1st Place AAFTA National Championships (Open Pistol)
2015 1st Place Cajun Spring Classic (Open Pistol)
2014 3rd Place Northeast Regional FT Championship (WFTF PCP)
2014 5th Place US Nationals (WFTF PCP)
2014 Pyramyd Air Cup Pro PCP Champion
2013 1st Place Northeast Regional FT Championship (Open PCP)
2013 TN State Champion
2013 2nd Place Good Old Boy's Grand Prix (Open PCP)