Let's go to an airgun show! (May 2007)
by Tom Gaylord
exclusively for PyramydAir.com. Copyright ©2007 All Rights Reserved
VIDEO!
At the end of this article, there's a short video showing snippets of the 2007 Little Rock Airgun Show. Mac users and most Windows users will find it works just by clicking on the play button. Don't forget to turn on your computer's sound!
One of the best places to put your hands on airguns is at an airgun show. The U.S. has several shows every year, and it seems like more are starting with each year that passes. One of the old-time veteran shows is held in Little Rock, Arkansas, on the last Friday and Saturday in April.
Themes
Every show has a theme or personality all its own. It may come from the types of guns that show up or the people who attend or some special event that occurs during the show. There is no way to know what the personality will be before the show starts, so you just have to attend to see for yourself.
This year, Little Rock had several themes going on. One was the incredible number of fine collectible Weihrauch, FWB, Walther and BSA rifles for sale. I saw a Weihrauch EL54 ether-injected rifle, a genuine HW55T Tyrolean, several FWB 124s and a scarce 127 (the .22 caliber version), a host of Walther 55s and several BSA underlevers from the 1906-1922 timeframe. Most of the newer models were in excellent or even like-new condition. A Westley Richards Highest Possible pistol, which is seldom seen at one of these shows, was spotted, and the Titan pistol (in a box!) is never seen...til now. Finally, there were some very nice early Webley pistols and one nice Mark II Service rifle.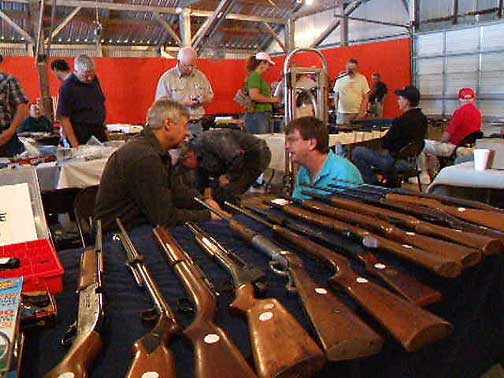 Airgun collector and author Larry Hannusch (seated center left) discusses his hobby with another enthusiast.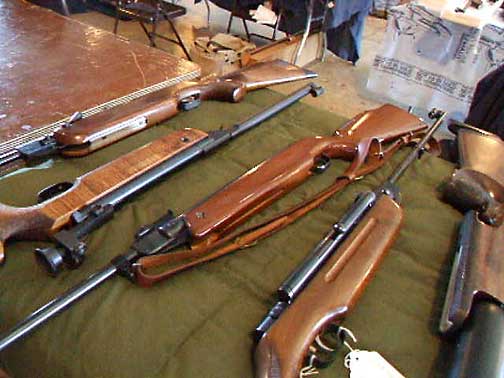 Weihrauch EL54 (right of center) is an ether-injected spring rifle that boosted power through controlled detonation. It was said to reach 1,000 f.p.s. with a 15.3-grain .22 caliber lead ball. Guns to the left are an FWB 127, a Walther LG55 and an HW55.
Big bores make a big splash this year
Another theme at this show was modern big bore air rifles. The personalities present were maker Dennis Quackenbush, customizer Big Bore Bob Dean, Eric Henderson of Bigbore Video Productions and big bore hunter/writer Randy Mitchell. With them were many big bore rifles made by Quackenbush, some of which were modified by Big Bore Bob. I came away with a new Quackenbush Long Action .457 Bandit that I plan to write about for the next several years! There were also several .308 and .50 caliber Quackenbush pistols that generate 100 foot-pounds of energy.
All-American inventors, Polish pistols & more!
Tim McMurray is always at this show. In addition to the wide array of gun parts and gas fittings he always brings were several of his USFT rifles. His friend Larry Durham, the gun's designer, showed a special variant of this unusual rifle that he converted to a multi-pump pneumatic! For several pump strokes, you're rewarded with several consistent 20 foot-pound shots, and Larry says many more are possible if he tunes the rifle to deliver 12 foot-pounds instead of 20. One real advantage is that this rifle retains the pressure gauge, so you know when to fill it. Since the air fill fitting is still present, you can also fill from a scuba tank. It's a rifle for any occasion.
There was a table selling Polish Predom-Lucznik target pistols. For $65, you could buy a gun valued at $350 in the latest Blue Book of Airguns. And, other Luczniks were found on tables throughout the room.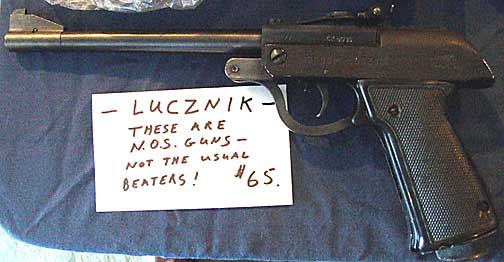 There were several of the Polish Walther LP53 look-alikes at this show. The price was reasonable.
D&B Sales had a table full of AirForce guns set up with Levell frame extenders to quiet even the Condor. Your choices for accessories were broader than just the stock AirForce lineup, but they seemed to have all the most popular accessories.
The final theme at this show was an inordinately large number of brand-new airguns. Little Rock has been known for its collectibles and big bores in the past, not for its new guns, but this show had them. There were many Beeman rifles and several Korean rifles of varying calibers, plus there were many modern air pistols. Ingvar Alm had a rack of precharged rifles made by FX Airguns. Throughout the hall there were air rifles that were either brand new or slightly used in like-new condition. Even some brands that you don't often see, such as Daystate, were there.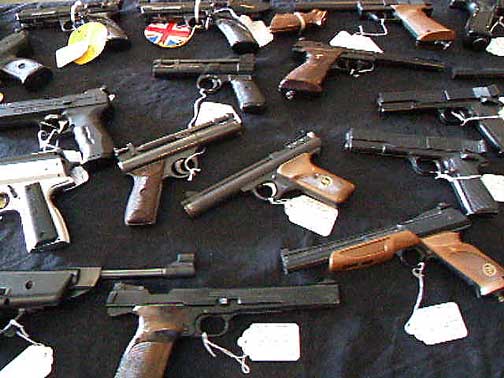 Among these modern but vintage air pistols is an S&W 78G or 79G (bottom center) and a couple of nice older Webleys (above center).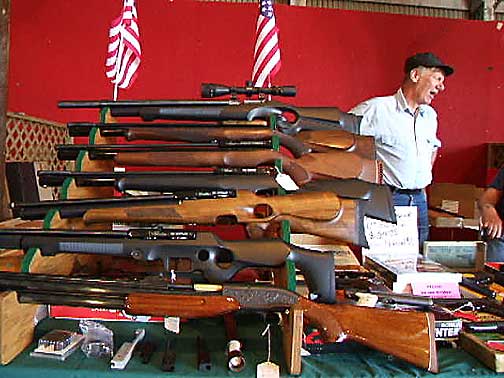 Ingvar Alm displayed this rack of Swedish FX rifles. Career 9mm at the bottom. Dennis Quackenbush chats with Alm in the background.
Buy the book
Doug Law had a table with all his vintage airgun publications. That's always a popular table because, after reading about them, you often get the urge to own the same books the experts keep quoting in print.
What I didn't see this year was any extraordinary walk-ins. Last year, a local doctor decided to sell all his like-new air rifles for exactly what he had paid for them. If he bought them 20 years earlier, like the RWS/Diana 50 underlever he sold, you got a chance to buy obsolete guns in their original boxes at 1980 prices. But, this year, I saw nothing like that.
I also had the chance to speak with a number of fine people at this show. One pair of shooters had been to the local range the day before with their Talon and Talon SS. They were shooting at 100 yards and getting super groups (less than 4" as I recall) but the thing that most impressed them was the fact that the Talon SS with an optional 24" .22 caliber barrel was shooting through the 3/8" plywood target board! He thought he was underpowered because his .22 was shooting JSB 15.8-grain domes at 965 f.p.s., but that's in line with a Crosman Premier going out the tube at 1000 f.p.s. They were concerned because the gun is rated to 45 foot-pounds with this barrel, but they didn't understand that this number was related to shooting 28-grain Eun Jins, which are a lot more powerful.
Hunting buffalo with an airgun
On Friday evening, I had the opportunity to view the raw footage of Eric Henderson's latest hunt in which a bison was taken by Las Vegas resident Stephan Boles. Like his other hunting films, this one walks you though several stalks with different hunters and different exotic game, but the 2,000-lb. buffalo is hands-down the largest animal taken. Boles uses a powerful Quackenbush Bandit Long Action, firing a special 510-grain lead slug to take his trophy. The guide tells Bole that the air rifle has killed the bison as fast or even faster than many centerfire rifles he's seen. This will be a great video when it comes out!
You don't know what you're missing!
Alas, all good times come to an end, and this show finally ran its course. I wish it had gone longer, but that's the embodiment of the saying, "Always leave 'em wanting more." There will be other shows, and I will try to make as many of them as possible. Airgun shows are a treat for airgunners, because they make the pages of those musty airgun books come to life. You owe it to yourself to attend at least one good show to see what you've been missing.
Click the play button below the video to start it. Make sure your speakers are turned on!