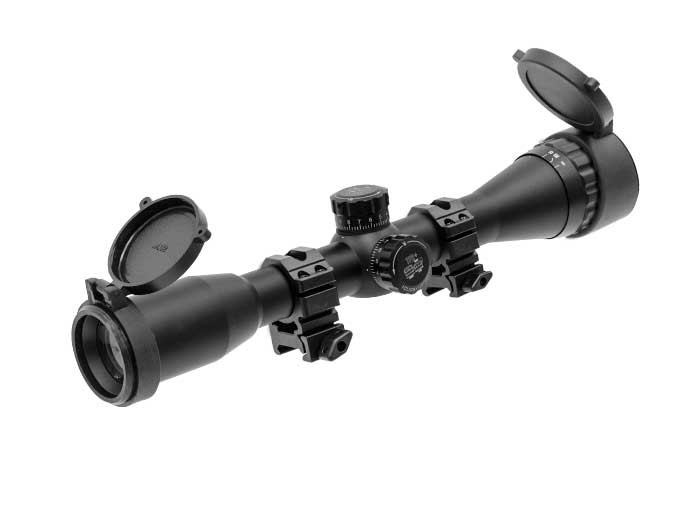 Create an online review   and share your thoughts with other customers
The most helpful favorable review
0 of 0 people found the following review helpful:
By Garrett from USA on 2018-01-22 21:22:22
Things I liked: Really solid construction. it has survived 150 shots on my hatsan 135 carnivore vortex in .30 cal. No problems. It comes with 22mm scope mounts with set screws in them to stop scope creep. so i didnt need to use the hatsan supplied scope stop. I can range find by using the AO. I start at infinity and adjust down until the target is in focus and that is the approximate range. The mil dots work great and i can use them for ranging as well. I zeroed for 25 yards and then shot closer and farther away noting the drop and corresponding mil dots for my range card. All i do now is adjust the AO to focus on the target. Check the AO range number, compare that to my card and i get the drop in mil dots to hold. Real easy. Glass is very clear with a sharp focus. Easy to adjust and lock with zero reset is easy to use. Well worth the money if you can live without options that need batteries.
Things I would have changed: Fix the flip up lens cover to the tube and not on the AO. When i rotate the AO the cover rotates with it. I use the AO a lot to range find and the flip up cover gets in the way with that. Add a rod or bolt to the AO so i can turn it while looking through the scope while aiming rifle.
What others should know: Comes with scope stop set screws to stop scope creep. It is magnum springer rated. Mil dots and AO can be used for range finding.
The most helpful critical review
0 of 0 people found the following review helpful:
By Shawn from USA on 2018-07-23 12:09:40
Things I liked: Nothing
Things I would have changed: Quality control
What others should know: The 1st one i ordered the windage turret wouldnt close right and the the reticle wire broke. I got an rma. This is the 2nd one of these i got and straight out of the box, the windage turret had the same issue. I will be returning for rma refund. Stay away from this scope. 2 bad scopes are enough for me, Im going to buy a different brand.