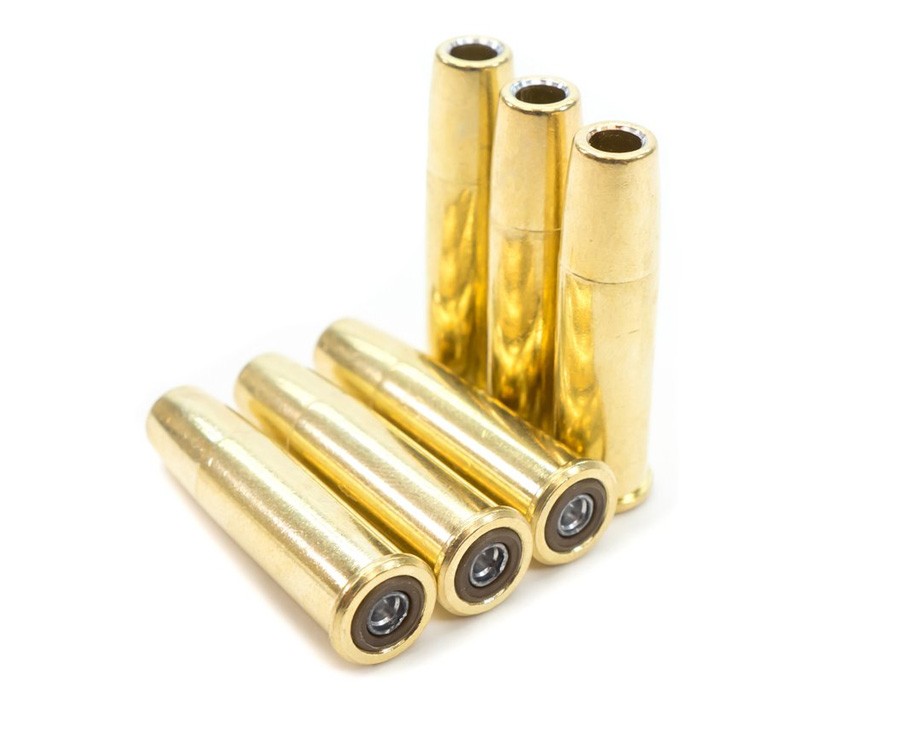 Create an online review   and share your thoughts with other customers
The most helpful favorable review
2 of 2 people found the following review helpful:
By Jed from USA on 2016-12-15 20:19:24
Things I liked: These shells fit both my Blued and Nickel Schofield 3 Revolvers perfectly and improve accuracy over BBs. Shells accept pellets easily and snugly. Easy to identify from my BB shells because there is no grey plastic tip. Also, these pellet shells load from the rear of the shell rather than the front like the BB shells. These pellet shells are a nice upgrade from the BB shells.
Things I would have changed: Nothing.
What others should know: Pellet shells I bought on Amazon (Black Ops Exterminator Pellet Revolver Shells), which some site claimed to fit the Schofield 3, did not fit. I suggest you only buy pellet shells for your Schofield 3 only from Pyramyd Air to ensure workability - and buy a lot of them! I further suggest purchasing 4 or more Webley MK IV (PY-A-5551) Speed Loaders and the Pellet Pen loader (PY-A-2934).
The most helpful critical review
1 of 1 people found the following review helpful:
By Jag-judge from USA on 2017-12-30 08:55:05
Things I liked: They fit and perform well in my Webley MK VI.
Things I would have changed: These cartridges lack a final touch of "replica realism" with the bullet ends not plated a dull silver to approximate the appearance of a .seated lead slug. This shortcoming is most apparent when they a placed in my bullet belt
What others should know: The plastic inserts at the back of the cartridge into which the pellet is placed are only secured by compression. If you drop a cartridge this insert may pop out. A small drop of superglue when it is re-inserted solves that problem from happening again.