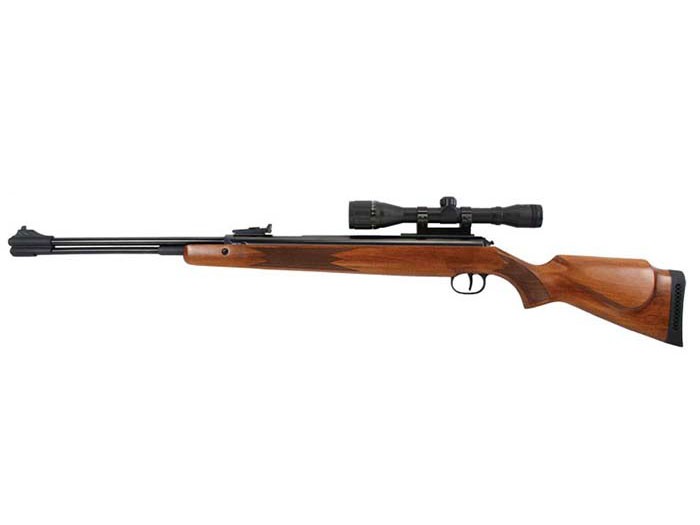 Create an online review   and share your thoughts with other customers
The most helpful favorable review
0 of 0 people found the following review helpful:
By Emmanuel from USA on 2007-09-18 21:00:29
Things I liked: I'm pretty new in the air gun world so this review can be seen as very subjective. I liked the overall look. The stock is much beautiful than the picture shows. A minor varnish defect on the inside right end of the cock lever tranche (don't know how to call that part of the stock). The rifle is comfortable, the cocking effort is acceptable and the power is there. Small recoil but nothing annoying. Accurate enough and very powerful for small game hunting (that's the reason I gave my wife to buy it !). We are invaded by squirrels and I already acquired a TF78 in .177 for this purpose. Good enough but you have to hit one shot in the kill zone to make it nice or you have to finish off on the ground which makes me uncomfortable. The RWS 460 in .22 added to its super power gives you more "flexibility".
Things I would have changed: I had some difficulties to sight the scope. Again I put that on my total lack of experience although the same operation on the TF78 was much easier. No problem what so ever with the front sight blocking the view from the scope. Maybe I missed a step here in which case I'd need some advise. For the price I guess I would have appreciated a better scope let's say at least a 4-6 range power or whatever. This also would have better served the power of this gun.
What others should know: Not enough experience to advise other airgunners but so far I'm very satisfied with my new acquisition. At least I look serious in my backyard !
The most helpful critical review
0 of 0 people found the following review helpful:
By thesurplsupros from USA on 2008-10-24 14:48:52
Things I liked: Beautiful gun.heavy ,well built.Accurate.
Things I would have changed: Should be easier to load.For someone with larger finger having to insert the pellet in the chamber can be a bit difficult.
What others should know: Gun ships with a hard plastic washer /seal where the barrel meets the air chamber .This is the junction where the pellet is inserted into the barrel.This plastic washer is a piece of crap.After about 50 shots gun will start to lose compression.The washer in my gun broke in half after a few shots.I also have another rifle of the same model I bought elsewhere.It has the same plastic seal and it also caused problems after short use.I solved the problem by finding a rubber washer of the same size and replacing it.Now the rifle shoots hard and accurate every time.I have already fired over a thousand shots with the rubber washer with no problems.