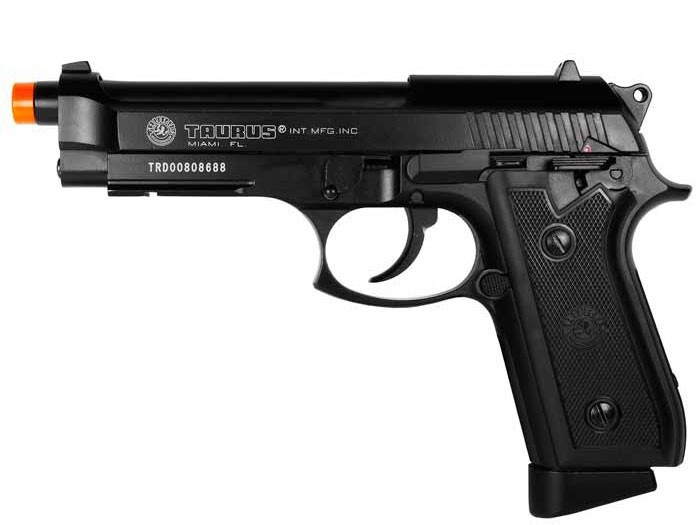 Add to Cart
Only 3 left in stock
Create an online review   and share your thoughts with other customers
The most helpful favorable review
1 of 1 people found the following review helpful:
By Ken from USA on 2014-02-24 11:21:47
Things I liked: This is a great pistol well made all metal. It functions like the real thing. The recoil of the slide makes it feel like your shooting the real thing. I is quite pwoerful so use caution if your gaming with it especially up close.
Things I would have changed: Could use some kind of a speed loader it would make reloading faster and easier.
What others should know: This gun does use a lot of CO2. In warm weather you'll get two clips out of a CO2 tube (approx 54 shots )The clip is a little difficult to load. I used a piece of aluminum arrow shaft cut to hold 27 BB's and plugged the bottom. Fill with bb's and hold it up against the loading port, that seemed to work pretty good. The bb's are staggered in the clip so it will take a little practice on how to hold the clip while loading to get the bb's to load right. I foud that straight up and down works best. Try one you won't regret it. The full auto mode is a real trip too. kw
The most helpful critical review
0 of 0 people found the following review helpful:
By Isaac from USA on 2013-12-02 16:04:41
Things I liked: The overall material gives the gun a realistic feel to it; especially when firing it as I felt as if I was shooting the real deal.
Things I would have changed: Where do I even begin. Even though the material is great on the gun there were however some problems with possibly just my model. The firing modes mainly is what I would eliminate and just make the gun semi automatic like its true counterpart. When I knew this was the key issue was when I went to fire it the one day and even though the gun was on semi it started firing full and quickly just jammed up and stopped working. I contacted Pyramyd Air right away and they were completely reasonable about the issue and gave me a full refund.
What others should know: All in all I wouldn't completely recommend this pistol unless you are capable of repairing your own guns based on the issues I just discussed above.