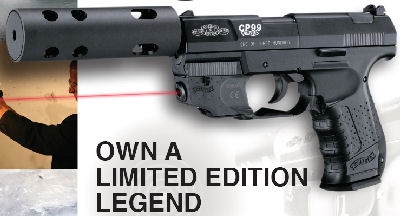 Average Customer Review
4.5
(3 reviews)
4 star

2 star

1 star
Create an online review   and share your thoughts with other customers
The most helpful favorable review
0 of 0 people found the following review helpful:
By chifan from USA on 2007-10-07 21:26:30
Things I liked: this is just a really cool piece. the metal cp99 base is nice and heavy. the single action makes the trigger much easier to pull and makes the whole experience that much more fun. the look with the compensator is great, and once the laser is adjusted, it can be dead on.
Things I would have changed: the threaded part of the compensator should be shorter to accommodate the shorter exposed thread length of the barrel. the compensator threads in perfectly on the cps nighthawk. the same goes for the metal barrel tip. there is just a bit too much writing on the gun. it needs to be toned down. right now it looks like a bill board. the windage adjustment is difficult to get to. the system on the cps model is much easier to adjust. white dots or tip on the sights would be helpful.
What others should know: i just cant stop shooting this thing. get lots of pellets and co2!
The most helpful critical review
0 of 0 people found the following review helpful:
By moose35kc from USA on 2007-08-18 00:15:42
Things I liked: The metal slide looks really nice and the trademarks make it stand out. The build quality is somewhat solid but the gun does rattle a bit if you shake it. The silencer makes it look really cool but it blocks the sights when using it. It is loud and the trigger pull is very crisp. Heavy weight materials used to it feels real weight.
Things I would have changed: Trigger is plastic it should be metal. The gun would be 10x better if it was blowback. The gun rattles when you shake it. The silencer sometimes goes crooked if you bend the gun a bit so you have to push the connector screw back in. The "polymer" used for the frame is very cheap and feels like your going to break it and especially for the expensive price of the gun. Feels like a children's toy.
What others should know: Good looks from far and even up close. Trigger pull is crisp. The power is not 360 fps, more like 300. Is feels heavy but also like a cheap toy at the same time. Fun to use in backyard or use as a movie prop or display piece.