The SHOT Show 2007: Pyramyd Air goes shopping! (February 2007)
by Tom Gaylord
Photos by Earl "Mac" McDonald
Exclusively for PyramydAir.com. Copyright (c)2007. All Rights Reserved.
Pyramyd Air attended the Shooting, Hunting and Outdoor Trade Shot (SHOT Show) in Orlando, Florida, January 9-12. This is one of the principal trade shows at which airguns are shown and sold to dealers and distributors. They were there to look at new products and to meet with their business partners from around the world.
Just before the show opened, the NRA held its annual Airgun Breakfast. This event is open to all airgun manufacturers, distributors, dealers, media and anyone who has an interest in the health of the airgun market in the U.S. The attendees are a Who's Who of the movers and shakers in the airgun world. This year, the NRA recognized Pyramyd Air for its large donations to the NRA Airgun Endowment Program in 2006.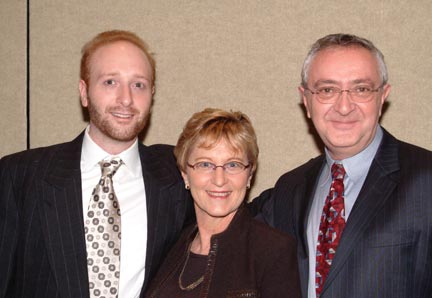 NRA President Sandra S. Froman congratulated Pyramyd Air owner Joshua Ungier (r) and his son, Gabe, for their generous contributions to the Airgun Program.
Mendoza
Pyramyd Air received lots of customer support for the Mendoza line they picked up when they purchased Airgun Express, so they met with Mendoza at the show and arranged to bring in nearly all of their models. The guns have changed since AGE imported them, plus they are now almost gone, so Mendoza showed their entire new model line. Pyramyd will add the new models gradually this year because there are several details to iron out, but watch the Mendoza line grow!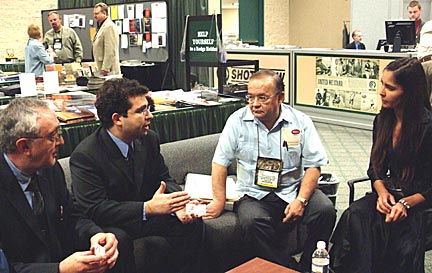 Mendoza officials discussed the expansion of the Mendoza line at Pyramyd Air.
They also will be bringing in the Mendoza peep sight, an affordable precision steel micro-adjustable sight that gives target shooters more choice in the future. Additionally, Pyramyd Air will stock Mendoza pellets. Mendoza has recently undertaken a factory-wide quality improvement program for their air rifles, and we were told what steps have already been accomplished. This line of airguns promises to be exciting this year.
Leapers
Leapers supplies many products to Pyramyd Air. I spent time in their booth looking at all the new scopes, mounts, tactical lights and lasers, MOLLE gear and airsoft guns they have. The list was overwhelming! There are new scopes and mounts coming out soon, and I will review them for you as soon as I get them. I already have a new 4x long-eye-relief scope (5" relief) that's used on sniper rifles. It makes mounting forward of the action much easier. Besides that one, Leapers will soon have a pistol scope that Pyramyd intends stocking.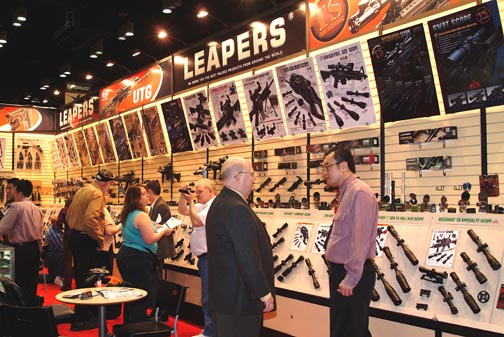 Leapers president David Ding gives me a tour of new products for 2007! All I can say is, this stuff will keep both me and B.B. Pelletier busy writing all year!

One outstanding new Leapers airsoft gun is an AEG M14 that retails for just $149.90. This UTG brand gun offers a ton of features for less than half what the high-end guns sell for. I'll be testing it for you.
Leapers also plans to manufacture an M4 AEG in Michigan! Their new gun will have a metal body, metal gears and gearbox, high-torque motor and all mil-spec stock parts and sights. And, the retail price will be remarkably low! Can't wait for that one.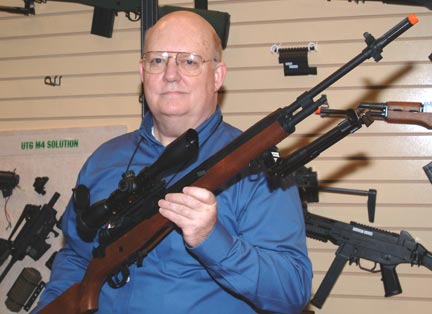 This M14 sniper rifle retails for less than $150 without the scope. That's hundreds less than other AEG M14s.
Daisy
Daisy has two new airsoft targets and a new shotgun shooting system with its own target. I got to shoot the shotgun in a special booth, and I also tried both new targets. One is a moving target that falls when hit and rests automatically. It moves faster the more you hit it and slower if you miss, until it finally stops. A hit starts it moving again.

The other target is an electronic scoring target with four games built in. One or two players can use the target for best score or timed competition.
The shotgun kit has its own flying target and launcher that the shooter controls with his foot. It doesn't fly high enough to lose in the yard, but it will be a challenge to hit.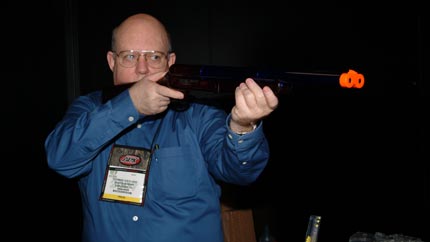 Double-barreled air shotgun fires BBs from both barrels with each pull of the trigger.
Beeman
Beeman showed several new guns, but one was a CO2 pistol that I believe is their first ever. It has a six-shot revolving clip hidden inside the flip-up slide.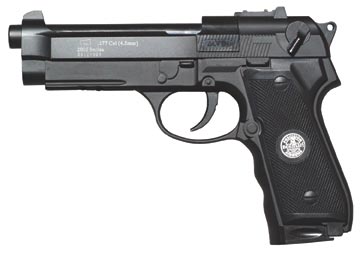 New CO2 pistol from Beeman is a six-shooter.
There will be other new guns from Beeman this year, but all the details were not worked out as this article went to press. Watch the website and, of course, the blog to stay informed.
Crosman
Crosman finished 2006 with the announcement of the Four Horsemen of the Airpocolypse, so we didn't expect a lot of additional new things at SHOT. But what about a BRAND NEW OPTICS DIVISION? CenterPoint Optics debuted at the SHOT Show with three lines of scopes for every pocketbook. I got a chance to test their new 8-32X56mm scope that's top-of-the-line and found that it will make a delightful field target scope.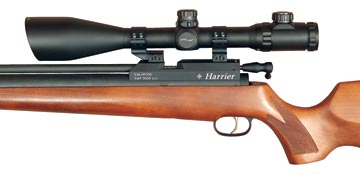 Big 8-32x56mm from CenterPoint will be perfect for field target.

I also saw a new Benjamin high-power breakbarrel that was under development. Expect it some time later this year. Look for .177 velocities in the high 1100s. We can only hope there's a .22 coming, as well. The final cosmetics were still in flux so I didn't take pictures, but it will be a large, attractive adult air rifle.

Crosman also introduced four new pellets. Two are lead and the other two are Crosman's first non-lead pellets. One of the lead pellets is a super hollowpoint they call the Destroyer. It transfers maximum energy to the target, plus good penetration - something other hollowpoints cannot say.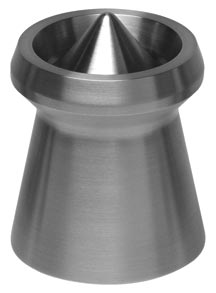 New Crosman Destroyer pellet is a new type of hollowpoint pellet. The open lip folds back during penetration, transferring energy to the target and turning into a delta shape for greater penetration.
Air Arms
Joshua and I made it to the Air Arms booth on the last day of the show. There we saw the new style of checkering that will be coming on the TX200 MkIII. It's attractive and I think better looking than what is on the rifle now.

The big news was the new Alfa Air pistol. If you're looking for a 10-meter target pistol, Air Arms has converted the Alfa CO2 pistol to operate on air. It looks a lot like the current Alfa model, except for the shape of the fill port at the bottom of the grip. I would expect it to retail for a very good price for a PCP.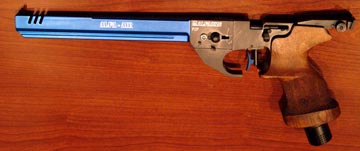 The Alfa target pistol now runs on air. It should be priced very nicely. Watch for it!
Air Arms also showed a new field target rifle that sells for less than their EV2. The MPR400 FT is a PCP in the 400-series line, sitting in a beautiful field target stock. I know it has already been released in the UK, but the U.S. version will be out later this year.


Air Arms MPR400 FT is a new field target version of the 400 sporter rifle but set up for field target. It's a big savings over the Air Arms EV2.
Umarex USA
In 2006, Umarex set up Umarex USA in Ft. Smith, Arkansas, to represent the German manufacturer in this country. They also became the RWS USA distributor, moving that operation from New Jersey to Ft. Smith, as well. Now, Umarex, which includes Walther, Colt, Smith & Wesson, and Beretta sporting airguns, will be imported and distributed from one central location. Ditto for RWS Diana. It means faster response to customer needs for repairs, spare parts and information, plus a U.S. viewpoint of the airgun market.
Umarex USA had an exciting new semiautomatic pellet rifle called the CX4 Storm. It looks tactical and sports a revolutionary new 30-shot enclosed-belt magazine, similar in design to the Anics A3000 Skif pistol. Where the Skif has a stiff trigger because of its magazine, this new gun operates very smoothly.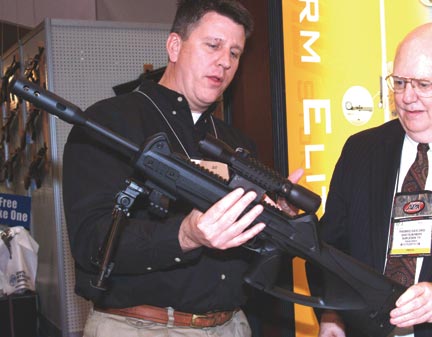 Umarex USA President Adam Blaylock tells the virtues of his latest air rifle, the Beretta CX4 Storm.
Xisico
Over at the Xisico booth, we encountered a spring rifle that is entirely new. It has magnum power and velocities over 1,100 f.p.s. in .177, but it's relatively lightweight and even easy to cock! Despite the light weight, though, this is a very large air rifle - entirely suited to adult shooters. I can't wait to test one!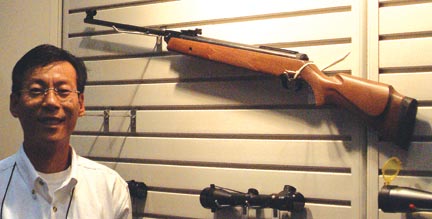 John Ye from Xisico proudly displays his company's latest creation, the XS B28.
Shanghai Air Guns
The last booth we stopped at was the Shanghai booth. This year they displayed a number of new upscale spring guns that Pyramyd Air has decided to stock. These rifles have impressive looks and quality, and should prove to be a great addition to the Pyramyd Air lineup.


The QB-18 from Shanghai is a good, light adult or youth rifle. It has looks, features and a great price!
For four days, we walked our feet sore, wandering through almost 700,000 square feet of booths and commercial space as we talked to hundreds of vendors and looked at thousands of products. We saw much more than this report can detail, so the coming year should prove to be a good one at Pyramyd Air.