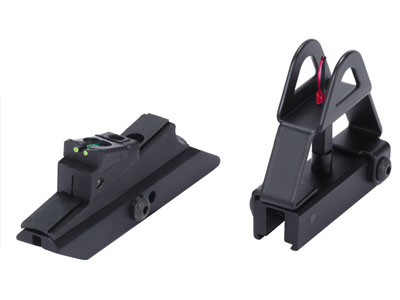 Create an online review   and share your thoughts with other customers
The most helpful favorable review
2 of 2 people found the following review helpful:
By Scott from USA on 2011-06-03 20:19:55
Things I liked: easy to install. accurate
What others should know: if you need reading glasses you may not be able to put the rear sight far enough forward on the talon or talonss ,it should be fine on the condor
The most helpful critical review
0 of 0 people found the following review helpful:
By Joel from USA on 2017-07-30 14:12:54
Things I liked: Front sight seems solid and looks good. Bright.
Things I would have changed: The rear sight is worse than a block of tape with a notch cut in it. No kidding.
What others should know: I got home from the shop with my new Escape SS and the shop placed these sights on the rifle. I removed the rifle from the car and the rear sight plate and fiber optic was missing. Found it in the car. Just fell off like a loose Lego. The fiber optic had been cut in two by its lock screw. Glued the plate back on and found the left/right slide would move easily with slightest touch. Found same for elevation platform. Just a slight push and the sights were completely off. Will not lock down. Then the sight plate fell off again. Take the spouse to a nice dinner and movie. It's money better spent there. I'm not buying any Airforce accessories again. Decent rifle. But now the quality has been severely put to question by this accessory.