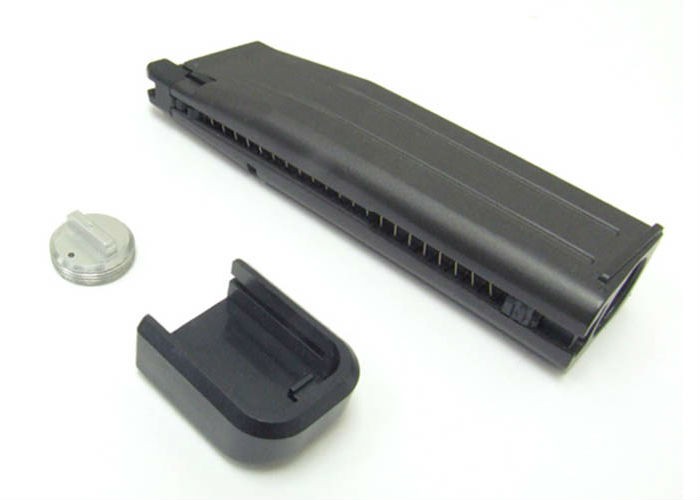 Create an online review   and share your thoughts with other customers
The most helpful favorable review
0 of 0 people found the following review helpful:
By Terry from USA on 2015-08-30 09:32:04
Things I liked: I ordered two of these as extras for the Black Ops 1911 I just ordered. They arrived in excellent condition, and fit perfectly.
Things I would have changed: Perhaps make them a higher capacity?
The most helpful critical review
0 of 0 people found the following review helpful:
By Carl from USA on 2016-03-13 12:18:27
Things I liked: Overall construction and quality is good as is capacity so early failure I have experienced is a suprise
Things I would have changed: Locking of the magazine into the gun is not very positive and the magazine tends to fall out with the slightest touch of the magazine release. Feeder at top of magazine follower is very low quality and mine broke while putting in bb's in first few hours. No replacement parts available so $20.00 plus shipping up in smoke for a new one or shipping charges if they decide to replace under warranty.
What others should know: The performance of the gun that this magazine goes with is excellent but the feeder is weak and needs to be made from metal or better quality plastic to live up to the rest of the engineering in this airsoft gun. Best would be a minor redesign that would allow for this part to be replaced by the user with purchase of spare parts. I recommend you purchase at least 1 spare magazine with this airsoft gun so as not to ruin a day at the range/park due to a broken feeder.