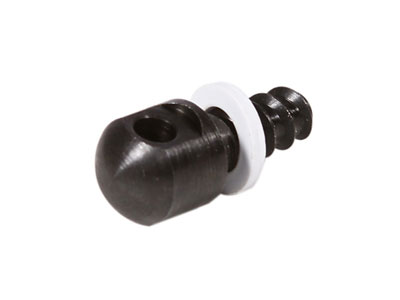 Average Customer Review
5.0
(6 reviews)
4 star

3 star

2 star

1 star
Create an online review   and share your thoughts with other customers
The most helpful favorable review
2 of 2 people found the following review helpful:
By richard from USA on 2012-05-09 11:50:23
Things I liked: I own four rifle w/four bipods all held in place by four of these little guys.They work perfect.Easy to instal.
Things I would have changed: Get rid of pointed tip.Add install instructions.
What others should know: Here is a few tips.Always drill a hole to reduce chances of spliting your stock most are about half the price of your rifle.The drill bit should be as wide as the solid shaft of the screw-Not the threads.There would be no wood left for them to grab on to.Be sure you don't drill into a pcp air tank.Big,Big trouble.If in doubt file down the pointed tip of the stud-you don't need it anyway.Always put a bit of grease-oil- or vasaline on the screw to reduse friction,stocks are expensive to replace.Always drill at least 2 inches from the end of your stock so you don't split it.There not cheap you know.If your stock is old or if you think the wood is to dry(could be from storeing it in an attic that gets very hot,or other reason).After drilling hole invert the gun and stabilize it like between to stacks of books or something.Fill the hole w/ water and wait about 60min for this to soften the wood a little before screwing in your lubricated swivel stud so your stock dosn't split.This might sounds like a lot of work but did I mention that stocks are expensive.Ya,I guess I did.Good luck it really isn't that tough.
The most helpful critical review
0 of 0 people found the following review helpful:
By Bill from USA on 2013-03-15 06:31:53
Things I liked: Easy to install and worked as advertise!
Things I would have changed: Nothing
What others should know: Take your time on placing, make sure it is centered and square to the stock.