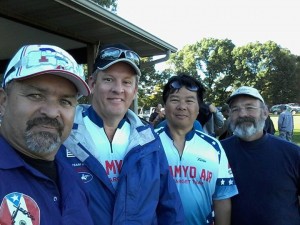 The AAFTA 2016 Field Target National Match was held in Mattawan, MI at the Southern Michigan Gun Club.  The match was held October 7-9, 2016 so the weather was starting to really cool off.  That was good as we have experienced almost a record number of days at over 90F here in my hometown of Nashville, Tennessee.   The 2016 National match drew a really good attendance of over 100 shooters from all over the USA, Puerto Rico and Venezuela!  This is an awesome sign of growth in the sport and certainly brought in some great competitors from around the globe.
The sight in day was scheduled to start on Friday October 7, 2016.  It was certainly a busy day for our hosts as they were still setting courses when competitors were arriving.  According to the Match Director, Chris Martin, unfortunately some of his key assistants cancelled at the last minute.  That can really put a lot of undue stress on a match director and I'm sure this was no exception.  However, things moved forward and AAFTA Governors along with Brad Troyer and others stepped up and assisted Chris in making this a memorable event.
The gun club is located in a beautiful country setting.  There were sections of open fields, some wooded areas and some darn tricky winds!  I think all of the participating competitors will agree they found the course to be very challenging at times.   This is truly evident when referencing the final scores as there was no one that came close to clearing the course.  However, in the end, one guy stood out as the Overall National Champion and he truly deserves the title!
I had planned to drive up to Michigan on Thursday, October 6, but had a scheduling conflict and had to wait until the morning of October 7.   My wife and I left Nashville about 4:30 AM and traveled to Mattawan.  We had a great trip up and arrived about 8 hours later.   Since the sight in range was scheduled to close at 4:00 PM and I had lost an hour due to the time change, I went straight to the sight in area to check my rifle.  Fortunately, within a few minutes and a few shots I was confident that everything was spot on.   We had a few minutes afterward to visit with old friends and catch up a bit.  That's always a highlight of any match to me and given my lack of field target practice as of late, it's probably more my purpose of attending matches, since my shooting is somewhat suspect some days…
I did not participate in the pistol match on Friday, but understand it was a great event.  There were lots of very close scores and even a couple of ties to resolve.  Tyler Patner, once again borrowed a pistol and went on to shame the owner a bit…  (sorry Chris)   Talk about wearing out your welcome!  🙂   I really don't know what the pistol crowd is going to do if Tyler actually buys his own pistol and practices more than 5 minutes prior to a match.  At any rate, my congratulations to all of the pistol winners!
I started my day early on Saturday so as to get to the sight in range prior the match.   We arrived at the range before the gates were open and frankly, before the sun had risen.  At least I was on time.  Once I had time to sight in, I was satisfied with my Steyr / Leupold Competition 35x combination.   It was shooting spot on and all of the settings were still exactly where I had left them from our trip to Portugal for the World Field Target Match in August.  It's always comforting to arrive at a venue and find that everything is working as it should.  My wife equates traveling with air rifles to traveling with an elderly grandparent.  They always seem to be getting too hot, too cold, grumpy and disagreeable.  I think we can all relate!
The first match on Saturday got underway with quick shooters meeting.  There were two separate courses and the competitors were separated, primarily by division.  However, a few competitors were not on the same course as their division due to the need to allocate the squadding appropriately.
I started on the "lower course" which was furthest into the property from the entrance point.  I had the pleasure of shooting with Ray Apelles and Chris Berry.  Ray was shooting WFTF Piston and Chris was shooting Open.  I was shooting WFTF with my Steyr.  It was interesting to shoot with these guys as they are both fantastic shooters.  Ray has a very unique spring piston rifle that he built himself.  If I am not mistaken, the rifle has an electronic trigger and many other really cool features that Ray designed into the gun.  Based on his score on Saturday, it is definitely a shooter too!   Chris was shooting his new Thomas rifle in Open.  I found it to be a cool rifle with some really good ergonomics.   Chris also shot very well on Saturday.
We started on Lane 11 with a couple of long distance targets, near or beyond 50 yards.  I volunteered to go first, primarily because I can miss in any order…   I was fortunate enough to take down all four.  Ray Apelles also took down all four targets with his piston rifle.  Chris had a slight bobble and missed one, but he soon warmed up and shot well throughout the day.
Fortunately on our start lane, the wind was minimal.  We had a tree barrier on the right and a line of low growth brush on the left.   However, as we moved along the course, the wind became more and more of an issue.  Within an hour or so of the start, the wind was all out howling!  Quite a few of the lanes were in open, unprotected areas.  These were particularly difficult.  Also, we found quite a few kz sizes that bordered on or went right up to the AAFTA limit, so those were not only expert level, but were a down right lottery in the wind.   I know the piston and WFTF shooters found these to be particularly frustrating at times.  However, those separate the field and everyone had the same target difficulty to shoot.
As the day progressed, Ray shot very well with his custom Diana piston rifle.  I was quite amazed to see some of the very small kz targets that he hit with regular consistency.  Chris was shooting JSB Monster pellets so he was dealing with the wind pretty well in most cases.  His performance was admirable and he finished with a respectable score as well.
This season has been particularly challenging for me due to work and other distractions.  I have not found the time to adequately practice field target, especially my forced positions.  Those, once again were my weakness at this match.  I dropped two offhand and two kneelers on day one.  Those were very disappointing losses since I used to do pretty well on my discipline shots.  Unfortunately, for me they require more practice than I've had time to devote, so I'll have to go back to the drawing board and prepare better for the 2017 season.
Unfortunately, there were a few target malfunctions on day one.  It's hard to say exactly what created the target issues, but either way the targets were tested and eliminated as a problem was discovered.  Later the score cards were examined by the local match officials and verified by the AAFTA Governors to assure fairness in scoring.
Overall, day one was both challenging and enjoyable.  I finished with 54, which I was both disappointed with and in some ways happy with.  Given the discipline shots I missed, I could count my blessings for taking down some very difficult shots in the wind on seated lanes.  I guess it's a wash in the end.
I enjoyed shooting with my lane partners.  We also had some really good shooters close by and it was a lot of fun being able to talk with them in-between lanes.  Ken Hughes, Doug Vinson, Tyler Patner and Greg Sauve were all a lane or two away.  They all had a very strong day on Saturday, so my work was definitely cut out for me to stay in the running on day two.
After the match we all enjoyed a great lunch under the trees near the sight in area.   The AAFTA auction was an exciting event as always.  Brad Troyer, the dedicated AAFTA auctioneer did a fine job of bringing in the bids.  At the end of the day lots of cool airgun items were sold all to the benefit of keeping the organization running for another season.
The AAFTA annual meeting was held at the end of the day.  Attendance was moderate as most folks were very tired by that point.  Scott Allen presented the treasurers report and Doug Vinson addressed particular club issues as they relate to AAFTA.  Once the meeting was adjourned, I was quickly on my way to the hotel for a shower and some rest.  I find match days to be exhausting and with the addition of events, my steam runs out pretty early.
Day two started early, just as day one had.  I arrived at the gun club just before daylight to find a line of eager shooters waiting for the gates to open.  After 15 or so minutes we were all allowed to enter the facility grounds and get the ball rolling for the last match day.  Once again, I quickly checked my rifle and found it to be ready to go.  After a few warm up shots, I changed to a full air cylinder and prepared my gear for the day.
I started day two on a "hospitality" lane, or in other words, I was in time-out waiting on a lane to shoot.  The large number of competitors created a need for a couple of "dead" lanes so as to not have too many competitors on the lanes together.  This worked out just fine.  I had some good folks to talk to while waiting and met some new shooters that I did not know.  My lane partners of the day were Gerald Long and Kevin Yee.  Both of these guys were a pleasure to shoot with and my day went pretty well overall.
Once we finally got to a lane, I again volunteered to miss… I mean go first.  Unfortunately, I did miss one on my first lane.  It went just a bit low and split at 6 o'clock on the rim of the kz.   Gerald was shooting a beautiful TX200 with a Gary Cane stock.  He had no problem on the first lane and was off to a good start.  Gerald was shooting WFTF Piston division and was quite impressive to watch!
Kevin was shooting his EV2 with a March scope and had a few issues as we got started.  He was knocking down his fair share of targets, but then begin to miss.  The rifle also sounded a bit louder.  Unfortunately, this occurred only about three lanes into the match.  Kevin soon learned that he was low of air.  Problem was, he had just filled the gun right before starting to shoot.   Yep, you guessed it, he had a leaking air rifle.    Kevin was quick to respond and refilled his gun often during the match.  That of course was a guessing game that seemed to cause Kevin problems through out the day.
Once again, on day two I dropped some shots on my offhand lane, but dropped both tiny kz kneelers.  Yet again, I felt the punishment of a lack of practice at home during the 2016 season.   At the end of the day I finished with a 58.   Not a bad run, but definitely not good enough for a win.  My total for the match was 112.
At the end of the day, all of the score cards were turned in and all of the scores were double checked by both the local match officials and the AAFTA Governors for accuracy.  There were a number of shoot offs required due to tied scores.  I ended up tied for second place WFTF with the reigning National Champion, Ken Hughes.   Ken had shot very consistently through out the match and in the end finished well.  We had some lunch and went on to a sudden-death shoot off in an open field near the sight in range.
My buddy and fellow Pyramid Air Team mate Greg Sauve was the big winner of the match.  Greg turned in an amazing 119 to win both WFTF and the overall match top score!  Way to go Greg!   I say it couldn't have been earned by a better fellow!!
A few of the other guys started their shoot offs before Ken and I did.   Mike Niksch and Jim Stanis had an exciting shoot off for Open PCP and ultimately Mike took home the win.  Likewise, Bob Dye and Phil Eakley had an interesting and highly competitive shoot off.  Ultimately Phil prevailed taking 4th in Hunter PCP.  A three way tie resulted occurred between Will Piatt, Jim Whittlesey and Vlad Berchanski.  Ultimately Vlad took 4th, Will took 5th and Jim 6th.  I must add that they had to go several rounds with the one inch kz target ending up at around 52 yards.  Fantastic shooting guys!
Ken and I settled in for our shoot off with a 1" kz target set out for the first round at about 41 yards, give or take a bit.  I ranged it and waited while Ken took the first shot.  Unfortunately, Ken missed just a bit to one side, probably due to a cross wind.  I steadied up planted my reticle just outside the kz and took the shot.  The target fell and the shoot off was over.  I took 2nd Place WFTF and Ken took 3rd.  Overall I was pleased to have ended up with a decent finish especially considering the quality of the WFTF field of competition.
We finished up the day with an awards ceremony and lots of cheering for the top finishers.  Overall our weekend was filled with fun, laughter and good times with old friends.  I left having enjoyed the weekend immensely.   Incidentally, I went into the weekend feeling great.  After months of waiting, I received my results (on Friday before the match) from having taken the Tennessee Bar examination for admission as an Attorney, and I passed.  So, bottom line, I could have finished dead last and still had a smile on my face at the end of the match.  🙂
(See http://www.AAFTA.org for a full list of match scores and equipment used)