The 2016 California State Field Target Championship match was held under near perfect weather conditions. As a precursor to the upcoming match, a few of us gathered Friday evening at the range for a BBQ and socializing. The next morning started cool but warmed up with some humidity and moderate winds. The course was a 13 lane, 52 shot arrangement. I was squaded with Mark Woss shooting a stock Benjamin Marauder in Open Division. Mark shoots silhouette matches regularly but also likes to attend an occasional field target match.
I had decided to shoot in the Hunter Piston class as that is where most of the SoCal springer competition is these days. I used my QB58 topped with a UTG 6-24×50 scope turned down to 12x. Jeff Carmello (he loves the competition) was also shooting Hunter Piston. He would be shooting his 12fpe Diana 54 which he has used for some impressive springer wins lately. I missed a few targets that I should have hit. I was readjusting to the 12x shooting where the far targets look ever so small. I missed too many positionals, and close ones that I felt I should have hit. I also missed a few long ones because of stronger winds than I wanted to deal with. I got a little more aggressive with the wind hold off and hit a tough 50+ yard target and then cleaned my last lane. It felt good to end the day on a high note. I had a decent first day, hitting 35/52. I was happy with the score as Jeff also had a 35 for the day.
After the shoot, we had a catered taco lunch. The food was good and there was plenty. That afternoon, some of us participated in a side shoot that was setup by Hector Alfaro. The winner was to get $80. We would be shooting 5 shots at a row of 3/4″ lollipops at 55 yards, offhand. I missed them all as did most others. But two shooters, Russ Cronk, and Carlos Eglesias, each hit two and decided to split the winnings.
Sunday was predicted to be cooler and it was. The overcast conditions made for very comfortable temperatures, and the winds were very light. I was squaded with Jason Howard, also shooting Hunter Piston. Jeff 's squad was one lane ahead of us so we kept tabs on each others scores throughout the match. With three lanes to go, I knew that Jeff was ahead by one. But I moved ahead after missing only one long shot on the next two lanes. Jeff and I both cleaned our last lanes. Jeff ended the day with a 33, and I ended up with another 35 for the win in Hunter Piston.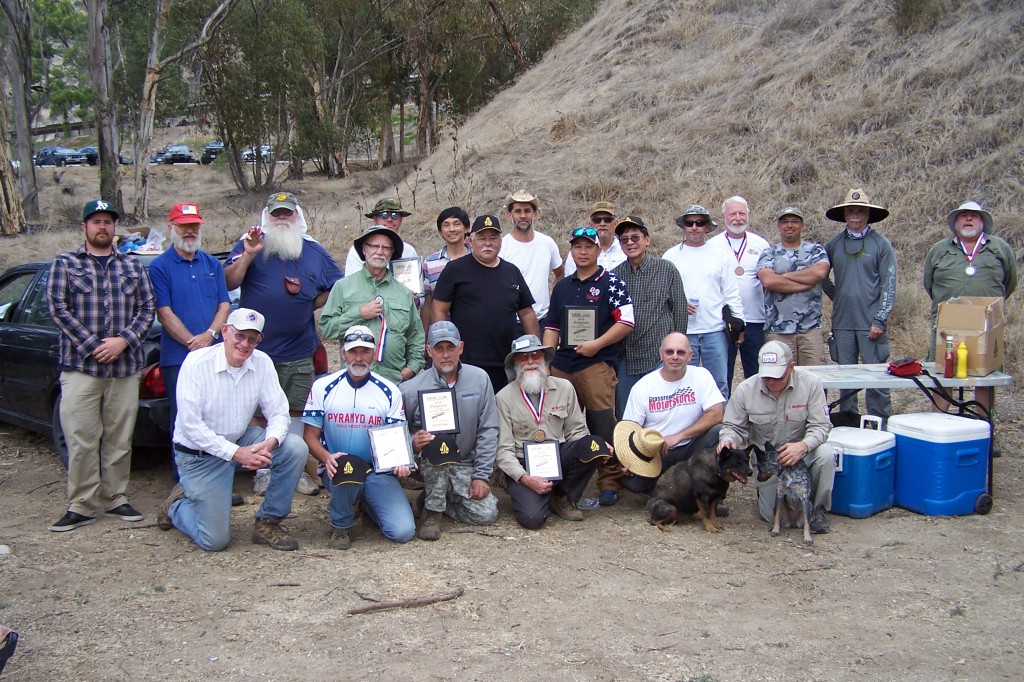 Everyone gathered for lunch and awards, followed by a drawing for a scope donated by UTG. It was a fun match. I plan on sticking with Hunter Piston for most of my 2017 field target matches.