Sheridan Blue Streak combo (May 2008)
by Rick Eustler
Copyright PyramydAir.com ©2008. All Rights Reserved.

There are only a handful of companies that have a more loyal following as the venerable Blue Streak (or Silver Streak), a .20 caliber, multi-pump pneumatic air rifle. Scoping this rifle has always been a challenge, but some people do enough hunting that a scoped gun is more useful. That's what drew me to this combo. It has a special intermount that's not only holds the mount and scope firmly in place, but it also raises the scope high enough so you can pump the gun without resorting to odd pumping positions to avoid touching or hitting the scope.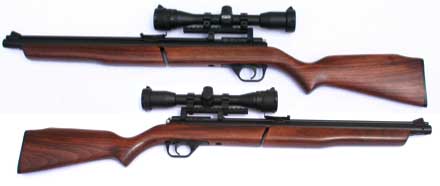 The Sheridan Blue Streak has traditional styling that has changed little over its 50 years. The Air Venturi intermount and Picatinny scope base make it easy to scope the gun without impeding the pumping action.
The Sheridan Blue Streak Combo consists of the air rifle, Air Venturi Intermount, a Leapers 4x32AO scope and a Plano rifle case. When I opened the case, I found that the techs over at PyramydAir had already mounted the Air Venturi Intermount and the Leapers 4x32 scope, leaving me with the simple job of sighting-in the rifle.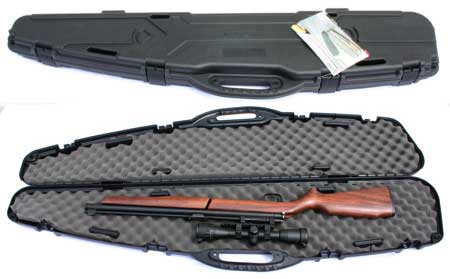 Pyramyd Air mounts the scope, slips the whole thing inside a Plano hard case and then the whole thing is shipped in a sturdy box. All I had to do was sight-in!
A light, compact air rifle
The Blue Streak is a smallish rifle that's quite light, even with the scope. The ambidextrous stock is beautiful, dark hardwood. It feels like an heirloom-quality rifle and is something that I'll hand down to my children.

This air rifle follows a very minimalist approach with a blade front sight and a very simple notch rear sight, which has windage and elevation adjustments. But, we're working with a scoped rifle, so the open sights won't really come into play for this review.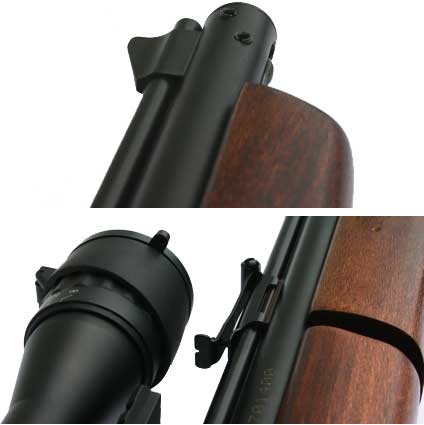 Blade front sight and fully adjustable rear sight can't be used with the scope mounted.
One of the really nice features on the Blue Streak Combo is the new Air Venturi Intermount. I was very impressed to see how well this whole system was constructed. While my air rifle came bundled with a Leapers 4x32AO scope, you can upgrade (for an additional cost) to any scope of your choice when you place your order.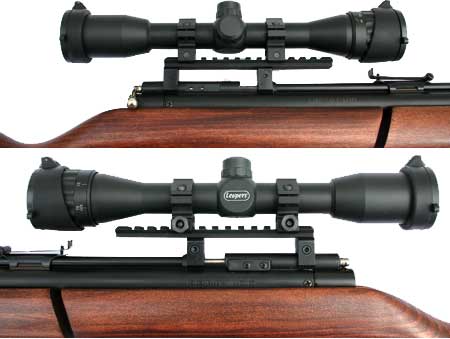 The Air Venturi intermount and Picatinny rail make it easy to pump this gun while scoped.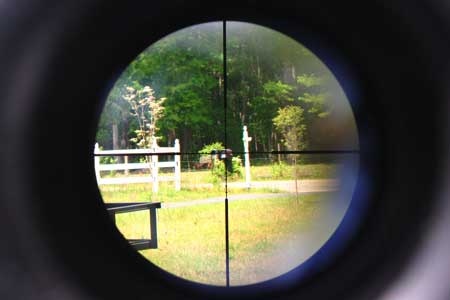 The Leapers scope has a mil-dot reticle, which is useful for estimating distance to your quarry.
The single-stage trigger on the Blue Streak is metal, has very little travel, breaks the same way every time and incorporates a manual crossbolt safety. It pulls a little harder than I would like, but it's adequate for a sporting air rifle. Because of the hard pull it was easy to pull or push the shot off target when shooting from a bench. This was less of an issue when shooting from the shoulder.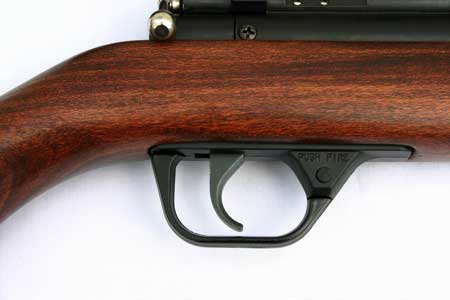 They've spared no expense - it has a metal trigger!
The Sheridan Blue Streak and ease-of-use?
Because this is a single-shot rifle, you have to pump up for each shot. One major benefit of a pneumatic air rifle is that you can pump it up and leave it ready to shoot for extended periods of time, a practice that will wear out most spring air rifles prematurely. Another huge benefit of a pneumatic rifle is the extremely light, if any, recoil, so hold and technique is much less of an issue. With the Blue Streak, it's literally point and shoot.

My only complaint about the Blue Streak is the amount of effort it takes to pump the rifle to maximum capacity. Pumps one to five are pretty easy, but pumps six, seven and eight get to be really tough. During my shooting tests I pumped the rifle eight times between shots. After a full day, I was literally exhausted. As a close-range hunting rifle, the Blue Streak excels; as a backyard plinker or all-day shooter, you'll have to go for a PCP or spring gun.

The .20 caliber pellet is supposed to have a bit more knock-down power than the .177, with a flatter trajectory than a .22. In testing this theory, I ran into a few issues. The lighter pellets (9.8 to 12 grains) didn't seem to be very accurate. As pellet weight increased, velocity decreased and so did the trajectory.


Testing the air gun's accuracy
The JSB Diabolo Exact was the best air gun pellet.
Weighing in at 13.5 grains, it fit nicely into my assumptions. It averaged 657 fps at the muzzle, generating 12.9 foot-pounds and 609 fps at 20 yards, putting 11.1 foot-pounds on the target. It was VERY accurate at 20 yards, consistently shooting 3/8" groups or less. If the rule of thumb is that it takes 6 foot-pounds to humanely dispatch a squirrel,
the Blue Streak can easily operate at 20 yards and beyond as long as you do your part with shot placement.
The
Leapers 4x32AO scope
makes that easy.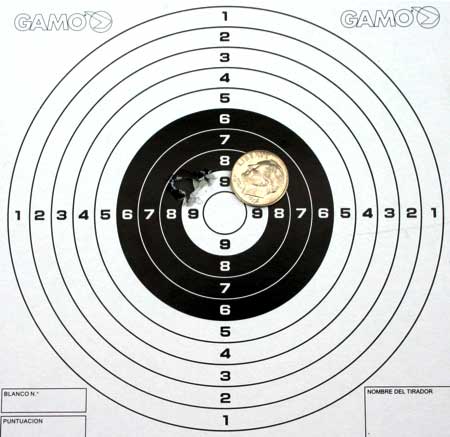 Beeman Kodiaks are definitely one of the best pellet choices for the Sheridan Blue Streak.
High: 657 fps; low: 648 fps; average: 652; spread: 9 fps.

JSB Diabolo Exacts delivered the most consistent groups.
High: 664 fps; low: 650 fps; average: 657; spread: 14 fps.
Other air gun pellets that deserve an honorable mention were Beeman Kodiaks, which had the second-best grouping of the day and produced 652 fps; Crosman Premiers, which posted our third best group and an average of 642 fps; and Benjamin Cylindrical pellets shooting 645 fps. The pellets that did not perform well were Beeman Field Target Specials, Beeman Crow-Magnums, Beeman H&N Match and Beeman Silver Bears. While this is not an exhaustive look at .20 caliber pellets, it's a very fair sampling of what you can find out there.
Bottom line: This air rifle is well worth the money
While the .20 caliber pellet may be a bit out of the norm, it certainly has a place when dispatching small game at close-to-medium ranges. The new Air Venturi Intermount is a wonderful addition to an legendary air rifle, giving the shooter the widest possible choice in optics to squeeze out every last bit of performance and accuracy.