.50-Caliber Dragon Slayer Air Rifle (December 2007)
by Tom Gaylord
Exclusively for PyramydAir.com. Copyright ©2007. All Rights Reserved.
At the end of this article, there's a heart-thumping video about the Dragon Slayer. Remember to turn on your computer's speakers, and then click the play button. Better hold on to your chair, cause you're in for a treat!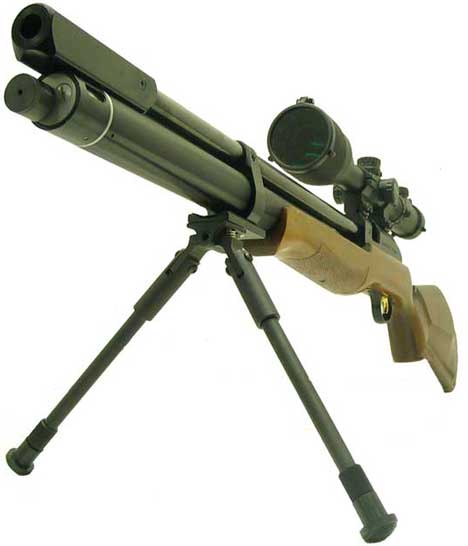 The Career Dragon Slayer is a lot of air rifle no matter how you look at it. Pyramyd Air has packed all the desirable features into this rifle, which can take medium-sized game and is a blast to shoot just for fun!
Who would buy a monster airgun like the Career Dragon Slayer from Shinsung? Better yet, who would use one? And, what in the world would they use it for?

These are all good questions that I hope to answer in this article. Let's begin with me asking you what's the most powerful smallbore air rifle you know of? Some may say it's the AirForce Condor with its 20 shots at 60+ foot-pounds. Others may say it's the AR-6 from Evanix, which develops as much as 75 foot-pounds on the first shot. Both are good answers. But what would you say to an air rifle that develops 190 foot-pounds? Sound crazy? Impossible? Not at all.
The Dragon Slayer from Pyramyd Air does, indeed, develop that much power. Furthermore, it's accurate enough to deliver five of its "pellets" (or bullets...I'll let you decide) in a tight cluster at 50 yards. The Dragon Slayer is a hunting rifle, but it's more than just that. Think of it as a science experiment or an exotic race car most of us can afford. Here's what I mean.
Once rare, big bores are now affordable
A century ago, big bore air rifles were in their prime. If not exactly common, at least they had been around for over three centuries and were well known to gunmakers around the world. The common man may not have even known they existed; a situation not unlike the present day. Those old big bores cost so much money in their day that they were far beyond the means of an ordinary man. They were the playthings of the very rich. That's changed dramatically!


An Austrian military Girandoni repeating air rifle model of 1780. This .47-caliber rifle holds 22 lead balls, which it can fire in about one minute. The air is stored in the butt. It was the assault rifle of its day!
Selling for just a little over $600 today, the Career Dragon Slayer is certainly not pocket change for most people, but if it were priced like the vintage air arms were, you might expect to pay $3,000 for one. That gives you some sense of how exclusive big bore airguns used to be. It's possible my comparison is even a little on the light side, because it does not convey the importance money had in the days when the vintage airguns were available. A dollar was a day's wage for many workmen, and many families got by on an income of less than $300 per year. So that $3,000 I just mentioned has to come from a man making the equivalent of perhaps $5,000 a year!
That puts the Dragon Slayer into good economic perspective. It's as affordable as anything else on which discretionary funds are spent today. Big boy toys. And what do you get for your investment? You get what money couldn't buy just 20 years ago. You get a .50- caliber, air-powered rifle.
Dragon Slayer is the offspring of the Career Dragon
I wrote an article about the Career Dragon in 2004. That rifle is the direct ancestor of today's Dragon Slayer. Much of the performance has remained the same as changes were made (bolt-action became sidelever and two reservoir tubes merged into one), but the styling of the newer rifle has altered the look, as well. I can't say the new gun looks softer, because it looks edgier, if anything. But, it functions a lot easier because of the sidelever cocking and because the single tube reservoir reduced the overall height. The edginess is something I believe most owners will like. After all, what's the fun of owning a radical airgun if no one knows it?
I tested the full-dress combo package
For this report I ordered the full-dress combo package, because Pyramyd Air sells more Dragon Slayers combos than the base rifle. I wanted to see the package exactly as you will receive it. Believe me, it's impressive!
The rifle comes with the scope and laser attached, as well as the bipod. It's all folded into a very nice hard case and, except for filling with air, it's ready to go right out of the box.
Top Leapers scope is already mounted
Pyramyd didn't skimp when it came to the scope, either. They mounted a 3-12x44mm Leapers scope with a 30mm tube. And when I say mounted, that's just what I mean. The scope comes on the gun, cinched down and ready to shoot. That's why the hard case they send is a double-gun case. There is nothing more to do. The scope has a red/green illuminated mil-dot reticle on the cutting edge of today's hunting scope technology.
The rifle also comes with a laser on an outrigger mount that extends to the left of the scope. The laser provides a separate zero for hunters who use lasers for close-in shots where they can see the laser dot on the animal and zero their scope for the longer shots.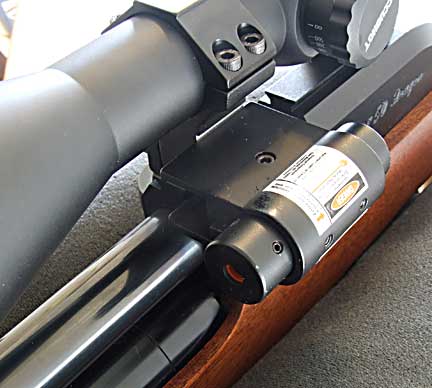 The laser hangs out to the left of the scope on a special outrigger mount. It gives you a second, closer aim point.
Two weights of .50-cal. bullets
I also ordered a box each of the 200-grain and the 225-grain "pellets" Pyramyd Air sells. I have seen the bullet swaging machine Pyramyd uses to create these "pellets," and it's impressive. The dies are made by Corbin, and the lead pre-forms are accurately cut to weight before swaging, so there is very little sprue. The high price of these projectiles reflects the time it takes to make each one by hand. The press is hydraulic with an electric pump but operated manually with a foot treadle. In the interest of safety, production speed remains slow.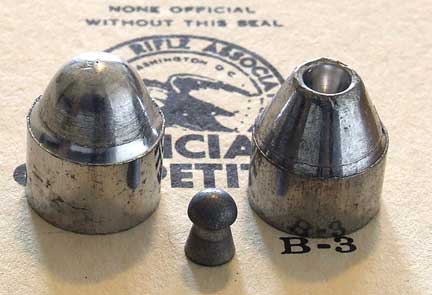 Round-nosed 225-grain bullet on the left, hollowpoint 200-grain on the right. Crosman .177 pellet is dwarfed by these two monsters.
I put quotes around the word pellets because these "pellets" are really bullets. They have all the design features of standard conical bullets, with the exception of a lubrication groove...there is none. They also lack all of the design features of diabolo pellets (wasp waist, hollow tail). Because they are pure lead (really pure, in this case) and because there is no heat from combustion upon firing, you can shoot them all day without fear of leading the bore. If they were hardened with antimony, you'd have to clean the lead from the bore after every session. Pure, soft lead does not leave deposits in a well-finished bore. And, is the Dragon-Slayer bore well-finished? You'll see the answer when you look at the opening frame of the video at the bottom of this page.
The 200-grain hollowpoint measures 0.547" in length, so the bullet is nearly as wide as it is long. The 225-grain round-nose bullet, at 0.596" long, is just a bit longer.
Speaking of bullets - cast your own!
You can always cast your own! The bore of the rifle I'm testing mikes 0.4982", so a 0.50" conical bullet weighing 180 to 200 grains would be about right. Cast them soft, at 40:1 lead/tin with no antimony, and forget lubricating.
Dragon Slayer's first trip to the range
The first trip to the range confirmed that the rifle had been zeroed by Pyramyd Air. At 50 yards, only a few clicks of adjustment were required to get in the black. I also confirmed something else. The rifle likes the lighter 200-grain pellet more than the longer 225-grain hollowpoint. At the relatively slow velocity (just over 600 f.p.s. for the rifle I tested) of the rifle, a shorter bullet stabilizes better and remains accurate over a longer distance.
Dragon Slayer is known for accuracy
Accuracy has always been the Dragon/Dragon Slayer's long suit. It plunks the bullets exactly where you want them, out to 50 yards and more. The Pyramyd Air bullets seem ideal for the rifling, which I measured at one turn in 16". Longer bullets will not stabilize properly, so keep that in mind when shopping for a mold or when having one made to your specifications.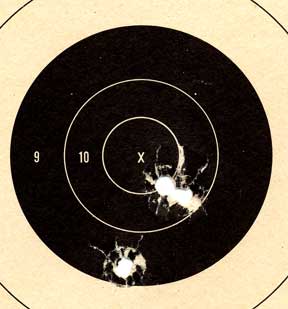 The 225-grain .50-caliber bullet is accurate at 50 yards. These are the first three shots after a fill of air.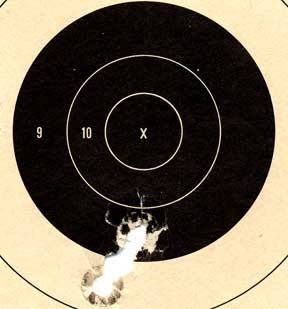 But, the 200-grain bullet is even more accurate. The first three shots at 50 yards after a fill. All you need to do is adjust the scope and tear out the x-ring!
Little noise and recoil from a big bore airgun!
Despite being a .50-caliber airgun, the Dragon Slayer is really on the quiet side of loud. By that I mean it isn't a gun to shoot in an urban backyard, but you also don't need hearing protection when shooting it outdoors. You can listen to the sound on the video, though most computer speakers are not able to reproduce loud sounds accurately, plus the video was compressed a lot, so the sound quality isn't studio-grade to begin with. But, it clearly isn't a booming sound.
The recoil is surprisingly light. It's something like a .223/5.56mm shot from an AR-15, only the push is both slower and lasts longer. It isn't anything like a shotgun recoil - not even the lowly .410.
Dragon Slayer's second outing - shooting 2-liter soda bottles
Those who watch the video will see what happens when 200 foot-pounds impacts a bunch of soda bottles. And you might be surprised to see that the pellet/bullet doesn't penetrate all 8 bottles. I expected this, because when I tested a 225 foot-pound .459 rifle made by Gary Barnes, it penetrated only 5 or 6 plastic milk containers. Liquid really slows a bullet down! But, look what the bullet does dynamically. It blows the bottles apart! The final video shot is in slow motion, so you can see the hydraulic effect of the bullet passing through all the bottles. The front ones are lifted up in the air several inches.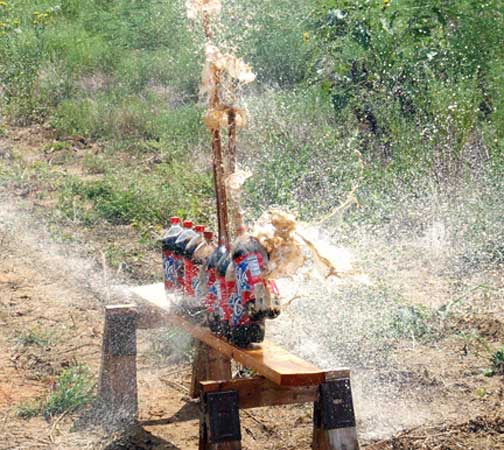 Kaboom! The 200-grain bullet packs a powerful punch, as these soda bottles can attest.
Big bullets recovered!
Another neat thing that resulted from shooting soda bottles was that they retained five of the six bullets fired. And plastic does little damage to a lead bullet, so the rifling impressions are plainly preserved. We can see the 12 thin lands engraved clearly on the side of each bullet. Upon closer inspection, it's possible to see that this rifling is very unique. They aren't just flat lands, but rather scalloped lands that distort the bullet far less. According to the great barrelmaker Harry Pope, this is exactly the kind of rifling that produces the best accuracy.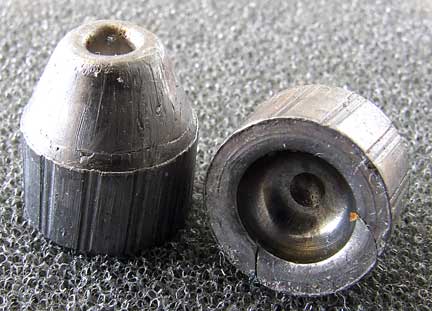 Thin shallow rifling does not distort the bullet. These were recovered from the soda bottles (see the video!).
How many shots per fill?
Big bores use lots of air, make no mistake. But where some can get only two or three shots per fill, the Dragon Slayer has enough air in the reservoir for five good shots. Each of the first three are powerful enough to take game in the coyote, goat and javelina class. The other two might do for a second shot; but if there's time, you really should fill the rifle after the third shot when shooting for accuracy at 50 yards and beyond.
Why buy a Dragon Slayer?
I started this article with the question, "Who would use an air rifle this powerful and what would they use it for?" Every year, thousands of .50 BMG rifles are sold to the public, and, besides bragging rights and the sheer fun of shooting them, their owners have no other sporting purpose for the gun. The same could be argued about the .500 S&W Magnum revolver. Aside from a few Alaskan guides who might feel the need for one as backup, who else needs such a massive handgun? Fortunately, in the United States, we don't need to have a reason to own a gun. If you are a citizen, it's your Constitutional right. And, if you want to own a really big gun, nothing should stop you.
Likewise, the Career Dragon Slayer needs no justification. You can have it simply because you want it. And, thanks to modern technology, it's available right now at an affordable price.
Now, watch the video!